June 25, 2014
Join the CWF Great Canadian Campout!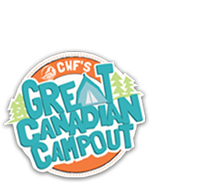 It's time to pitch in and help get one million Canadians camping by joining the Canadian Wildlife Federation (CWF) Great Canadian Campout on July 19.
"Research shows that Canadians spend an alarming 90 percent of their time indoors," says Wade Luzny, CWF's CE0 Executive Vice-President. "To reverse that trend we want people of all ages to get outside, connect with nature and enjoy the incredible landscape Canada has to offer."
To help get one million Canadians camping by Canada's 150th birthday in 2017 the public is encouraged to commit to camp at GreatCanadianCampout.ca. CWF's ultimate camping website features recipes, songs, tips, apps for stargazing as well as multilingual Learn to Camp guides. The comprehensive guides are available in Chinese, Spanish, Tagalog, Punjabi, French and English in partnership with Parks Canada.
"Everyone is invited to participate, whether they commit to camp at a provincial or national park or sleep under the stars right in their own backyards," Luzny said. "This summer let's rekindle our appreciation of nature and enjoy the physical and mental health benefits of outdoor adventure while conserving and enjoying wildlife and habitat."
Join the #GreatCanadianCampout to receive CWF's guide to Canada's greatest hikes and be entered for a chance to win a $500 gift card from the outdoor superstore SAIL, CWF's prizing partner.
For more information and to commit to camp visit GreatCanadianCampout.ca.
– 30 –
Media Files
About the Canadian Wildlife Federation:
The Canadian Wildlife Federation is dedicated to fostering awareness and appreciation of our natural world. By spreading knowledge of human impacts on the environment, sponsoring research, promoting the sustainable use of natural resources, recommending legislative changes and co-operating with like-minded partners, CWF encourages a future in which Canadians can live in harmony with nature. Visit CanadianWildlifeFederation.ca for more information.
Contacts:
Stephanie Poff
Associate Manager of Marketing & Events
Canadian Wildlife Federation
stephaniep@cwf-fcf.org
613-868-0288
Heather Robison
Media and Community Relations Officer
Canadian Wildlife Federation
heatherr@cwf-fcf.org
306-550-4155