February 5, 2014
For Immediate Release: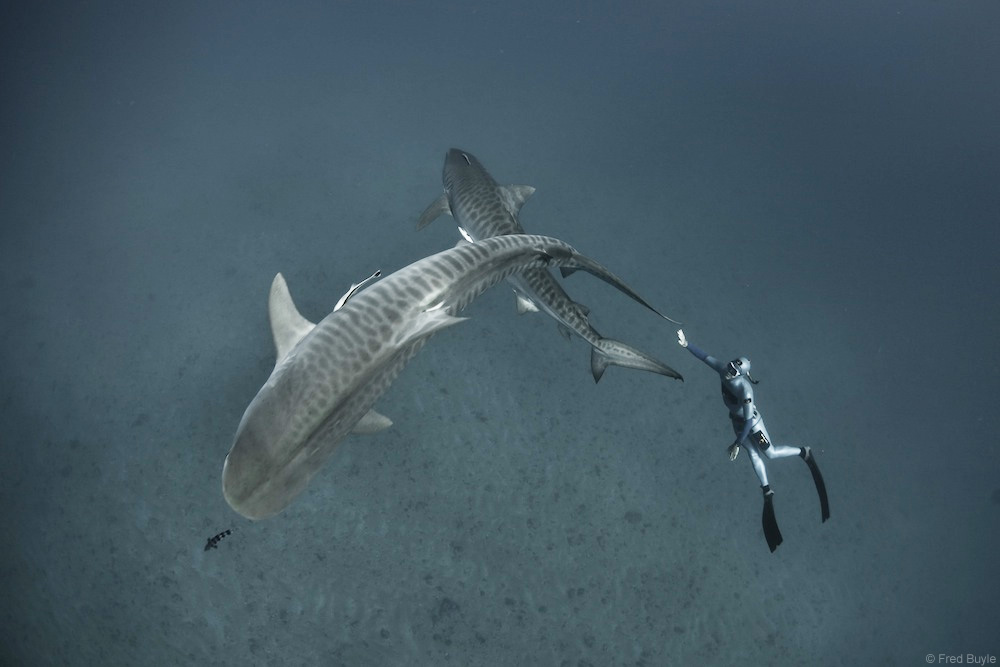 Photo: William Winram diving with Tiger Sharks by Fred Buyle
OTTAWA, Feb. 5, 2014 - The Canadian Wildlife Federation (CWF) and world-record breath-holding free diver William Winram are bringing marine and shark conservation to new depths of understanding with an educational tour Feb. 24-28.
"I have been diving most of my life and observed first-hand the decline in the health of our oceans, the reduction in biodiversity and the loss of many species of sharks," says Winram, who is featured in the recent IMAX 3D film Great White Shark. "It is my hope that, as people learn more about sharks and replace their fear with knowledge and respect, we will see increased support for shark protection."
Winram, who was born in Vancouver, has 25 years of experience diving with sharks and has swum with more than 20 different species of sharks. He is one of a handful of people who dive freely with Great White Sharks out of the cage, without the use of protective devices. He is currently free diving in Bahamas to tag Hammerhead sharks. From there he joined an innovative school webinar which CWF hosted for Grades 4-6 students across Canada.
"Our connection to marine wildlife is too easily forgotten and the necessity of clean and normally functioning oceans can be taken for granted," says Dr. Sean Brillant, CWF's Manager of Marine Programs. "CWF is pleased to work with William Winram to contribute to scientific knowledge, inspire conservation and dispel myths about our most maligned marine wildlife species."
CWF's Wild About Sharks educational tour includes stops at schools in Ottawa, Gatineau, Pembroke and the Greater Toronto Area. A special presentation at a wildlife ambassador dinner at Toronto's Spoke Club is also featured. Tickets to the event, to be held from 6-10 pm Feb. 27, are available at http://www.ccwhc.ca/ambassadors/
An estimated 29 species of shark have been seen in Canadian waters, 10 of which commonly occur off our shores. About half of these species are at risk of extinction. "Sharks are crucial to ocean health," says Winram "If sharks are eradicated from an ecosystem, we often see coral reefs dying or the entire system collapse. Since about 50 per cent of the oxygen we breathe comes from oceans, this means sharks are also crucial to human survival."
For more information, and to find out how you can help, visit CanadianWildlifeFedertion.ca and click on WildAboutSharks.
- 30 -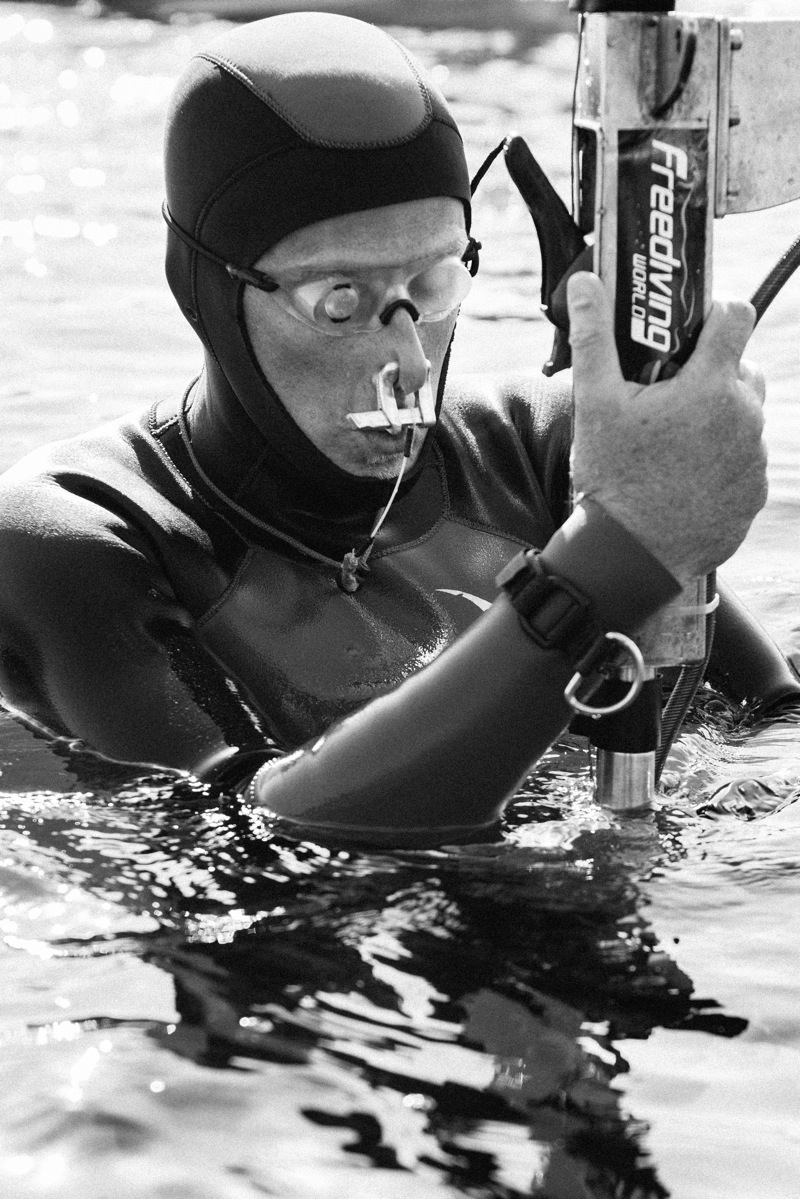 Photo: William Winram on the sled just before
the world record
by Alice Cattaneo
About the Canadian Wildlife Federation:
The Canadian Wildlife Federation is a national charitable organization dedicated to ensuring an appreciation of our natural world and a lasting legacy of healthy wildlife and habitat. By spreading knowledge of human impacts on the environment, developing and delivering educational programs, recommending policy changes to benefit wildlife, and sponsoring research and stewardship CWF encourages a future in which Canadians can live in harmony with nature. For more information, visit
CanadianWildlifeFederation.ca
.
About William Winram:
A natural-born explorer, Winram set a historic first in 2007 by becoming the first man to dive the 60-meter deep and 30-meter long Arch in the Blue Hole of Dahab, Egypt, without fins and on a single breath of air. In 2012, he founded The Watermen Project, a non-profit organization dedicated to ocean conservation and in 2013 was made an "Oceans Ambassador" by the International Union for the Conservation of Nature IUCN. In May, 2013, he set a world record for diving to 94 meters in the Classic Constant Weight discipline with bi-fins. In September, 2013 he set another world record for successfully free-diving to 145 meters depth on a single breath of air in the discipline of Variable Weight. For more information, visit WilliamWinram.com.
Contacts:
Pamela Logan
Director of Communications
Canadian Wildlife Federation
613-599-9594 ext. 250
pamelal@cwf-fcf.org
Heather Robison
Media and Community Relations Officer
Canadian Wildlife Federation
306-550-4155
heatherr@cwf-fcf.org
Video:
IMAX Trailer downloads: http://greatwhiteshark3d.com/media/
WR dive to 145m: http://www.youtube.com/watch?v=YtryV9qItsg