June 6, 2014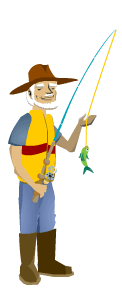 Starting on Oceans Day and Canadian Rivers Day, both on June 8, Rivers to Oceans Week (June 8-14) raises awareness about the importance of Canada's waters and reminds us that safeguarding the quality of all water flowing across our land is crucial to the health of our oceans.
"This country and water go hand in hand. We are the stewards of one-fifth of the world's fresh water and can proudly claim about two million lakes and 200,000 kilometres of coastline," says Wade Luzny, CEO and Executive Vice-President of the Canadian Wildlife Federation.
Water pollution occurs when a significant amount of waste is added to a body of water. When oil, garbage, fertilizers, chemicals, sewage and litter enter a waterway, it's significantly changed.
CWF is challenging all Canadians to turn the tide on water pollution with our Water Challenge. Though you may not realize it, your day-to-day activities have an effect on Canada's marine habitats and wildlife. Do you rely on fertilizer to keep your lawn lush? Do you forget to pick up after Fido sometimes? Do you use antibacterial cleaners to keep your kitchen sparkly? All of these activities, and many more, can negatively affect your local waterways and, eventually, the sea.
Canadians are encouraged to swap daily habits that are contributing to water pollution for more environmentally friendly solutions. By making changes in their day to day lives, Canadians will be doing their part to combat the urban runoff, litter and the chemicals in personal care and household products from making their way into our waterways.

To learn more, visit RiverstoOceans.ca or CanadianWildlifeFederation.ca.

About the Canadian Wildlife Federation:
The Canadian Wildlife Federation is a national, not-for-profit charitable organization dedicated to fostering awareness and appreciation of our natural world. By spreading knowledge of human impacts on the environment, sponsoring research, developing and delivering education programs, promoting the sustainable use of natural resources, recommending changes to policy and co-operating with like-minded partners, CWF encourages a future in which Canadians can live in harmony with nature. For more information visit CanadianWildlifeFederation.ca.

Canadian Wildlife Federation
April Overall
Writer/Editor
613-599-9594 ext. 227
aprilo@cwf-fcf.org


Canadian Wildlife Federation
Pam Logan
Director of Communications
cell (613)222-1405
pamelal@cwf-fcf.org