June 6, 2014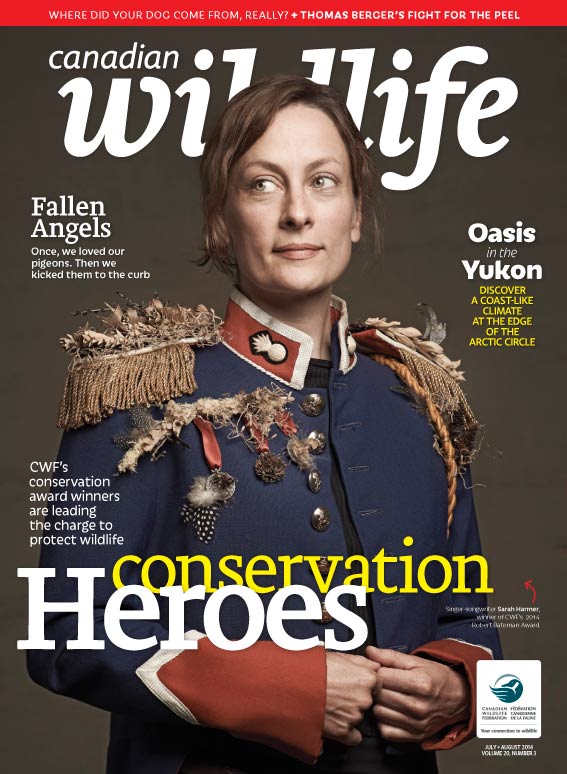 Artist Sarah Harmer and other conservation heroes recognized for outstanding contributions

The Canadian Wildlife Federation is pleased to announce the eight recipients of its Conservation Achievement Awards. Every year, CWF recognizes Canada's most-deserving conservationists through its awards program. The awards pay tribute to individuals and groups who have made exemplary contributions in the area of wildlife and habitat conservation and education. The awards will be presented at the Canadian Wildlife Federation Awards Banquet on Saturday, June 7th in Winnipeg, Manitoba.
"This year's recipients are truly talented individuals and groups who have devoted their life and passion to helping Canada's amazing wildlife and natural spaces," says Wade Luzny, CWF CEO and Executive Vice-President. "It's a small gesture in-comparison to what they've done but we are honoured to award these great individuals through CWF's Conservation Achievement Awards."
The 2014 CWF Conservation Achievement Award recipients are:
Robert Bateman Award – Sarah Harmer
For any group or individual who brings awareness to conservation through artistic work
Co-founder of the conservation organization Protect Escarpment Rural Land (PERL), singer-songwriter Harmer has drawn much needed attention to the protection of wilderness along southern Ontario's Niagara escarpment through songs, tours and multi-media projects and makes conservation a key theme in her art.

Youth Conservation Award - The Starfish.ca
Recognizing the contribution of individual youths or youth groups to wildlife or habitat conservation projects
By using the power of digital technology, McMaster University graduates Kyle Empringham and Sujane Kandasamy established a youth driven on-line news site that engages young people in dialogues and exchanges about various environmental topics and encourages broad based participation in conservation activities.
Stan Hodgkiss Canadian Outdoorsperson of the Year Award - Cliff Bennett
In recognition of Canadian outdoorspeople who have demonstrated an active commitment to conservation
Carleton Place, Ont. resident, Cliff Bennett is a lifelong naturalist who was a founding member of the Mississippi Valley Field Naturalists and led the development of various activities including their environmental education program. During his time in municipal office, he helped to create a community developed plan – the first of its kind in Ontario - which established policies to protect natural assets such as wetlands and forests.

Youth Mentor Award – Fondation pour la sauvegard de la truite mouchetée
Honouring an individual or group that creates, presents or encourages conservation, habitat or wildlife programs to youth
Founded in 1995, Fondation pour la sauvegard de la truite mouchetée's multi-faceted youth programs include classroom sessions about the life cycle of brook trout and species habitat needs. More than 9,000 Quebec City area students have been part of its popular "Pêche en herb" program which teaches the basics of fishing along with trout biology and conservation.

Doug Clark Memorial Award – Saskatchewan Wildlife Federation
Presented to a CWF affiliate for the most outstanding conservation project completed during the previous year by its membership
The Saskatchewan Youth Conservation Camp offers a variety of programs from plant and animal identification to basic wilderness survival and camping skills to bring knowledge and appreciation of the outdoors to young people. Launched in 1975 and still going strong, recently SWF added a year-round outdoor education facility and is now able to deliver programs on an ongoing basis. This camp teaches youth valuable lesson along with appreciation of the outdoors.

Roderick Haig-Brown Award - Remi Aubin
Awarded to individuals for their contribution to conservation and wise use of recreational fisheries in Canada
Through his family business, a sporting equipment shop, M. Aubin has been serving the angling community for many years. He played a key role in the development of the winter sport fishery in the Saguenay region and has supported efforts to restore spawning grounds for brook trout. Well-known regional and media spokesperson about recreational fisheries, he founded Courant du Saguenay, a magazine with a circulation of 15,000 and an online version.

Roland Michener Conservation Award – Lyne Morissette
Honouring the commitment by an individual to promote and enhance the conservation of Canada's natural resources
Internationally renowned, Lyne Morissette holds a doctorate and specializes marine-mammal conservation. Her academic research has been published in leading journals, and she has been a dedicated volunteer with environmental organizations. Currently, she is the scientific director with EcoMaris and is working to develop a network for research on migratory whales.
Past Presidents' Canadian Legislator Award - Robert Sopuck, MP
Honouring an elected legislator for contributions to the conservation of wildlife in Canada
First elected to Parliament in 2010, Sopuck brings a strong conservation ethos to the business of government. Currently, he is a member of the Standing Committee for Environment and Sustainable Development as well as the Committee on Fisheries and Oceans. He also chairs the Manitoba Regional Caucus as well as the Conservative Hunting and Angling Caucus. His long list of contributions to environmental causes includes serving as the Vice-President of policy (Western Canada) for the Delta Waterfowl Foundation and being appointed to the National Roundtable on the Environment and the Economy.

About the Canadian Wildlife Federation
The Canadian Wildlife Federation is a national, not-for-profit charitable organization dedicated to fostering awareness and appreciation of our natural world. By spreading knowledge of human impacts on the environment, sponsoring research, developing and delivering education programs, promoting the sustainable use of natural resources, recommending changes to policy and co-operating with like-minded partners, CWF encourages a future in which Canadians can live in harmony with nature. For more information visit CanadianWildlifeFederation.ca.


For More Information, Contact:
Stephanie Poff
Associate Manager of Marketing & Events
Canadian Wildlife Federation
stephaniep@cwf-fcf.org
613-868-0288 (cell)
Jerika Bradford
Communications Officer
Canadian Wildlife Federation
jerikab@cwf-fcf.org
613-599-9594 ext.219