November 18, 2013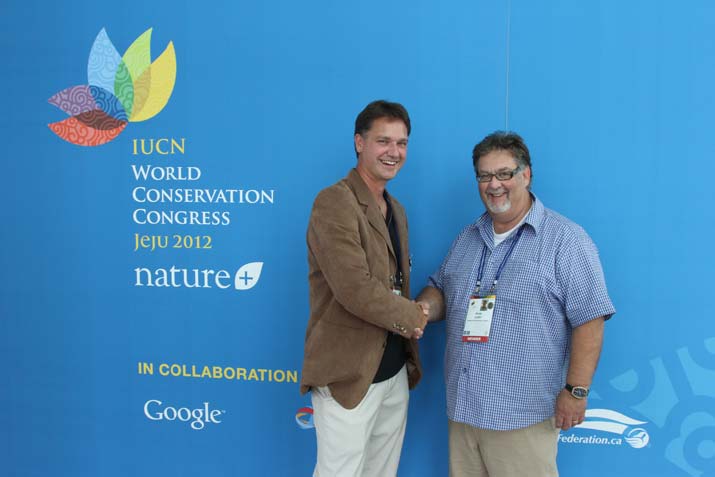 The Calgary Zoo is delighted to announce that Dr. Axel Moehrenschlager, head of the zoo's Centre for Conservation Research, has been appointed co-chair for the Reintroduction Specialist Group of the International Union for the Conservation of Nature (IUCN) and is the first North American in this position. The IUCN is the largest global conservation network with over 11,000 scientists in 160 member countries and has Official Observer Status at the United Nations.
"Species are going extinct at an alarming rate. However, reintroductions are a conservation tool that can help restore endangered species to ecosystems where they have disappeared. This can have profound positive impacts for ecosystems and for people. Within the Reintroduction Specialist Group we aim to have an integrated network of experts that can potentially help the restoration of any species, anywhere on the planet", says Moehrenschlager.
Moehrenschlager's experience and the accomplishments of his team's Husky Energy Endangered Species Program has earned the respect of other conservation scientists for successes in species reintroductions, such as the recovery of swift foxes in Canada. These accomplishments are only possible with the support of valued partners such as the Canadian Wildlife Federation (CWF). CWF has supported the development of the Centre for Conservation Research since 2008 and have renewed their commitment with a $475,000 donation over five years. This funding will directly support the Centre's scientific research that is critical to solving some of the nation's and the globe's most pressing conservation challenges. Such help will create a lasting legacy of healthy wildlife populations and ecosystems.
"The Canadian Wildlife Federation is proud to support the critical research and reintroduction programs of the Calgary Zoo's Centre for Conservation Research," said Wade Luzny, CEO Executive vice-president of the Canadian Wildlife Federation. "It has been our honour to work with Dr. Moehrenschlager and his appointment as co-chair of the IUCN Reintroduction Specialist Group is a major step forward in our ongoing efforts to ensure healthy wildlife populations. We applaud Axel's leadership, achievements and dedication."
Dr. Moehrenschlager was formerly reintroduction chair for North America and the Caribbean, and now co-chairs the World's Reintroduction Specialist Group with Frederic Launay of the United Arab Emirate Environment Agency. Dr. Moehrenschlager is only the third person in such a chair role since the Reintroduction Specialist Group was founded in 1988.
Many of the conservation challenges facing our world require a global approach based on sound science. Over the last three years, Dr. Moehrenschlager has been part of an international special task force that developed global guidelines for low risk species reintroductions as well as the movement of species beyond where they have ever existed before. Such "assisted colonization" is a reaction to new extinction pressures facing the world's biodiversity, most notably climate change. These guidelines were launched in Aug 2013 and have since been officially adopted by the Council of Europe.
-30-
Media Information:
To arrange for interviews with Dr. Axel Moehrenschlager, please contact:
Trish Exton-Parder
Lead Media Relations
Phone: (403) 232-9381
Cell: (403) 371-9075
trishep@calgaryzoo.ab.ca
See: www.calgaryzoo.com
The Calgary Zoo is part of a professional, accredited association and member of the Association of Zoos and Aquariums (AZA) and the Canadian Association of Zoos and Aquariums (CAZA) comprised of caring, trusted experts committed to ensuring that many endangered and threatened species are part of the world's future. AZA and CAZA advocate on behalf of animals with a unified and consistent voice, and collaborate with others committed to their long-term survival. The Calgary Zoo participates in many Species Survival Plans (SSP), a network among accredited institutions designed to breed endangered species in captivity to ensure the best possible genetic diversity and maintain healthy populations in human care. Through our conservation, education and research programs, many animals in our care play an essential role in the survival of their species in the wild.
The Calgary Zoological Society is a charitable organization. Charitable Registration #118824192 RR0001
Photo: Dr. Axel Moehrenschlager with Wade Luzny, CEO Executive Vice-President of CWF. Photo by Markus Pukonen for CWF