July 1, 2017
By Matthew Church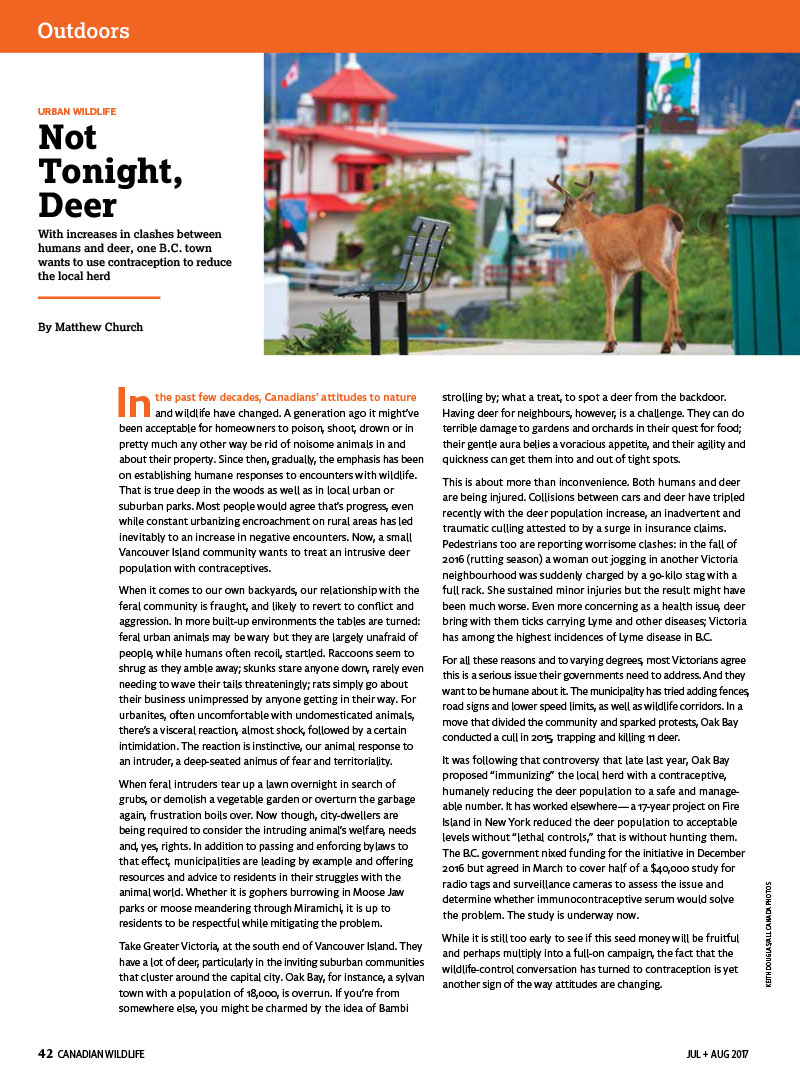 With increases in clashes between humans and deer, one B.C. town wants to use contraception to reduce the local herd
In the past few decades, Canadians' attitudes to nature and wildlife have changed. A generation ago it might've been acceptable for homeowners to poison, shoot, drown or in pretty much any other way be rid of noisome animals in and about their property. Since then, gradually, the emphasis has been on establishing humane responses to encounters with wildlife. That is true deep in the woods as well as in local urban or suburban parks. Most people would agree that's progress, even while constant urbanizing encroachment on rural areas has led inevitably to an increase in negative encounters. Now, a small Vancouver Island community wants to treat an intrusive deer population with contraceptives.
When it comes to our own backyards, our relationship with the feral community is fraught, and likely to revert to conflict and aggression. In more built-up environments the tables are turned: feral urban animals may be wary but they are largely unafraid of people, while humans often recoil, startled. Raccoons seem to shrug as they amble away; skunks stare anyone down, rarely even needing to wave their tails threateningly; rats simply go about their business unimpressed by anyone getting in their way. For urbanites, often uncomfortable with undomesticated animals, there's a visceral reaction, almost shock, followed by a certain intimidation. The reaction is instinctive, our animal response to an intruder, a deep-seated animus of fear and territoriality.
When feral intruders tear up a lawn overnight in search of grubs, or demolish a vegetable garden or overturn the garbage again, frustration boils over. Now though, city-dwellers are being required to consider the intruding animal's welfare, needs and, yes, rights. In addition to passing and enforcing bylaws to that effect, municipalities are leading by example and offering resources and advice to residents in their struggles with the animal world. Whether it is gophers burrowing in Moose Jaw parks or moose meandering through Miramichi, it is up to residents to be respectful while mitigating the problem.
Take Greater Victoria, at the south end of Vancouver Island. They have a lot of deer, particularly in the inviting suburban communities that cluster around the capital city. Oak Bay, for instance, a sylvan town with a population of 18,000, is overrun. If you're from somewhere else, you might be charmed by the idea of Bambi strolling by; what a treat, to spot a deer from the backdoor. Having deer for neighbours, however, is a challenge. They can do terrible damage to gardens and orchards in their quest for food; their gentle aura belies a voracious appetite, and their agility and quickness can get them into and out of tight spots.
This is about more than inconvenience. Both humans and deer are being injured. Collisions between cars and deer have tripled recently with the deer population increase, an inadvertent and traumatic culling attested to by a surge in insurance claims. Pedestrians too are reporting worrisome clashes: in the fall of 2016 (rutting season) a woman out jogging in another Victoria neighbourhood was suddenly charged by a 90-kilo stag with a full rack. She sustained minor injuries but the result might have been much worse. Even more concerning as a health issue, deer bring with them ticks carrying Lyme and other diseases; Victoria has among the highest incidences of Lyme disease in B.C.
For all these reasons and to varying degrees, most Victorians agree this is a serious issue their governments need to address. And they want to be humane about it. The municipality has tried adding fences, road signs and lower speed limits, as well as wildlife corridors. In a move that divided the community and sparked protests, Oak Bay conducted a cull in 2015, trapping and killing 11 deer.
It was following that controversy that late last year, Oak Bay proposed "immunizing" the local herd with a contraceptive, humanely reducing the deer population to a safe and manageable number. It has worked elsewhere — a 17-year project on Fire Island in New York reduced the deer population to acceptable levels without "lethal controls," that is without hunting them. The B.C. government nixed funding for the initiative in December 2016 but agreed in March to cover half of a $40,000 study for radio tags and surveillance cameras to assess the issue and determine whether immunocontraceptive serum would solve the problem. The study is underway now.
While it is still too early to see if this seed money will be fruitful and perhaps multiply into a full-on campaign, the fact that the wildlife-control conversation has turned to contraception is yet another sign of the way attitudes are changing.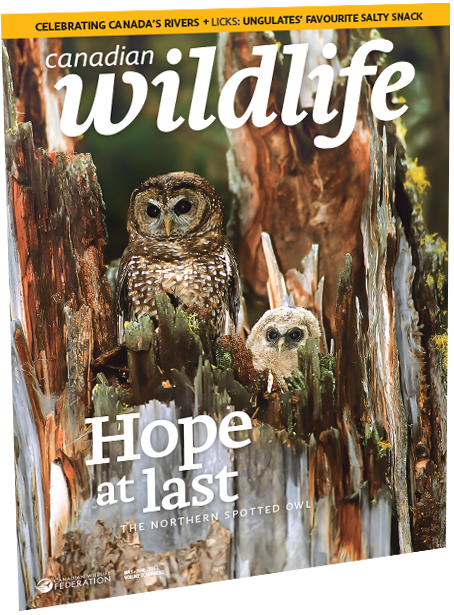 Reprinted from Canadian Wildlife magazine. Get more information or subscribe now! Now on newsstands! Or, get your digital edition today!