September 1, 2016
By Canadian Wildlife Staff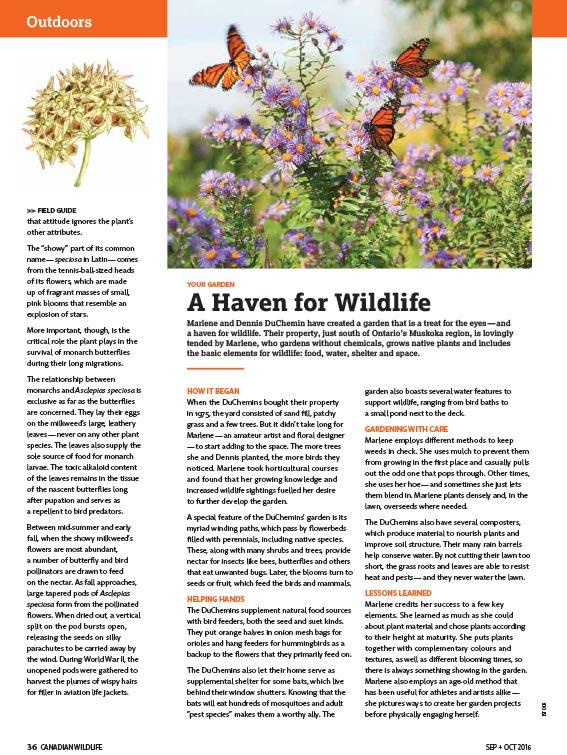 Marlene and Dennis DuChemin have created a garden that is a treat for the eyes — and a haven for wildlife. Their property, just south of Ontario's Muskoka region, is lovingly tended by Marlene, who gardens without chemicals, grows native plants and includes the basic elements for wildlife: food, water, shelter and space.
HOW IT BEGAN
When the DuChemins bought their property in 1975, the yard consisted of sand fill, patchy grass and a few trees. But it didn't take long for Marlene — an amateur artist and floral designer — to start adding to the space. The more trees she and Dennis planted, the more birds they noticed. Marlene took horticultural courses and found that her growing knowledge and increased wildlife sightings fuelled her desire to further develop the garden.
A special feature of the DuChemins' garden is its myriad winding paths, which pass by flowerbeds filled with perennials, including native species. These, along with many shrubs and trees, provide nectar for insects like bees, butterflies and others that eat unwanted bugs. Later, the blooms turn to seeds or fruit, which feed the birds and mammals.
HELPING HANDS
The DuChemins supplement natural food sources with bird feeders, both the seed and suet kinds. They put orange halves in onion mesh bags for orioles and hang feeders for hummingbirds as a backup to the flowers that they primarily feed on.
The DuChemins also let their home serve as supplemental shelter for some bats, which live behind their window shutters. Knowing that the bats will eat hundreds of mosquitoes and adult "pest species" makes them a worthy ally. The garden also boasts several water features to support wildlife, ranging from bird baths to a small pond next to the deck.
GARDENING WITH CARE
Marlene employs different methods to keep weeds in check. She uses mulch to prevent them from growing in the first place and casually pulls out the odd one that pops through. Other times, she uses her hoe — and sometimes she just lets them blend in. Marlene plants densely and, in the lawn, overseeds where needed.
The DuChemins also have several composters, which produce material to nourish plants and improve soil structure. Their many rain barrels help conserve water. By not cutting their lawn too short, the grass roots and leaves are able to resist heat and pests — and they never water the lawn.
LESSONS LEARNED
Marlene credits her success to a few key elements. She learned as much as she could about plant material and chose plants according to their height at maturity. She puts plants together with complementary colours and textures, as well as different blooming times, so there is always something showing in the garden. Marlene also employs an age-old method that has been useful for athletes and artists alike — she pictures ways to create her garden projects before physically engaging herself.