September 1, 2016
By Jay Ingram
You don't have to be big to be a big deal. That's one of the stories behind a pair of organisms that have captured my imagination.
I have two favourite organisms. Coincidentally, they are about the same size, roughly half a millimetre (visible to the naked eye), are intricately put together and both tell a piece of the story of how modern organisms evolved.
The first is Volvox, the ball of green cells that swims in the waters of spring puddles. There are many species, but all are beautiful to behold — organic Buckminster Fuller globes that rotate slowly as they move forward. Each Volvox sphere is a colony of up to tens of thousands of individual cells. There's nothing particularly remarkable about these cells — each is a single-celled alga very much like the common Chlamydomonas. When living solo, these cells whip a pair of flagella back and forth to move, especially toward light. They live by photosynthesis.
Things are different when solo cells like these come together by the thousands to create a Volvox. Each is cemented permanently in a matrix that holds the entire globe together. If the Volvox is to move purposefully, the beating of as many as 100,000 flagella has to be co-ordinated. That is accomplished by orienting each cell slightly differently, according to where it sits on the globe's surface, and also altering the way the flagella beat. It works to perfection: as the globe moves through the water, it rotates slowly. If it were coming straight at you, it would be turning patiently clockwise.
You might wonder how each cell would know exactly how to modulate the stroke of its two flagella to coordinate with all the others. It doesn't have to: the movement is ensured by its position and orientation. Pluck one of these single cells out of the colony, release it on its own and it will beat its flagella frantically. But it will only spin in place. It is no longer capable of life on its own — it's a colonial being.
But there is more to Volvox: it has two kinds of cells, reproductive and sterile. The reproductive cells generate new, mini-Volvoxes that swim inside the parent colony until their release. The cells that propel the beast, the thousands embedded in the surface, have forsaken reproduction altogether.
It's assumed that colonies like this have some sort of advantage over single cells. It could be that their increased size eliminates some of the predators that would have hunted them. Or it could be that the colony can swim faster and access light more efficiently.
But Volvox is also remarkable because it hints so broadly at one of the first crucial steps towards multicellular organisms: independent cells coming together to be part of something bigger.
My other favourite is a similarly sized, but very different, creature named Mixotricha paradoxa. It's shaped sort of like a shoe and lives in the gut of an Australian termite. As it swims around in that gut, it sucks up tiny pieces of wood though its rear end, while swimming forward. It propels itself by flagella, like Volvox, and in fact they appear to be the same. They're anything but.
Mixotricha does indeed have its own flagella, a mere four of them at the front end that seem to do the steering. But much of the rest of the critter's surface is covered with bacteria — 250,000 strong, stringy bacteria that beat back and forth just like flagella and propel Mixotricha through a termite's gut. These bacteria are close relatives of the ones that cause syphilis in humans. In this context, however, they're essential, not threatening, to life.
A closer inspection of this single cell reveals other species of bacteria that have colonized Mixotricha. These take up different positions, some inside the cell, some nestled into the base of the "flagellum" on the surface. It's a zoo, really, a colony too, like Volvox, but composed of utterly different species, not even remotely related.
Beyond the bizarre charm of this living arrangement, what does it tell us? The late Lynn Margulis, a long-time professor at the University of Massachusetts, saw Mixotricha as a startling example of a process she championed called "endosymbiosis." Margulis argued that the modern animal or plant cell was assembled over time from other organisms. For instance, most scientists today accept that the mitochondria of a cell were once free-living bacteria that came to stay. Margulis vigorously argued for the additional idea that the cilia and flagella of modern cells were once free-living, too. Mixotricha's companion bacteria, those faux flagella, seem like a snapshot of that process.
Two organisms with stories to tell, escaping the attention of all but the most ardent scientists. If you're like me, you have to love them.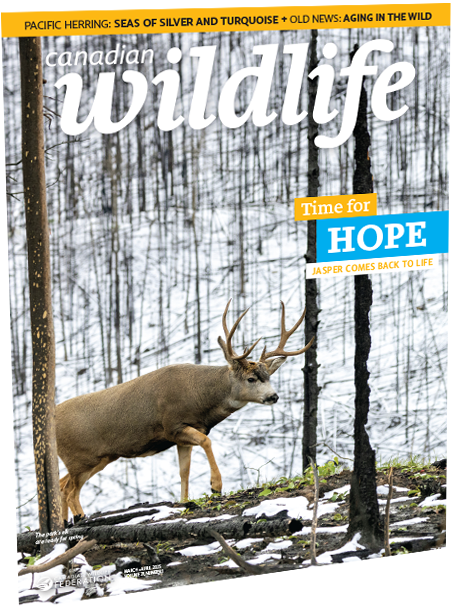 Reprinted from Canadian Wildlife magazine. Get more information or subscribe now! Now on newsstands! Or, get your digital edition today!