September 1, 2016
By Canadian Wildlife Staff, Photo by Neil Ever Osborne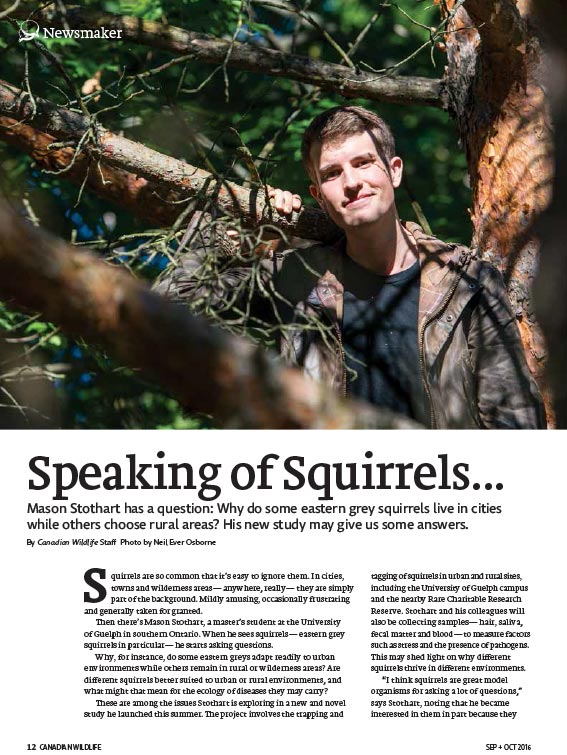 Mason Stothart has a question: Why do some eastern grey squirrels live in cities while others choose rural areas? His new study may give us some answers.
Squirrels are so common that it's easy to ignore them. In cities, towns and wilderness areas — anywhere, really — they are simply part of the background. Mildly amusing, occasionally frustrating and generally taken for granted.
Then there's Mason Stothart, a master's student at the University of Guelph in southern Ontario. When he sees squirrels — eastern grey squirrels in particular — he starts asking questions.
Why, for instance, do some eastern greys adapt readily to urban environments while others remain in rural or wilderness areas? Are different squirrels better suited to urban or rural environments, and what might that mean for the ecology of diseases they may carry?
These are among the issues Stothart is exploring in a new and novel study he launched this summer. The project involves the trapping and tagging of squirrels in urban and rural sites, including the University of Guelph campus and the nearby Rare Charitable Research Reserve. Stothart and his colleagues will also be collecting samples — hair, saliva, fecal matter and blood — to measure factors such as stress and the presence of pathogens. This may shed light on why different squirrels thrive in different environments.
"I think squirrels are great model organisms for asking a lot of questions," says Stothart, noting that he became interested in them in part because they are so abundant and, as wildlife species go, relatively easy to handle.
"In particular, I'm interested in disease ecology, and squirrels carry a number of pathogens that are relevant both in terms of human health and conservation health. I'm also interested in urban ecology and urban evolution, that movement of wildlife into the urban environment. Squirrels are a supreme example of that."
Disease ecology, which explores the prevalence and impact of pathogens in an environment, is an especially rich area of inquiry. Consider: Simple logic suggests there should be a higher prevalence of disease in squirrels where you have lots of them in close contact with each other. Urban areas, for example.
Yet the greater availability of food in cities and towns may also help urban squirrels mount a stronger immune response to a pathogen, thus limiting the spread of a disease. "That's been seen in recent work with certain bird species," Stothart says.
This issue goes beyond the health of squirrels. Take lyme disease. Grey squirrels can be carriers, but they are good at fighting off infections. They are also adept at cleaning themselves of ticks that spread the disease to humans. So areas with healthy eastern grey squirrel populations also tend to have lower rates of transmission of lyme disease to humans.
In addition to disease ecology, Stothart will be looking at characteristics, such as stress responses, in eastern grey squirrels that may help identify why some adapt more readily to urban environments while others don't.
He'll also be looking at physiological characteristics, such as the observation that urban squirrels tend to have black fur while their rural brethren tend to be grey. This colour difference may point to clusters of traits within the squirrels that make them better or less suited to different habitats.
In addition to his own work, Stothart is inviting the public to participate in his research through a citizen-science initiative. "We're hoping that people will be able to help track and target certain individuals that we may want to recapture over the course of the year," he says. "Working in an urban environment, we want to bring the community in and not work in isolation."