September 1, 2016
By Canadian Wildlife Staff, Photo by Jocelyn Michel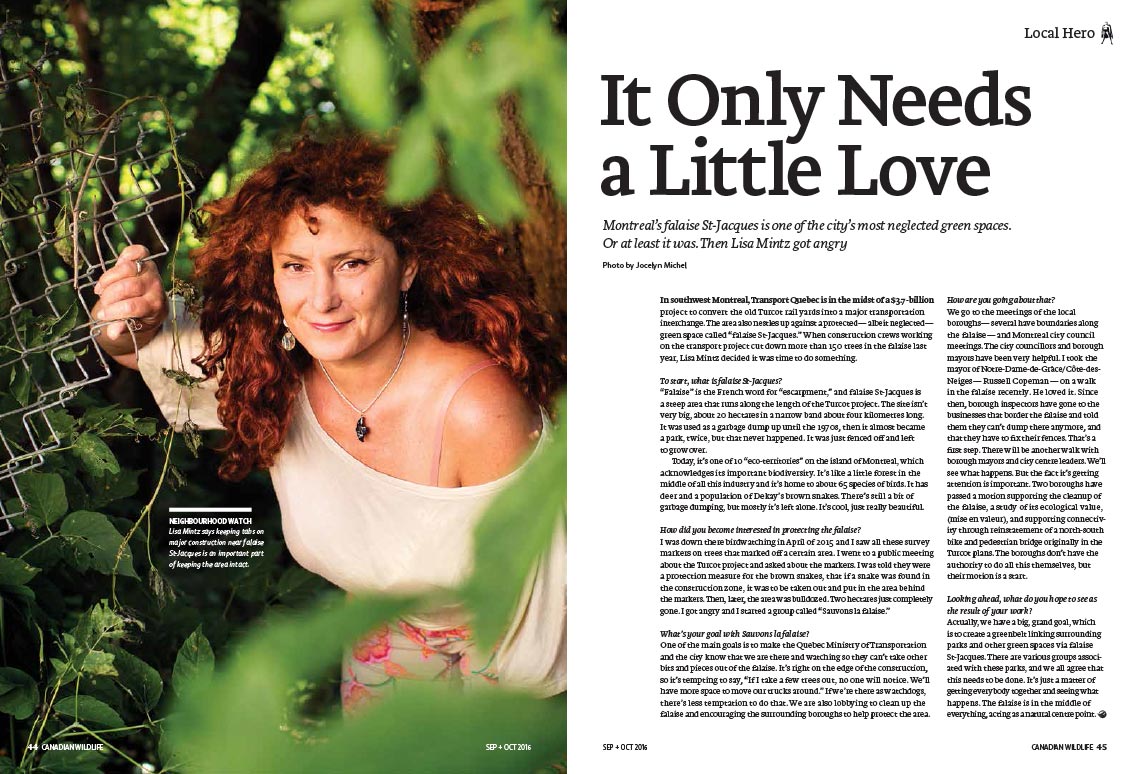 In southwest Montreal, Transport Quebec is in the midst of a $3.7-billion project to convert the old Turcot rail yards into a major transportation interchange. The area also nestles up against a protected — albeit neglected — green space called "falaise St-Jacques." When construction crews working on the transport project cut down more than 150 trees in the falaise last year, Lisa Mintz decided it was time to do something.
To start, what is falaise St-Jacques?
"Falaise" is the French word for "escarpment," and falaise St-Jacques is a steep area that runs along the length of the Turcot project. The site isn't very big, about 20 hectares in a narrow band about four kilometres long. It was used as a garbage dump up until the 1970s, then it almost became a park, twice, but that never happened. It was just fenced off and left to grow over.
Today, it's one of 10 "eco-territories" on the island of Montreal, which acknowledges its important biodiversity. It's like a little forest in the middle of all this industry and it's home to about 65 species of birds. It has deer and a population of Dekay's brown snakes. There's still a bit of garbage dumping, but mostly it's left alone. It's cool, just really beautiful.
How did you become interested in protecting the falaise?
I was down there birdwatching in April of 2015 and I saw all these survey markers on trees that marked off a certain area. I went to a public meeting about the Turcot project and asked about the markers. I was told they were a protection measure for the brown snakes, that if a snake was found in the construction zone, it was to be taken out and put in the area behind the markers. Then, later, the area was bulldozed. Two hectares just completely gone. I got angry and I started a group called "Sauvons la falaise."
What's your goal with Sauvons la falaise?
One of the main goals is to make the Quebec Ministry of Transportation and the city know that we are there and watching so they can't take other bits and pieces out of the falaise. It's right on the edge of the construction, so it's tempting to say, "If I take a few trees out, no one will notice. We'll have more space to move our trucks around." If we're there as watchdogs, there's less temptation to do that. We are also lobbying to clean up the falaise and encouraging the surrounding boroughs to help protect the area.
How are you going about that?
We go to the meetings of the local boroughs — several have boundaries along the falaise — and Montreal city council meetings. The city councillors and borough mayors have been very helpful. I took the mayor of Notre-Dame-de-Grâce/Côte-des- Neiges — Russell Copeman — on a walk in the falaise recently. He loved it. Since then, borough inspectors have gone to the businesses that border the falaise and told them they can't dump there anymore, and that they have to fix their fences. That's a first step. There will be another walk with borough mayors and city centre leaders. We'll see what happens. But the fact it's getting attention is important. Two boroughs have passed a motion supporting the cleanup of the falaise, a study of its ecological value, (mise en valeur), and supporting connectivity through reinstatement of a north-south bike and pedestrian bridge originally in the Turcot plans. The boroughs don't have the authority to do all this themselves, but their motion is a start.
Looking ahead, what do you hope to see as the result of your work?
Actually, we have a big, grand goal, which is to create a greenbelt linking surrounding parks and other green spaces via falaise St-Jacques. There are various groups associated with these parks, and we all agree that this needs to be done. It's just a matter of getting everybody together and seeing what happens. The falaise is in the middle of everything, acting as a natural centre point.