September 1, 2016
By David Bird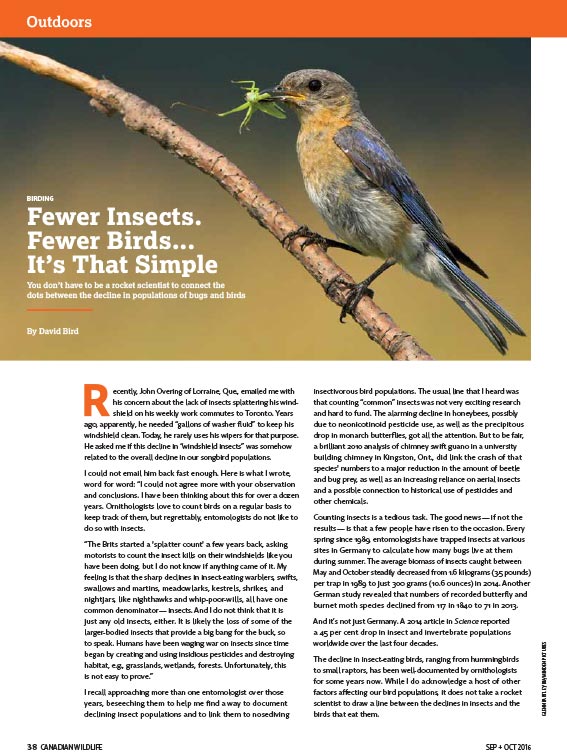 Recently, John Overing of Lorraine, Que., emailed me with his concern about the lack of insects splattering his windshield on his weekly work commutes to Toronto. Years ago, apparently, he needed "gallons of washer fluid" to keep his windshield clean. Today, he rarely uses his wipers for that purpose. He asked me if this decline in "windshield insects" was somehow related to the overall decline in our songbird populations. I could not email him back fast enough. Here is what I wrote, word for word: "I could not agree more with your observation and conclusions. I have been thinking about this for over a dozen years. Ornithologists love to count birds on a regular basis to keep track of them, but regrettably, entomologists do not like to do so with insects.
"The Brits started a 'splatter count' a few years back, asking motorists to count the insect kills on their windshields like you have been doing, but I do not know if anything came of it. My feeling is that the sharp declines in insect-eating warblers, swifts, swallows and martins, meadowlarks, kestrels, shrikes, and nightjars, like nighthawks and whip-poor-wills, all have one common denominator — insects. And I do not think that it is just any old insects, either. It is likely the loss of some of the larger-bodied insects that provide a big bang for the buck, so to speak. Humans have been waging war on insects since time began by creating and using insidious pesticides and destroying habitat, e.g., grasslands, wetlands, forests. Unfortunately, this is not easy to prove."
I recall approaching more than one entomologist over those years, beseeching them to help me find a way to document declining insect populations and to link them to nosediving insectivorous bird populations. The usual line that I heard was that counting "common" insects was not very exciting research and hard to fund. The alarming decline in honeybees, possibly due to neonicotinoid pesticide use, as well as the precipitous drop in monarch butterflies, got all the attention. But to be fair, a brilliant 2010 analysis of chimney swift guano in a university building chimney in Kingston, Ont., did link the crash of that species' numbers to a major reduction in the amount of beetle and bug prey, as well as an increasing reliance on aerial insects and a possible connection to historical use of pesticides and other chemicals.
Counting insects is a tedious task. The good news — if not the results — is that a few people have risen to the occasion. Every spring since 1989, entomologists have trapped insects at various sites in Germany to calculate how many bugs live at them during summer. The average biomass of insects caught between May and October steadily decreased from 1.6 kilograms (3.5 pounds) per trap in 1989 to just 300 grams (10.6 ounces) in 2014. Another German study revealed that numbers of recorded butterfly and burnet moth species declined from 117 in 1840 to 71 in 2013. And it's not just Germany. A 2014 article in Science reported a 45 per cent drop in insect and invertebrate populations worldwide over the last four decades.
The decline in insect-eating birds, ranging from hummingbirds to small raptors, has been well-documented by ornithologists for some years now. While I do acknowledge a host of other factors affecting our bird populations, it does not take a rocket scientist to draw a line between the declines in insects and the birds that eat them.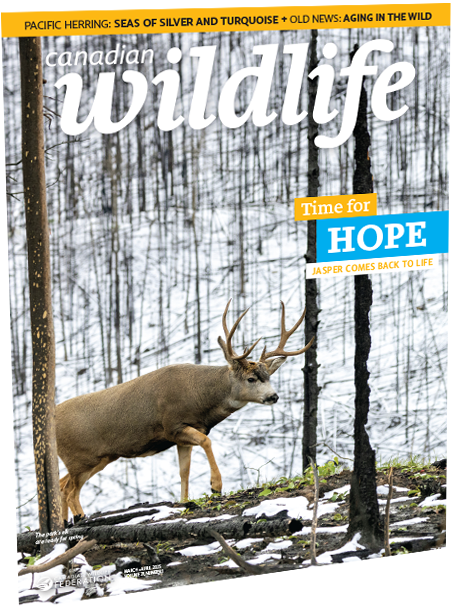 Reprinted from Canadian Wildlife magazine. Get more information or subscribe now! Now on newsstands! Or, get your digital edition today!