September 1, 2016
By Alanna Mitchell, Illustration by Pete Ryan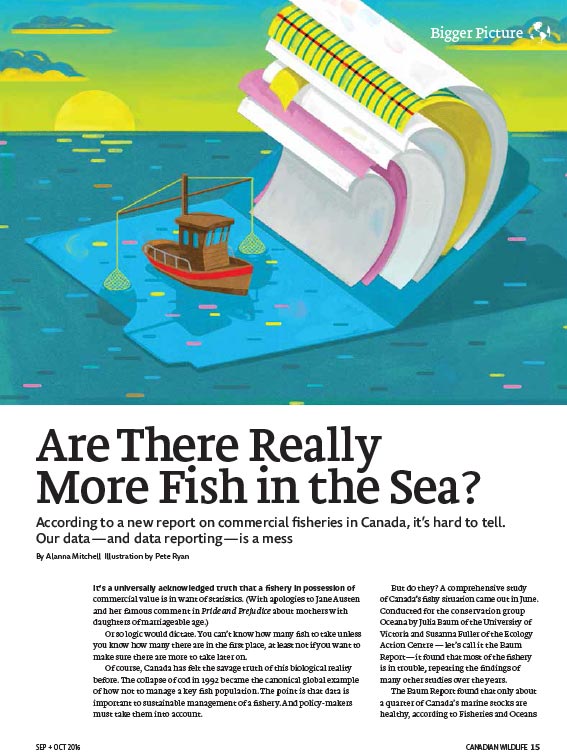 According to a new report on commercial fisheries in Canada, it's hard to tell. Our data — and data reporting — is a mess
It's a universally acknowledged truth that a fishery in possession of commercial value is in want of statistics. (With apologies to Jane Austen and her famous comment in Pride and Prejudice about mothers with daughters of marriageable age.)
Or so logic would dictate. You can't know how many fish to take unless you know how many there are in the first place, at least not if you want to make sure there are more to take later on.
Of course, Canada has felt the savage truth of this biological reality before. The collapse of cod in 1992 became the canonical global example of how not to manage a key fish population. The point is that data is important to sustainable management of a fishery. And policy-makers must take them into account.
But do they? A comprehensive study of Canada's fishy situation came out in June. Conducted for the conservation group Oceana by Julia Baum of the University of Victoria and Susanna Fuller of the Ecology Action Centre — let's call it the Baum Report — it found that most of the fishery is in trouble, repeating the findings of many other studies over the years.
The Baum Report found that only about a quarter of Canada's marine stocks are healthy, according to Fisheries and Oceans Canada's own numbers. But that's counting only those for which there are recent data.
The great eye-opener of the report is the dearth of data to be found at all. Only a quarter of the marine stocks had an estimate of the rate of mortality due to fishing. More than one in six lacked even a measure of how many fish there were, much less what proportion fishing removes. Not only that, the report said, but access to what information there is about the status of marine stocks in Canada is chaotic at best.
Canada has no publicly available list of what's fished. Nor is there a central database on how much is being caught. Data is scattered across reports, across different types of reports, with dissimilar names in some cases, in many parts of the federal government's website. It's a nightmare for researchers.
According to Baum and Fuller, information is so remarkably disorganized that a scientific assessment of a stock is kept in the hands of the individual who conducted it.
Some of these individuals were easy for Baum and Fuller to reach in their work. Others weren't. Some, when contacted, were happy to share the information. A few refused outright, while others declined to even respond to the request.
And the authors of the Baum Report are fisheries experts with PhDs. What if a member of the public is concerned about the fate of a species and wants to understand the government's process for deciding how many can be fished every year? In many cases, that would take the detective ability and the little grey cells of a latter-day Hercule Poirot. And that's if the data even exists in the first place.
Take as a counterpoint the worthy fishwatch.gov, the U.S. government's site describing 100 commercially important fish stocks. Click on North Atlantic swordfish (Xiphias gladius), for example, and discover not only its current population and conservation status but also that 4.3 million pounds (just less than two million kilograms) were caught in 2013, a description of the gear used to do that, what the effects on habitat were, and how fishermen are reducing their take of unintended species when they catch swordfish.
This type of information should be within reach for Canadians, too. The Baum Report pinpoints a few reasons why it's not — yet. Among them, the historical fear that making data public will somehow be used against Fisheries and Oceans Canada and years of scientific muzzling by the previous government.
The implication is that a cultural shift needs to happen before Fisheries and Oceans views information as a public good — and a right.
Despites its general tone, the Baum Report does have a few atoms of sweet in much bitter (this time with apologies to Charlotte Brontë and Mr. Rochester's description of his separation from Jane Eyre). It appears that Prime Minister Justin Trudeau is philosophically in favour of data, and of sharing it, unlike his predecessor.
His 2015 mandate letter to the Minister of Fisheries and Oceans endorsed the idea of making policy decisions based on science — oh glory be! — and called for greater access to data. In support of that, the government recently posted 135 new jobs for marine scientists.
As well, a spokesperson for the department actually spoke to the press on the day the report came out, saying her minister is taking its recommendations seriously. An opening gambit: she said we can expect data on fish to be online within months.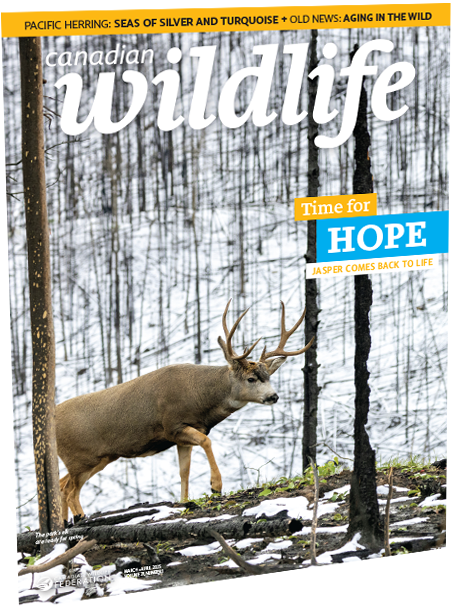 Reprinted from Canadian Wildlife magazine. Get more information or subscribe now! Now on newsstands! Or, get your digital edition today!
Related Stories