September 1, 2015
By Canadian Wildlife Staff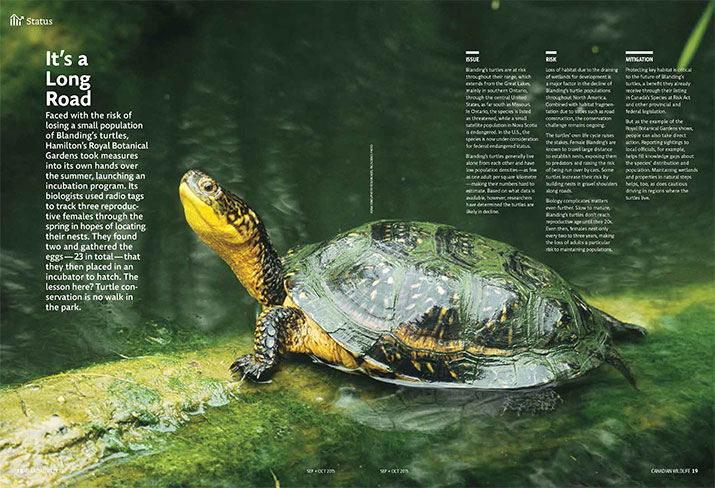 It's a Long Road

Faced with the risk of losing a small population of Blanding's turtles, Hamilton's Royal Botanical Gardens took measures into its own hands over the summer, launching an incubation program. Its biologists used radio tags to track three reproductive females through the spring in hopes of locating their nests. They found two and gathered the eggs — 23 in total — that they then placed in an incubator to hatch. The lesson here? Turtle conservation is no walk in the park.
ISSUE

RISK


MITIGATION

Blanding's turtles are at risk throughout their range, which extends from the Great Lakes, mainly in southern Ontario, through the central United States, as far south as Missouri. In Ontario, the species is listed as threatened, while a small satellite population in Nova Scotia is endangered. In the U.S., the species is now under consideration for federal endangered status.

Blanding's turtles generally live alone from each other and have low population densities — as few as one adult per square kilometre — making their numbers hard to estimate. Based on what data is available, however, researchers have determined the turtles are likely in decline.

Loss of habitat due to the draining of wetlands for development is a major factor in the decline of Blanding's turtle populations throughout North America. Combined with habitat fragmentation due to issues such as road construction, the conservation challenge remains ongoing.

The turtles' own life cycle raises the stakes. Female Blanding's are known to travel large distance to establish nests, exposing them to predators and raising the risk of being run over by cars. Some turtles increase their risk by building nests in gravel shoulders along roads.

Biology complicates matters even further. Slow to mature, Blanding's turtles don't reach reproductive age until their 20s. Even then, females nest only every two to three years, making the loss of adults a particular risk to maintaining populations.
Protecting key habitat is critical to the future of Blanding's turtles, a benefit they already receive through their listing in Canada's Species at Risk Act and other provincial and federal legislation.

But as the example of the Royal Botanical Gardens shows, people can also take direct action. Reporting sightings to local officials, for example, helps fill knowledge gaps about the species' distribution and population. Maintaining wetlands and properties in natural steps helps, too, as does cautious driving in regions where the turtles live.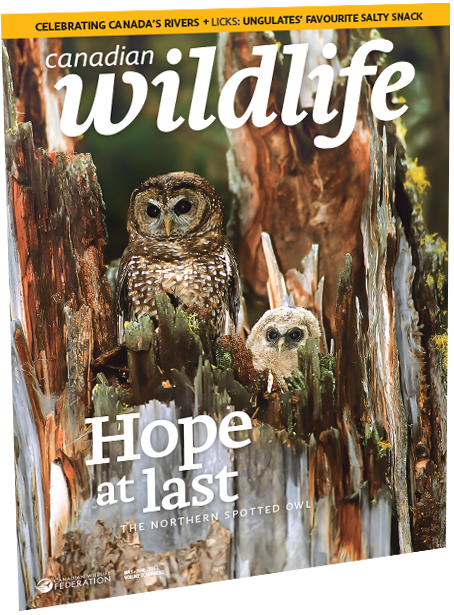 Reprinted from Canadian Wildlife magazine. Get more information or subscribe now! Now on newsstands! Or, get your digital edition today!