September 1, 2015
By Canadian Wildlife Staff Photo by Tony Fouhse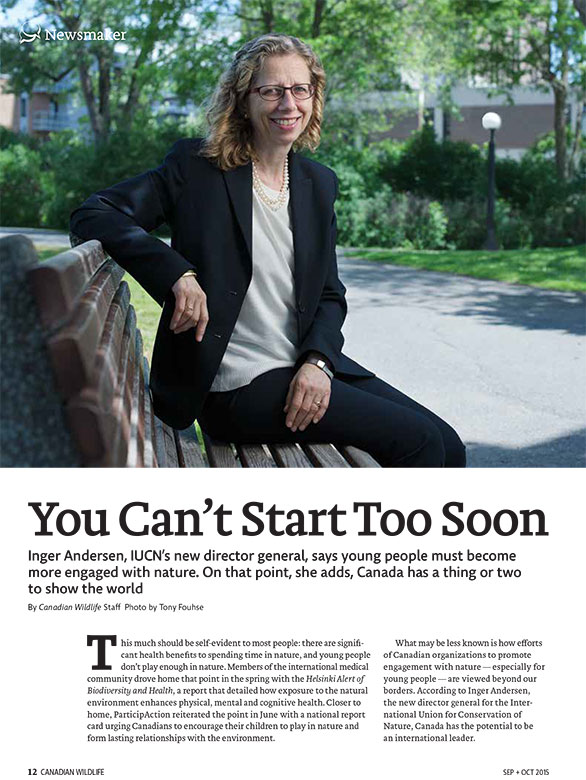 Inger Andersen, IUCN's new director general, says young people must become more engaged with nature. On that point, she adds, Canada has a thing or two to show the world
This much should be self-evident to most people: there are significant health benefits to spending time in nature, and young people don't play enough in nature. Members of the international medical community drove home that point in the spring with the Helsinki Alert of Biodiversity and Health, a report that detailed how exposure to the natural environment enhances physical, mental and cognitive health. Closer to home, ParticipAction reiterated the point in June with a national report card urging Canadians to encourage their children to play in nature and form lasting relationships with the environment.
What may be less known is how efforts of Canadian organizations to promote engagement with nature — especially for young people — are viewed beyond our borders. According to Inger Andersen, the new director general for the International Union for Conservation of Nature, Canada has the potential to be an international leader.
"Canadians are a nature-loving people, and Canada has stepped up in terms of the issue of inspiring the next generation," Andersen told Canadian Wildlife during a recent visit to Ottawa. "Understanding that we are another species in this beautiful planet — all of that helps us to place ourselves in nature, and this is the place where Canada plays an important role."
A Danish economist and former vicepresident at the World Bank, Andersen was appointed director general at IUCN in January. Among her top priorities is working to instill in young people an appreciation and respect for nature. An increasing number of young people are living in cities and becoming more attached to technology such as cellphones and tablets, she says. It is incumbent on conservation organizations to help them find nature in urban settings, like nearby parks or local hiking trails.
"Connecting youth, and people in general, to nature is important because we know that people who are exposed to nature are generally happier. Knowing nature makes for better, healthier lives. And this is proven again and again," she says.
Judging by the ParticipAction report, Canadians have considerable room for improvement in encouraging young people to become more physically active. But Andersen notes that Canadian organizations are working to change the picture. Examples include the Parks Canada Youth Ambassador program, where young adults embark on and share outdoor adventures, and the CWF Wild Outside program, where young Canadians learn a conservation ethic by planning and delivering nature connection projects to their peers. The Canada Committee of the IUCN also has two positions designated for youth on its board. (Editor's note: Rick Bates, CWF executive director, also serves as president of the Canada Committee of the IUCN.)
"We need to look at nature-based solutions. How can nature work for us; how can we work for nature," Andersen says, adding that the IUCN will look to learn from Canada about strategies for engaging youth and how Canada's model can be translated to the world. "We have to inspire the next generation — the decisionmakers of tomorrow — so that they too feel and understand the imperative of conservation, which is absolutely critical."