September 1, 2015
By Canadian Wildlife Staff, Photo by Juan Luna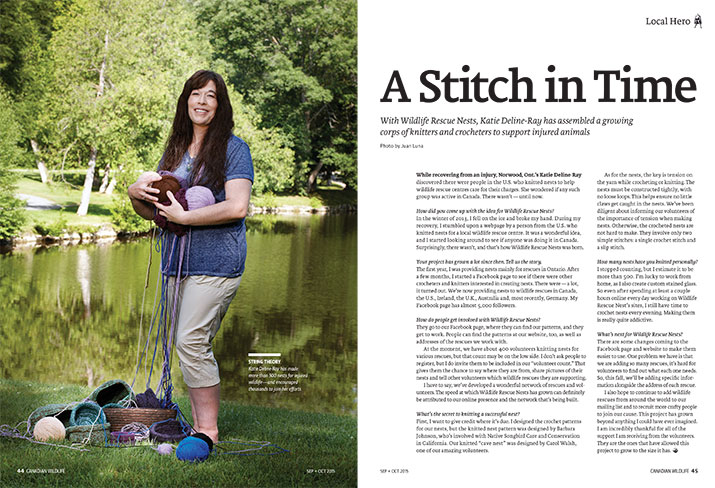 With Wildlife Rescue Nests, Katie Deline-Ray has assembled a growing corps of knitters and crocheters to support injured animals
While recovering from an injury, Norwood, Ont.'s Katie Deline-Ray discovered there were people in the U.S. who knitted nests to help wildlife rescue centres care for their charges. She wondered if any such group was active in Canada. There wasn't — until now.
How did you come up with the idea for Wildlife Rescue Nests?
In the winter of 2013, I fell on the ice and broke my hand. During my recovery, I stumbled upon a webpage by a person from the U.S. who knitted nests for a local wildlife rescue centre. It was a wonderful idea, and I started looking around to see if anyone was doing it in Canada. Surprisingly, there wasn't, and that's how Wildlife Rescue Nests was born.
Your project has grown a lot since then. Tell us the story. The first year, I was providing nests mainly for rescues in Ontario. After a few months, I started a Facebook page to see if there were other crocheters and knitters interested in creating nests. There were — a lot, it turned out. We're now providing nests to wildlife rescues in Canada, the U.S., Ireland, the U.K., Australia and, most recently, Germany. My Facebook page has almost 5,000 followers.
How do people get involved with Wildlife Rescue Nests?
They go to our Facebook page, where they can find our patterns, and they get to work. People can find the patterns at our website, too, as well as addresses of the rescues we work with.
At the moment, we have about 400 volunteers knitting nests for various rescues, but that count may be on the low side. I don't ask people to register, but I do invite them to be included in our "volunteer count." That gives them the chance to say where they are from, share pictures of their nests and tell other volunteers which wildlife rescues they are supporting. I have to say, we've developed a wonderful network of rescues and volunteers. The speed at which Wildlife Rescue Nests has grown can definitely be attributed to our online presence and the network that's being built.
What's the secret to knitting a successful nest?
First, I want to give credit where it's due. I designed the crochet patterns for our nests, but the knitted nest pattern was designed by Barbara Johnson, who's involved with Native Songbird Care and Conservation in California. Our knitted "cave nest" was designed by Carol Walsh, As for the nests, the key is tension on the yarn while crocheting or knitting. The nests must be constructed tightly, with no loose loops. This helps ensure no little claws get caught in the nests. We've been diligent about informing our volunteers of the importance of tension when making nests. Otherwise, the crocheted nests are
not hard to make. They involve only two simple stitches: a single crochet stitch and a slip stitch.
How many nests have you knitted personally?
I stopped counting, but I estimate it to be more than 500. I'm lucky to work from home, as I also create custom stained glass. So even after spending at least a couple hours online every day working on Wildlife Rescue Nest's sites, I still have time to crochet nests every evening. Making them is really quite addictive.
What's next for Wildlife Rescue Nests?
There are some changes coming to the Facebook page and website to make them easier to use. One problem we have is that we are adding so many rescues, it's hard for volunteers to find out what each one needs. So, this fall, we'll be adding specific information alongside the address of each rescue.
I also hope to continue to add wildlife rescues from around the world to our mailing list and to recruit more crafty people to join our cause. This project has grown beyond anything I could have ever imagined. I am incredibly thankful for all of the support I am receiving from the volunteers. They are the ones that have allowed this project to grow to the size it has.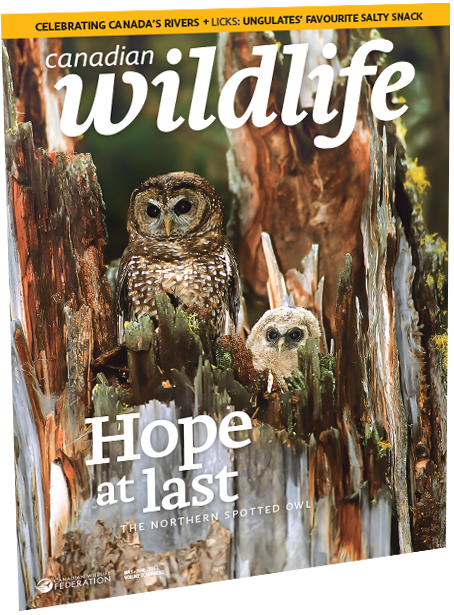 Reprinted from Canadian Wildlife magazine. Get more information or subscribe now! Now on newsstands! Or, get your digital edition today!