September 1, 2014
By Jay Ingram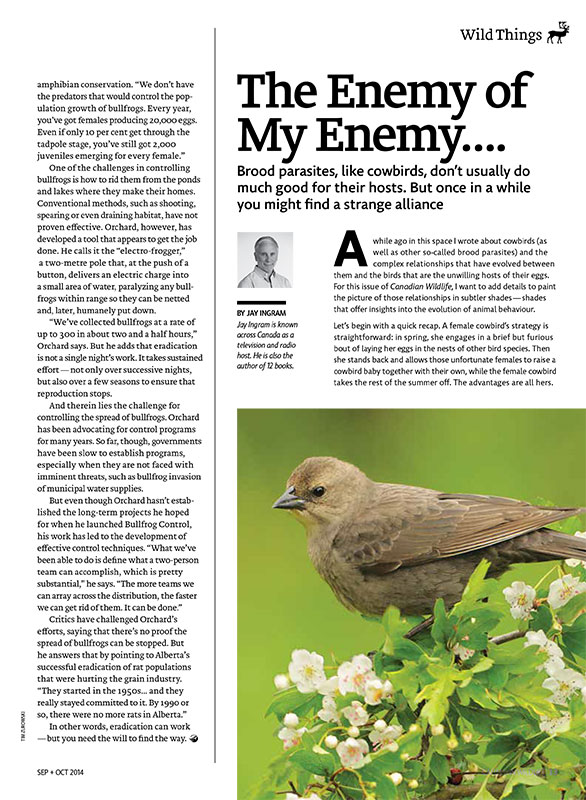 Brood parasites, like cowbirds, don't usually do much good for their hosts. But once in a while you might find a strange alliance

A while ago in this space I wrote about cowbirds (as well as other so-called brood parasites) and the complex relationships that have evolved between them and the birds that are the unwilling hosts of their eggs. For this issue of Canadian Wildlife, I want to add details to paint the picture of those relationships in subtler shades — shades that offer insights into the evolution of animal behaviour.

Let's begin with a quick recap. A female cowbird's strategy is straightforward: in spring, she engages in a brief but furious bout of laying her eggs in the nests of other bird species. Then she stands back and allows those unfortunate females to raise a cowbird baby together with their own, while the female cowbird takes the rest of the summer off. The advantages are all hers.

But the unwilling host species do have some tricks up their sleeve: some eject the cowbird egg; some go to the trouble of building a second nest on top of the first, abandoning the cowbird egg along with their own first clutch. On the other hand, some species do nothing, and the newly hatched cowbird nestling may push some of the host bird's offspring out of the nest or at least hog most of the food brought in by the parents. It is startling to see a tiny warbler hustling to feed a young cowbird twice her size.

As is often the case in the living world, however, things are much more complicated than they first appear. When it comes to cowbirds, my all-time favourite example comes from the late Neal Griffith Smith, a biologist who worked with the Smithsonian Tropical Research Institute in Panama. He untangled a relationship worthy of daytime TV. It involved the giant cowbird Scaphidura and the two species it parasitized, oropendolas and caciques. Griffith Smith observed that the cowbirds used two very different strategies to find homes for their eggs.

Some, which he called "dumpers," made no secret of what they were doing. They roamed around in loud groups, perching insolently beside a cacique or oropendola nest, in full view, then laying their egg (or eggs) as soon as the host vacated the nest. Odd behaviour, considering the whole point is to avoid discovery by the host. Other cowbirds behaved in a more predictable way — skulking around, sneaking into a nest and laying an egg that looked exactly like those of the host.

Griffith Smith finally unwound the story, but he needed two additional actors to do it: biting (not stinging) bees and botflies. Botflies preyed on oropendola and cacique nestlings, but were deterred by two things: the presence of a cowbird nestling or proximity to a hive of biting bees. When young cowbirds were present in a nest, they preened all the other birds and kept them free from botfly larvae. Meanwhile, if the nest was near a hive of biting bees, it was virtually free from flies. It's wasn't exactly clear what bees did to the flies, but Griffith Smith did find piles of detached fly wings on the ground under hives.

These relationships explained the dual strategies of the cowbirds. It actually paid off for host birds to have a cowbird in their nest if flies were abundant around them. Fewer of their own would reach adulthood because of the competition, but none might have survived if they had been infected with fly larvae. So the "dumpers" could do their thing with insouciance.

Meanwhile, host birds lucky enough to locate near a beehive had no need of a cowbird nestling. In that case, cowbirds needed to be much more subtle.

Just recently, two more studies illustrated what a tangled web this can be. In Spain, the relationship between nest-parasite cuckoos and their target species, carrion crows, is a mirror image of Griffith Smith's Panamanian birds. The only difference is that the cuckoo nestling secretes a foul-smelling chemical that drives away predators. In lab experiments, it has succeeded in deterring feral cats and raptors from picking up pieces of treated chicken. A nice coincidence half a world away.

It has long been suspected that such parasite-host relationships represent an evolutionary arms race in progress. Nest parasites often lay eggs that bear patterns very similar to the host, apparently making it more difficult for the host species to recognize the intruding egg. In turn, over time, the patterning of the host eggs evolves to be different. A study using image analysis of egg patterns — tweaked to reveal exactly what birds are likely to see — showed that those species of British birds that are most preyed on by cuckoos also had the most elaborate patterning, apparently a desperate attempt to make the cuckoo egg stand out from the rest.

It is offence versus defence, punch versus counterpunch, played out over generations. And we are lucky enough to have ringside seats for it all.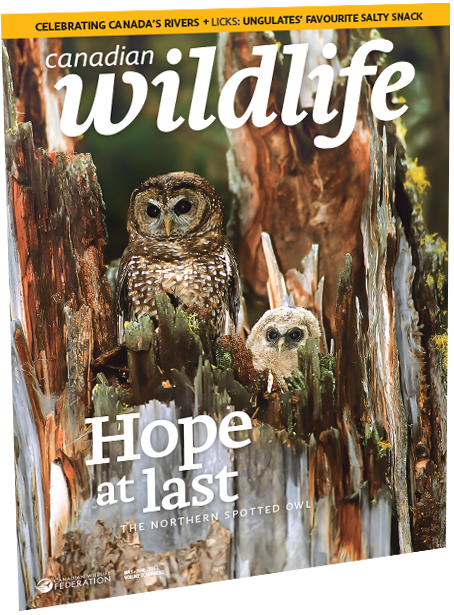 Reprinted from Canadian Wildlife magazine. Get more information or subscribe now! Now on newsstands! Or, get your digital edition today!
Related Links