September 1, 2014
By Cooper Langford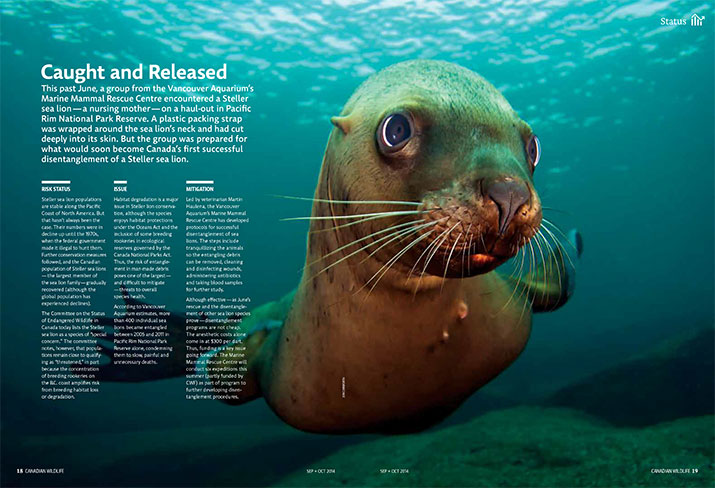 This past June, a group from the Vancouver Aquarium's Marine Mammal Rescue Centre encountered a Steller sea lion — a nursing mother — on a haul-out in Pacific Rim National Park Reserve. A plastic packing strap was wrapped around the sea lion's neck and had cut deeply into its skin. But the group was prepared for what would soon become Canada's first successful disentanglement of a Steller sea lion.
RISK STATUS

THE ISSUE


MITIGATION

Steller sea lion populations are stable along the Pacific Coast of North America. But that hasn't always been the case. Their numbers were in decline up until the 1970s, when the federal government made it illegal to hunt them. Further conservation measures followed, and the Canadian population of Steller sea lions — the largest member of the sea lion family — gradually recovered (although the global population has experienced declines).

The Committee on the Status of Endangered Wildlife in Canada today lists the Steller sea lion as a species of "special concern." The committee notes, however, that populations remain close to qualifying as "threatened," in part because the concentration of breeding rookeries on the B.C. coast amplifies risk from breeding habitat loss or degradation.

Habitat degradation is a major issue in Steller lion conservation, although the species enjoys habitat protections under the Oceans Act and the inclusion of some breeding rookeries in ecological
reserves governed by the Canada National Parks Act. Thus, the risk of entanglement in man-made debris poses one of the largest — and difficult to mitigate — threats to overall species health.

According to Vancouver Aquarium estimates, more than 400 individual sea lions became entangled between 2005 and 2011 in Pacific Rim National Park Reserve alone, condemning them to slow, painful and
unnecessary deaths.

Led by veterinarian Martin Haulena, the Vancouver Aquarium's Marine Mammal Rescue Centre has developed protocols for successful disentanglement of sea lions. The steps include tranquillizing the animals so the entangling debris can be removed, cleaning and disinfecting wounds, administering antibiotics and taking blood samples for further study.

Although effective — as June's rescue and the disentanglement of other sea lion species prove — disentanglement programs are not cheap. The anesthetic costs alone come in at $300 per dart. Thus, funding is a key issue going forward. The Marine Mammal Rescue Centre will conduct six expeditions this summer (partly funded by CWF) as part of program to further developing disentanglement procedures.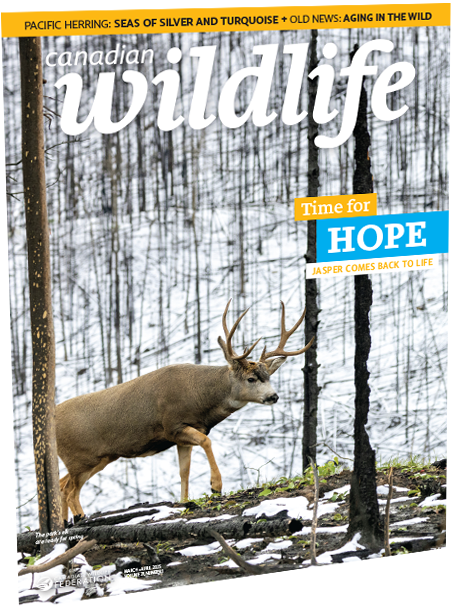 Reprinted from Canadian Wildlife magazine. Get more information or subscribe now! Now on newsstands! Or, get your digital edition today!
Related Links