September 1, 2014
By Cooper Langford Photo by TJ Watt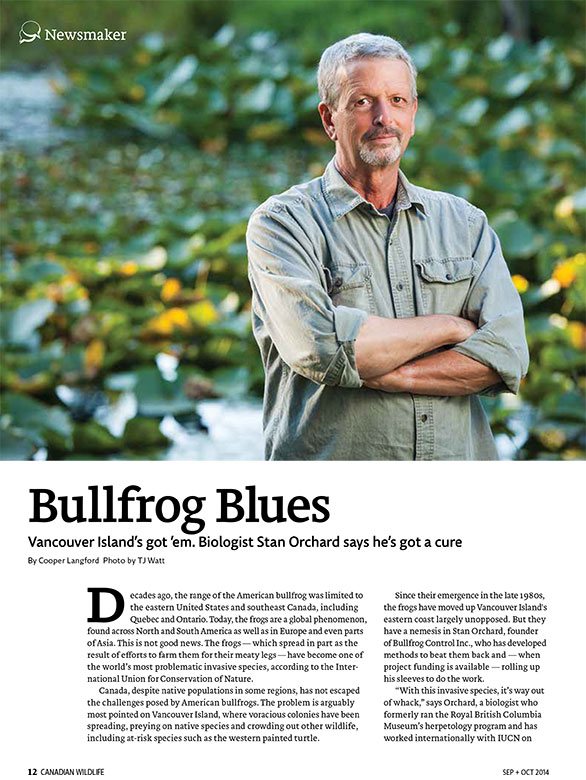 Vancouver Island's got 'em. Biologist Stan Orchard says he's got a cure.

Decades ago, the range of the American bullfrog was limited to the eastern United States and southeast Canada, including Quebec and Ontario. Today, the frogs are a global phenomenon, found across North and South America as well as in Europe and even parts of Asia. This is not good news. The frogs — which spread in part as the result of efforts to farm them for their meaty legs — have become one of the world's most problematic invasive species, according to the International Union for Conservation of Nature.

Canada, despite native populations in some regions, has not escaped the challenges posed by American bullfrogs. The problem is arguably most pointed on Vancouver Island, where voracious colonies have been spreading, preying on native species and crowding out other wildlife, including at-risk species such as the western painted turtle.

Since their emergence in the late 1980s, the frogs have moved up Vancouver Island's eastern coast largely unopposed. But they have a nemesis in Stan Orchard, founder of Bullfrog Control Inc., who has developed methods to beat them back and — when project funding is available — rolling up his sleeves to do the work.

"With this invasive species, it's way out of whack," says Orchard, a biologist who formerly ran the Royal British Columbia Museum's herpetology program and has worked internationally with IUCN on amphibian conservation. "We don't have the predators that would control the population growth of bullfrogs. Every year, you've got females producing 20,000 eggs. Even if only 10 per cent get through the tadpole stage, you've still got 2,000 juveniles emerging for every female."

One of the challenges in controlling bullfrogs is how to rid them from the ponds and lakes where they make their homes. Conventional methods, such as shooting, spearing or even draining habitat, have not proven effective. Orchard, however, has developed a tool that appears to get the job done. He calls it the "electro-frogger," a two-metre pole that, at the push of a button, delivers an electric charge into a small area of water, paralyzing any bullfrogs within range so they can be netted and, later, humanely put down.

"We've collected bullfrogs at a rate of up to 300 in about two and a half hours," Orchard says. But he adds that eradication is not a single night's work. It takes sustained effort — not only over successive nights, but also over a few seasons to ensure that reproduction stops.

And therein lies the challenge for controlling the spread of bullfrogs. Orchard has been advocating for control programs for many years. So far, though, governments have been slow to establish programs, especially when they are not faced with imminent threats, such as bullfrog invasion of municipal water supplies.

But even though Orchard hasn't established the long-term projects he hoped for when he launched Bullfrog Control, his work has led to the development of effective control techniques. "What we've been able to do is define what a two-person team can accomplish, which is pretty substantial," he says. "The more teams we can array across the distribution, the faster we can get rid of them. It can be done."

Critics have challenged Orchard's efforts, saying that there's no proof the spread of bullfrogs can be stopped. But he answers that by pointing to Alberta's successful eradication of rat populations that were hurting the grain industry. "They started in the 1950s… and they really stayed committed to it. By 1990 or so, there were no more rats in Alberta."

In other words, eradication can work — but you need the will to find the way.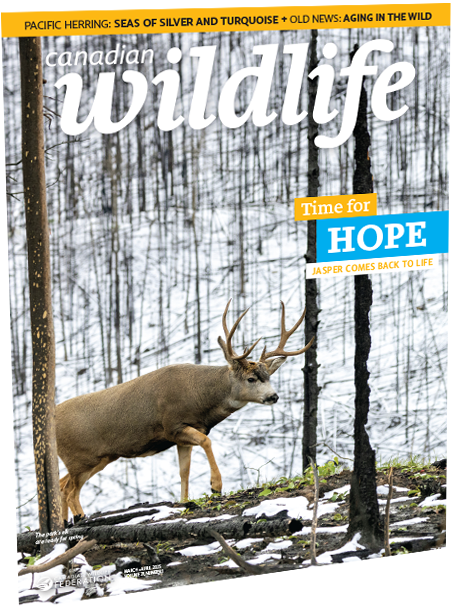 Reprinted from Canadian Wildlife magazine. Get more information or subscribe now! Now on newsstands! Or, get your digital edition today!
Related Links