September 1, 2014
By Cooper Langford Photograph by Juan Luna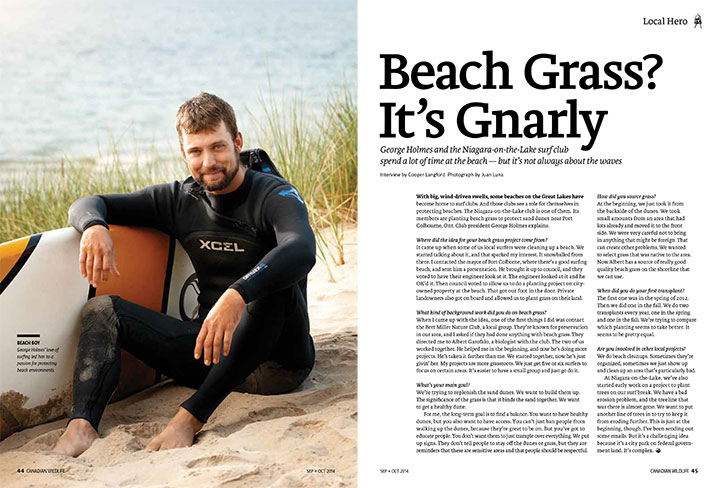 George Holmes and the Niagara-on-the-Lake surf club spend a lot of time at the beach - but it's not always about the waves.

With big, wind-driven swells, some beaches on the Great Lakes have become home to surf clubs. And those clubs see a role for themselves in protecting beaches. The Niagara-on-the-Lake club is one of them. Its members are planting beach grass to protect sand dunes near Port Colbourne, Ont. Club president George Holmes explains.

Where did the idea for your beach grass project come from?

It came up when some of us local surfers were cleaning up a beach. We started talking about it, and that sparked my interest. It snowballed from there. I contacted the mayor of Port Colborne, where there's a good surfing beach, and sent him a presentation. He brought it up to council, and they voted to have their engineer look at it. The engineer looked at it and he OK'd it. Then council voted to allow us to do a planting project on cityowned property at the beach. That got our foot in the door. Private landowners also got on board and allowed us to plant grass on their land.

What kind of background work did you do on beach grass?

When I came up with the idea, one of the first things I did was contact the Bert Miller Nature Club, a local group. They're known for preservation in our area, and I asked if they had done anything with beach grass. They directed me to Albert Garofalo, a biologist with the club. The two of us worked together. He helped me in the beginning, and now he's doing more projects. He's taken it farther than me. We started together, now he's just givin' her. My projects are more grassroots. We just get five or six surfers to focus on certain areas. It's easier to have a small group and just go do it.

What's your main goal?

We're trying to replenish the sand dunes. We want to build them up. The significance of the grass is that it binds the sand together. We want to get a healthy dune.

For me, the long-term goal is to find a balance. You want to have healthy dunes, but you also want to have access. You can't just ban people from walking up the dunes, because they're great to be on. But you've got to educate people. You don't want them to just trample over everything. We put up signs. They don't tell people to stay off the dunes or grass, but they are reminders that these are sensitive areas and that people should be respectful.

How did you source grass?

At the beginning, we just took it from the backside of the dunes. We took small amounts from an area that had lots already and moved it to the front side. We were very careful not to bring in anything that might be foreign. That can create other problems. We wanted to select grass that was native to the area. Now Albert has a source of really good quality beach grass on the shoreline that we can use.

When did you do your first transplant?

The first one was in the spring of 2012. Then we did one in the fall. We do two transplants every year, one in the spring and one in the fall. We're trying to compare which planting seems to take better. It seems to be pretty equal.

Are you involved in other local projects?

We do beach cleanups. Sometimes they're organized, sometimes we just show up and clean up an area that's particularly bad.

At Niagara-on-the-Lake, we've also started early work on a project to plant trees on our surf break. We have a bad erosion problem, and the treeline that was there is almost gone. We want to put another line of trees in to try to keep it from eroding further. This is just at the beginning, though. I've been sending out some emails. But it's a challenging idea because it's a city park on federal government land. It's complex.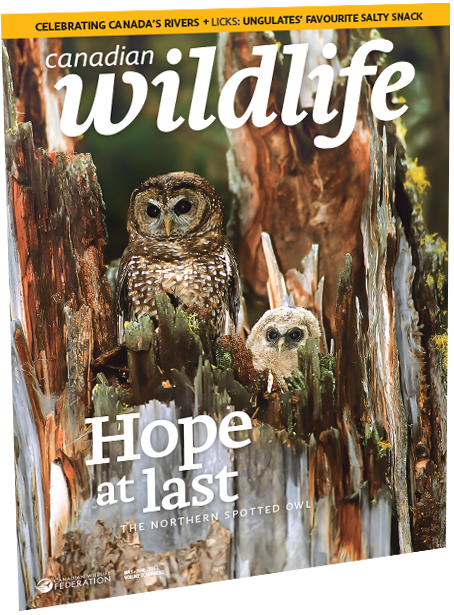 Reprinted from Canadian Wildlife magazine. Get more information or subscribe now! Now on newsstands! Or, get your digital edition today!
Related Links