September 1, 2014
By Cooper Langford. Photos by Paul Colangelo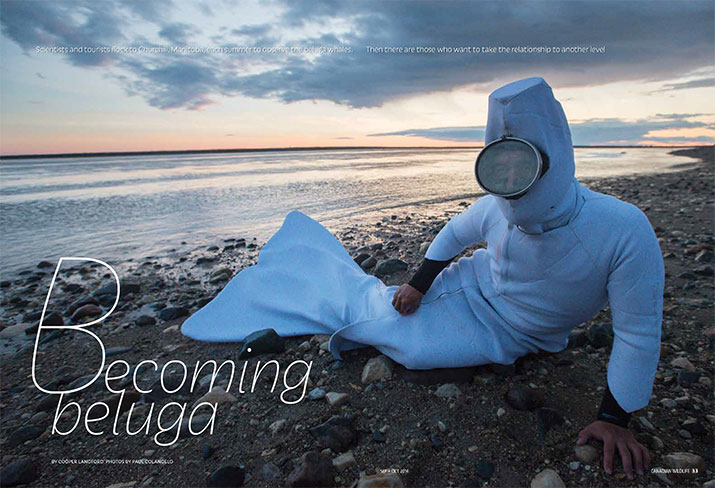 Scientists and tourists flock to Churchill, Manitoba, each summer to observe the beluga whales. Then there are those who want to take the relationship to another level.

Every summer, the waters around the estuary where the Churchill River flows into Hudson Bay grow rich with capelin. And every summer, the small fish attract beluga whales, more than 3,000 in any given year, which come to feast and to give birth to calves.

The belugas, of course, are followed by people. Some are scientists, who come to study the white whales. Others are tourists, who come to view them, even snorkel among them, and enjoy one of nature's great spectacles.

Over the past four summers, the whales have attracted yet another enthusiast, a Winnipeg-based artist named Kaoru Ryan Klatt, who is leading an unusual project: to explore the potential for aesthetic interaction — a kind of cultural exchange — between artists and Churchill's belugas through sound, movement, music and sculpture.

It sounds like an eccentric idea. And let's be honest, it has its quirks. Still, it's hard not to be swayed by Klatt's enthusiasm for the project — called Becoming Beluga — his candour, charm and, most of all, his down-to-earth approach to the work itself. "I don't think this is goaloriented," Klatt says, explaining his modest expectations for the project's outcomes. "It's more about... trying to open the doors to a space where we can exchange life with one another. It's up to the people watching the material and documentation to interpret and analyze what's going on."

In other words, let's ask a question, try out some ideas and see what people make of the results.

The Becoming Beluga project is multi-faceted, but its most intriguing element, arguably, is the one that caught the eye of Canadian Wildlife contributing photographer Paul Colangelo when he met Klatt while shooting Churchill's belugas for the May/June 2014 issue: the bionic whale suit.

Made of white neoprene (to protect the wearer from Hudson Bay's cold waters) the suit mimics the shape and colour of a beluga, complete with a propulsion system that helps the person wearing the suit to keep up with the whales while swimming. Early versions included hydrophones, to mimic a whale's ears, video cameras, to act as eyes, and a speaker system to transmit sound. Klatt, however, found that the myriad technical features interfered with efforts to connect with the whales. So he stripped the design down to essentials — a suit and a propulsion system.

The simplified suit has proven effective in attracting whales. "They're very curious," Klatt says. "They'll come around and let their friends know, their pod. Generally, they'll swim underneath me, which is different from when we're on the surface or in a boat." The key to maintaining interaction, he continues, is being able to keep up. "The whales like to swim at a certain speed, and they usually engage with motion.... If we're going too slow, they swim past. Then they loop around, follow us again, and swim past. It happens over and over."

Curious as the whale suit may be, it is only part of Becoming Beluga. Music is another key component, with various artists — including singers, mandolin players, drummers and glockenspiel players — having tried their hand at performing for the whales. Sometimes they play from a boat; sometimes they play their instruments under the water or project the sound into the bay. "Voice is something the whales really relate to," Klatt says. "Maybe it's something they feel they can do." Perhaps. Belugas are particularly vocal animals and are sometimes called the "canaries of the sea" because of their singing.

To cap it off Klatt, who has been videoing his group's efforts over the past few years, hopes to complete a documentary film about the project in the next year or so. (Some clips can be viewed now at the project's website, BecomingBeluga.com.) He also hopes to curate a show that can be mounted in art galleries.

And that truly speaks to the goals of Becoming Beluga. Klatt says the belugas often respond well to the work of the artists involved with project, based on the level of curiosity they show toward the artists (who also strive to avoid disturbing the whales). It is certainly interaction, although Klatt does not ascribe specific meanings to the encounters. "It's very broad, what we're doing," he says. "We're working with a philosophical concept."

The easiest way to put it may be to ask, "can you share an experience?" Becoming Beluga explores that space.

What the results mean are perhaps best left to the species — the humans and the whales — to determine for themselves.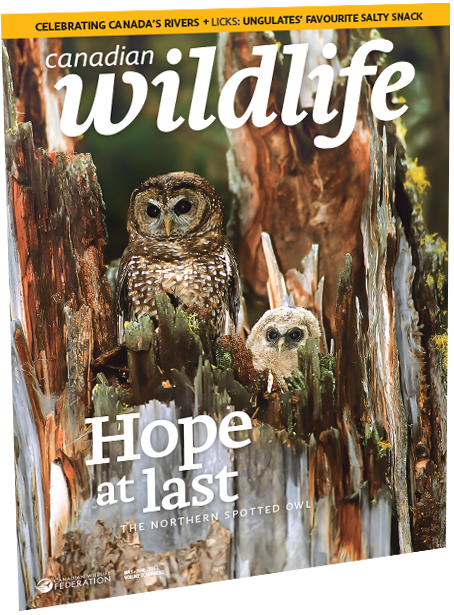 Reprinted from Canadian Wildlife magazine. Get more information or subscribe now! Now on newsstands! Or, get your digital edition today!
Related Links