September 1, 2013
By Jay Ingram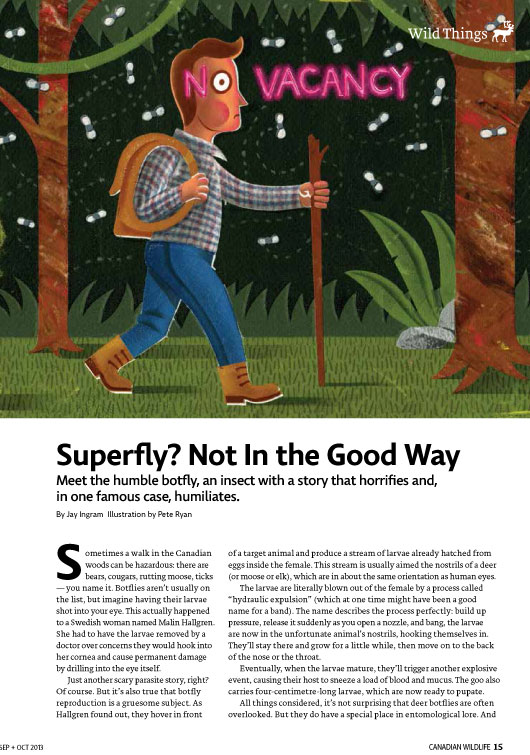 Sometimes a walk in the Canadian woods can be hazardous: there are bears, cougars, rutting moose, ticks — you name it. Botflies aren't usually on the list, but imagine having their larvae shot into your eye. This actually happened to a Swedish woman named Malin Hallgren. She had to have the larvae removed by a doctor over concerns they would hook into her cornea and cause permanent damage by drilling into the eye itself.
Just another scary parasite story, right? Of course. But it's also true that botfly reproduction is a gruesome subject. As Hallgren found out, they hover in front of a target animal and produce a stream of larvae already hatched from eggs inside the female. This stream is usually aimed the nostrils of a deer (or moose or elk), which are in about the same orientation as human eyes.
The larvae are literally blown out of the female by a process called "hydraulic expulsion" (which at one time might have been a good name for a band). The name describes the process perfectly: build up pressure, release it suddenly as you open a nozzle, and bang, the larvae are now in the unfortunate animal's nostrils, hooking themselves in.
They'll stay there and grow for a little while, then move on to the back of the nose or the throat.
Eventually, when the larvae mature, they'll trigger another explosive event, causing their host to sneeze a load of blood and mucus. The goo also carries four-centimetre-long larvae, which are now ready to pupate.
All things considered, it's not surprising that deer botflies are often overlooked. But they do have a special place in entomological lore. And their story is one worth telling, largely because it involves one of the great scientific put-downs in history. Let me explain.
Botflies are fast flyers, but they aren't record holders. According to the University of Florida's Book of Insect Records, that claim belongs to the desert locust, which has been reliably timed at speeds of around 35 kilometres per hour. (Other insects likely fly faster, but precise speed measurements aren't available.)
There was a time not so long ago, however, when it was thought that Cephenemyia — the botfly — was actually 30 times faster than the locust.
Sadly, the record was short-lived.
The origin of this claim traces back to the September 1927 edition of the Journal of the New York Entomological Society. Charles Townsend published an article about flight that ranged from predictions that flapping wing aircraft would "eventually materialize and outdo the airplane," to discussions of the speed necessary to fly around the Earth so as never to emerge from night, to an analysis of the structures and muscles that anchor and flap the botfly's wing.
Townsend also made a sensational claim about the airspeeds botflies could reach. On "12,000-foot summits in New Mexico I have seen pass by me at an incredible velocity what were certainly males of Cephenemyia.
In Profile: Deer Botflies

→ The ancient Greek philosopher
Aristotle (384 BC-322 BC) wrote
about deer botflies, describing
them as "large as the largest grub."
→ Five species of botflies are found
in North America and their range
covers most of the continent.
→ After they are expelled from their
hosts, deer botfly larvae burrow into
the soil to pupate. The process takes
between two and three weeks.
→ Deer botflies are short-lived
creatures. Adults have no
mouths and must breed shortly
after they pupate.
→ Meat from animals carrying deer
botfly larvae is safe for consumption.

Source: Michigan Department of Natural Resources
I could barely distinguish that something had passed — only a brownish blur in the air of about the right size for these flies and without sense of form. As closely as I could estimate, their speed must have approximated 400 yards per second."
Let's consider that estimate for a moment. Four hundred yards per second is a little more than 1,300 kilometres per hour — faster than the speed of sound. No wonder Townsend's report circulated widely, even making the editorial page of the New York Times.
The publicity must have been nice, but ultimately Townsend probably wished he'd thought through his claims more carefully. In a 1938 article in Science, Irving Langmuir, a Nobel Prize-winning physicist, asked a simple question about the botfly's presumed aerial achievement: "Is this really likely?" He went on to roundly dismiss Townsend's claims.
For starters, Langmuir calculated the atmospheric drag on botflies travelling at supersonic speeds to be equal to roughly 500 Gs — enough to crush the fly's head.
To power that kind of flight, Langmuir also reckoned the fly would have to consume one-and-a-half times its own weight in food each second.
And the blur factor? Here, the science charms. Langmuir tied a thread to a piece of fly-sized solder and spun it around his head. At a mere 21 kilometres per hour, it was already a blur. At 42 kilometres per hour it was barely visible. And it became completely invisible at 100 kilometres per hour. He estimated the actual speed of a botfly in flight at a more reasonable 40 kilometres per hour.
Just as well. If you were hit by one of these bugs travelling at 1,300 kilometres per hour, it would deliver about 140 kilograms of force, penetrating deep into your flesh. That might even be worse than having the female spray larvae at you — although we should let Malin Hallgren make that call.