September 1, 2013
By Cooper Langford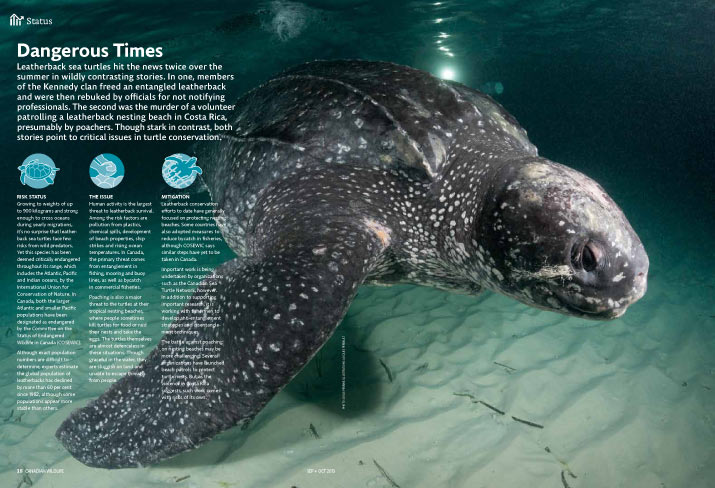 Dangerous Times
Leatherback sea turtles hit the news twice over the summer in wildly contrasting stories. In one, members of the Kennedy clan freed an entangled leatherback and were then rebuked by officials for not notifying professionals. The second was the murder of a volunteer patrolling a leatherback nesting beach in Costa Rica, presumably by poachers. Though stark in contrast, both stories point to critical issues in turtle conservation.
By Cooper Langford


RISK STATUS



THE ISSUE



MITIGATION

Growing to weights of up to 900 kilograms and strong enough to cross oceans during yearly migrations, it's no surprise that leatherback sea turtles face few risks from wild predators. Yet this species has been deemed critically endangered throughout its range, which includes the Atlantic, Pacific and Indian oceans, by the International Union for Conservation of Nature. In Canada, both the larger Atlantic and smaller Pacific populations have been designated as endangered by the Committee on the Status of Endangered Wildlife in Canada (COSEWIC).

Although exact population numbers are difficult to determine, experts estimate the global population of leatherbacks has declined by more than 60 per cent since 1982, although some populations appear more stable than others.

Human activity is the largest threat to leatherback survival. Among the risk factors are pollution from plastics, chemical spills, development of beach properties, ship strikes and rising ocean temperatures. In Canada, the primary threat comes from entanglement in fishing, mooring and buoy lines, as well as bycatch in commercial fisheries.

Poaching is also a major threat to the turtles at their tropical nesting beaches, where people sometimes kill turtles for food or raid their nests and take the eggs. The turtles themselves are almost defenceless in these situations. Though graceful in the water, they are sluggish on land and unable to escape threats from people.

Leatherback conservation efforts to date have generally focused on protecting nesting beaches. Some countries have also adopted measures to reduce bycatch in fisheries, although COSEWIC says similar steps have yet to be taken in Canada.

Important work is being undertaken by organizations such as the Canadian Sea Turtle Network, however. In addition to supporting important research, it is working with fishermen to develop anti-entanglement strategies and disentanglement techniques.

The battle against poaching on nesting beaches may be more challenging. Several organizations have launched beach patrols to protect turtle nests. But as the violence in Costa Rica suggests, such work comes with risks of its own.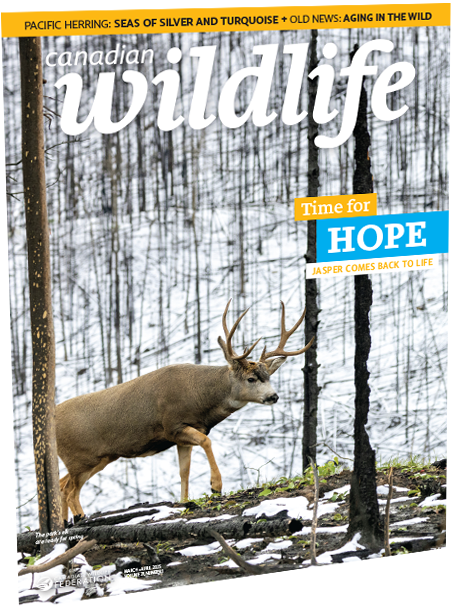 Reprinted from Canadian Wildlife magazine. Get more information or subscribe now! Now on newsstands! Or, get your digital edition today!