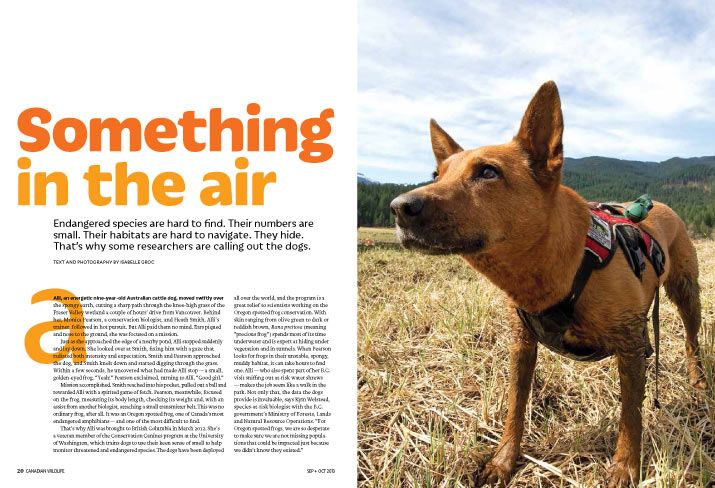 Something In the Air
Endangered species are hard to find. Their numbers are small. Their habitats are hard to navigate. They hide. That's why some researchers are calling out the dogs.



Ride on the Wild Side


It's easy to lose the path on the Canol Heritage Trail. When that happens, follow the animals.

By Ryan Stuart Photography by Ryan Creary

Lost River

In cities around the world, natural rivers have been reshaped, rerouted and sent underground to create the backbones of sewer systems. It happens in Canada, too. Case in point: Montreal's Rivière St-Pierre. This is what it looks like today.

Text and photography by Andrew Emond
SEPTEMBER/OCTOBER 2013 ISSUE
Letters to the Editor

Post your comments about the latest Canadian Wildlife magazine and your letter could be published in an upcoming issue of the magazine! Post »

Wild Things: No Vacancy

By Jay Ingram


Meet the humble botfly, an insect with a story that horrifies and,
in one famous case, humiliates. Read more »

Newsmaker: A Real Birds'-Eye View


In his new book — and many others — author Jamie Bastedo lets readers see the world through the eyes of wildlife. Read more »

Status: Small Assurances


Contrasting news stories show the challenges of leatherback sea turtle protection. Read more »

Your Garden: The End of the Season
The arrival fall is another chapter in the life of our gardens. Read more »



Local Hero: They're De-paving Paradise

Got a dirty old parking lot in your area? In Collingwood, Ont., volunteers are turning one of theirs into a wild space. Read more or nominate your local conservation hero »

Bulletin: Does Fish Farming Make Sense?

News, events and updates on conservation projects from the Canadian Wildlife Federation. Read more (PDF) »

Want the research behind the stance? Let us know »

Habitat: Grasslands National Park

Protecting at-risk prairie landscapes in southwestern Saskatchewan.
Map it!
See the locations in the stories from the September/October 2013 issue of Canadian Wildlife.

View Canadian Wildlife magazine Biosphère :: S/O 2013 in a larger map