September 1, 2013
By Cooper Langford
In local terms at least, there are few writers in Canada's Far North as well known as Jamie Bastedo. A long-time Yellowknifer who first arrived as a biologist from southern Ontario, he is today one of the N.W.T.'s leading educators and evangelists on the subject of the natural world — a status he's achieved in part through the publication of a dozen books, both fiction and non-fiction, aimed at inspiring people to connect with the outdoors.
For Bastedo, nature is an inspiring realm, both knowable and mysterious at the same time. His passion for the subject shines in his writing, especially his fiction, in which he portrays the perspectives of his wild subjects as if readers were seeing the world as wildlife experience it through their own senses.
With his latest book, Nighthawk! (published by Red Deer Press), Bastedo takes his storytelling a step further by giving his animal characters the power of speech, allowing them to talk about their world in words and human emotions. Bastedo acknowledges it's a challenge for a storyteller who puts a premium on grounding his fiction in scientific fact.
"As a biologist, anthropomorphism is anathema to good science," he says. "But I'm also a storyteller… In this book, I'm trying in a different way to connect with animals. In a way, it brings the animals closer to the reader."
Indeed, Nighthawk!, which positions itself as a crossover story for youth and adults, does not shortchange readers on the natural history of its subject. At the same time, however, it rises above the trap of trying to turn science into crudely constructed fiction with a compelling narrative and memorable characters.
The story itself centres on a young nighthawk named Wisp, following him from his earliest days in the nest on a school roof in Yellowknife where he was born and along his epic migration from the forests of the Amazon to sub-Arctic Canada.
Along the way, Bastedo explores several themes from a literal bird's-eye view, including the awesome challenge of migration and its mysteries, and the impact of urbanization and resource development on wildlife.
These big ideas are wrapped in a personal story about a young bird that cannot read star formations — key to successful migration — and is thus treated as an outsider. Wisp has other attributes, however, among them an urge to explore the Barren Lands north of Yellowknife, where nighthawks have never travelled before.
On this point, Bastedo deftly weaves his science and his storytelling. Wisp's ambitions touch on the theme of shifting ranges for wild species as climate change and human development alter their habitats. But the book also casts Wisp's narrative as a hero's journey, a story about the power of individuals to affect change in their lives and the lives of others.
At first glance, the twinning of those concepts may appear unusual, perhaps even melodramatic. But Bastedo's clean and economical style avoids that risk, allowing a larger idea to surface: while they are easy to take for granted, the patterns and processes of the natural world are as inspirational as they are epic. That's a key theme in Nighthawk! and throughout Bastedo's fiction and non-fiction work.
In fact, it's his inspiration. "The reason I write these books is to help people connect with and care about nature," he says. "This is how I measure success. It's not in royalties. It's not in reviews. It's when someone comes up to me and says 'Jamie, I've started to look at [wildlife] in a whole new way.'"
Follow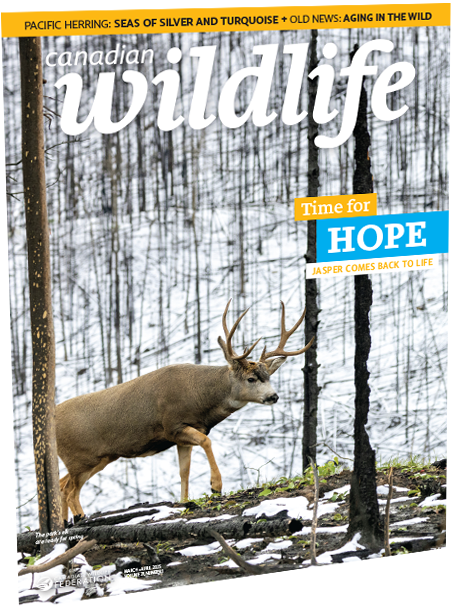 Reprinted from Canadian Wildlife magazine. Get more information or subscribe now! Now on newsstands! Or, get your digital edition today!