November 1, 2017
By Jay Ingram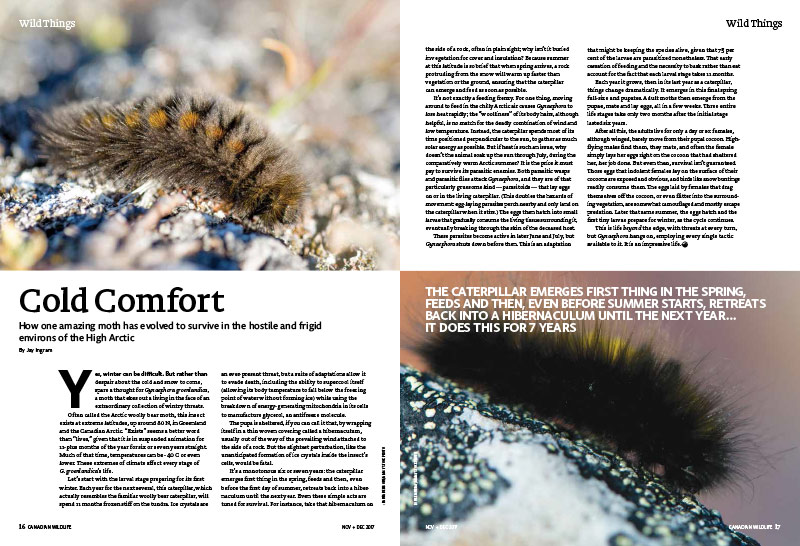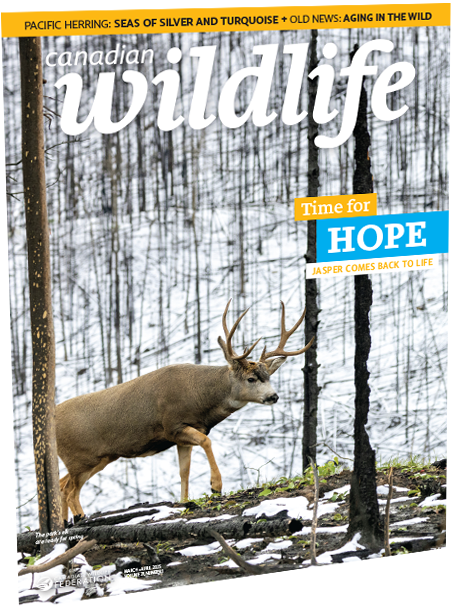 Reprinted from Canadian Wildlife magazine. Get more information or subscribe now! Now on newsstands! Or, get your digital edition today!
How one amazing moth has evolved to survive in the hostile and frigid environs of the High Arctic
Yes, winter can be difficult. But rather than despair about the cold and snow to come, spare a thought for Gynaephora groenlandica, a moth that ekes out a living in the face of an extraordinary collection of wintry threats.
Often called the Arctic woolly bear moth, this insect exists at extreme latitudes, up around 80 N, in Greenland and the Canadian Arctic. "Exists" seems a better word than "lives," given that it is in suspended animation for 11-plus months of the year for six or seven years straight. Much of that time, temperatures can be -40 C or even lower. These extremes of climate affect every stage of G. groenlandica's life.
Let's start with the larval stage preparing for its first winter. Each year for the next several, this caterpillar, which actually resembles the familiar woolly bear caterpillar, will spend 11 months frozen stiff on the tundra. Ice crystals are an ever-present threat, but a suite of adaptations allow it to evade death, including the ability to supercool itself (allowing its body temperature to fall below the freezing point of water without forming ice) while using the breakdown of energy-generating mitochondria in its cells to manufacture glycerol, an antifreeze molecule.
The pupa is sheltered, if you can call it that, by wrapping itself in a thin woven covering called a hibernaculum, usually out of the way of the prevailing wind attached to the side of a rock. But the slightest perturbation, like the unanticipated formation of ice crystals inside the insect's cells, would be fatal.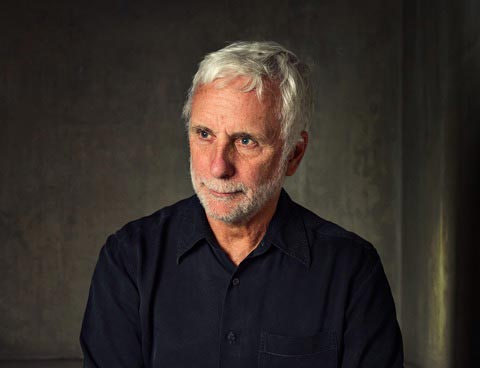 THE CATERPILLAR EMERGES FIRST THING IN THE SPRING, FEEDS AND THEN, EVEN BEFORE SUMMER STARTS, RETREATS BACK INTO A HIBERNACULUM UNTIL THE NEXT YEAR... IT DOES THIS FOR 7 YEARS
It's a monotonous six or seven years: the caterpillar emerges first thing in the spring, feeds and then, even before the first day of summer, retreats back into a hibernaculum until the next year. Even these simple acts are tuned for survival. For instance, take that hibernaculum on the side of a rock, often in plain sight; why isn't it buried in vegetation for cover and insulation? Because summer at this latitude is so brief that when spring arrives, a rock protruding from the snow will warm up faster than vegetation or the ground, ensuring that the caterpillar can emerge and feed as soon as possible.
It's not exactly a feeding frenzy. For one thing, moving around to feed in the chilly Arctic air causes Gynaephora to lose heat rapidly; the "woolliness" of its body hairs, although helpful, is no match for the deadly combination of wind and low temperature. Instead, the caterpillar spends most of its time positioned perpendicular to the sun, to gather as much solar energy as possible. But if heat is such an issue, why doesn't the animal soak up the sun through July, during the comparatively warm Arctic summer? It is the price it must pay to survive its parasitic enemies. Both parasitic wasps and parasitic flies attack Gynaephora, and they are of that particularly gruesome kind — parasitoids — that lay eggs on or in the living caterpillar. (This doubles the hazards of movement: egg-laying parasites perch nearby and only land on the caterpillar when it stirs.) The eggs then hatch into small larvae that gradually consume the living tissue surrounding it, eventually breaking through the skin of the deceased host.
These parasites become active in later June and July, but Gynaephora shuts down before then. This is an adaptation that might be keeping the species alive, given that 75 per cent of the larvae are parasitized nonetheless. That early cessation of feeding and the necessity to bask rather than eat account for the fact that each larval stage takes 11 months. Each year it grows, then in its last year as a caterpillar, things change dramatically. It emerges in this final spring full-size and pupates. Adult moths then emerge from the pupae, mate and lay eggs, all in a few weeks. Three entire life stages take only two months after the initial stage lasted six years.
After all this, the adults live for only a day or so: females, although winged, barely move from their pupal cocoon. Highflying males find them, they mate, and often the female simply lays her eggs right on the cocoon that had sheltered her, her job done. But even then, survival isn't guaranteed. Those eggs that indolent females lay on the surface of their cocoons are exposed and obvious, and birds like snow buntings readily consume them. The eggs laid by females that drag themselves off the cocoon, or even flitter into the surrounding vegetation, are somewhat camouflaged and mostly escape predation. Later that same summer, the eggs hatch and the first tiny larvae prepare for winter, as the cycle continues. This is life beyond the edge, with threats at every turn, but Gynaephora hangs on, employing every single tactic available to it. It is an impressive life.