November 1, 2017
By Matthew Church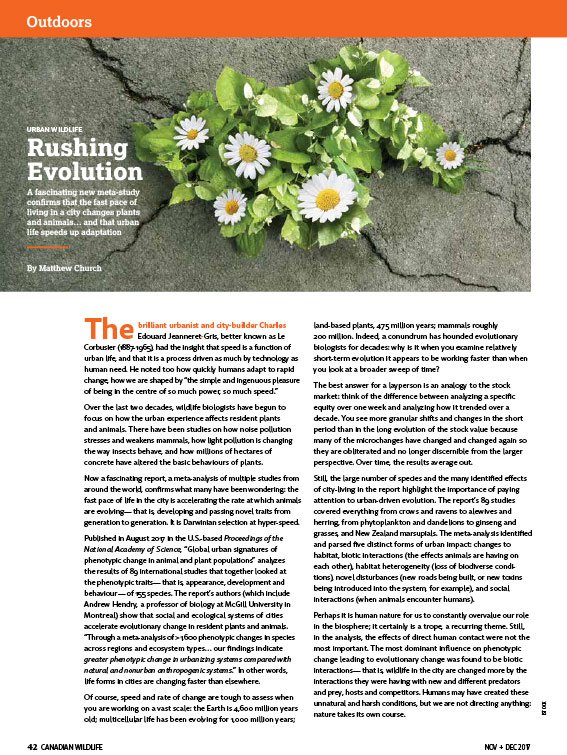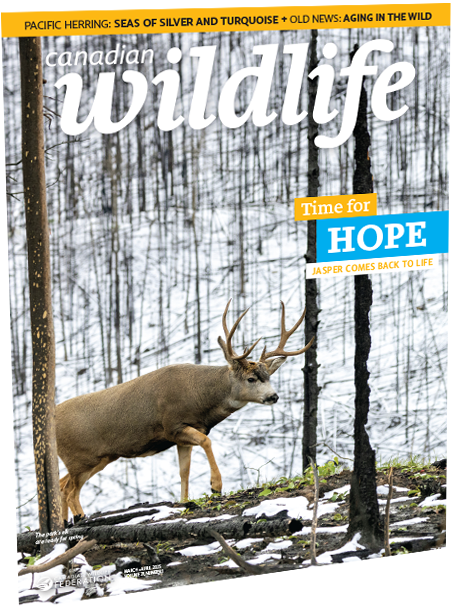 Reprinted from Canadian Wildlife magazine. Get more information or subscribe now! Now on newsstands! Or, get your digital edition today!
A fascinating new meta-study confirms that the fast pace of living in a city changes plants and animals… and that urban life speeds up adaptation
The brilliant urbanist and city-builder Charles Edouard Jeanneret-Gris, better known as Le Corbusier (1887-1965), had the insight that speed is a function of urban life, and that it is a process driven as much by technology as human need. He noted too how quickly humans adapt to rapid change, how we are shaped by "the simple and ingenuous pleasure of being in the centre of so much power, so much speed."
Over the last two decades, wildlife biologists have begun to focus on how the urban experience affects resident plants and animals. There have been studies on how noise pollution stresses and weakens mammals, how light pollution is changing the way insects behave, and how millions of hectares of concrete have altered the basic behaviours of plants.
Now a fascinating report, a meta-analysis of multiple studies from around the world, confirms what many have been wondering: the fast pace of life in the city is accelerating the rate at which animals are evolving — that is, developing and passing novel traits from generation to generation. It is Darwinian selection at hyper-speed.
Published in August 2017 in the U.S.-based Proceedings of the National Academy of Science, "Global urban signatures of phenotypic change in animal and plant populations" analyzes the results of 89 international studies that together looked at the phenotypic traits — that is, appearance, development and behaviour — of 155 species. The report's authors (which include Andrew Hendry, a professor of biology at McGill University in Montreal) show that social and ecological systems of cities accelerate evolutionary change in resident plants and animals. "Through a meta-analysis of >1,600 phenotypic changes in species across regions and ecosystem types… our findings indicate greater phenotypic change in urbanizing systems compared with natural and nonurban anthropogenic systems." In other words, life forms in cities are changing faster than elsewhere.
Of course, speed and rate of change are tough to assess when you are working on a vast scale: the Earth is 4,600 million years old; multicellular life has been evolving for 1,000 million years; land-based plants, 475 million years; mammals roughly 200 million. Indeed, a conundrum has hounded evolutionary biologists for decades: why is it when you examine relatively short-term evolution it appears to be working faster than when you look at a broader sweep of time?
The best answer for a layperson is an analogy to the stock market: think of the difference between analyzing a specific equity over one week and analyzing how it trended over a decade. You see more granular shifts and changes in the short period than in the long evolution of the stock value because many of the microchanges have changed and changed again so they are obliterated and no longer discernible from the larger perspective. Over time, the results average out.
Still, the large number of species and the many identified effects of city-living in the report highlight the importance of paying attention to urban-driven evolution. The report's 89 studies covered everything from crows and ravens to alewives and herring, from phytoplankton and dandelions to ginseng and grasses, and New Zealand marsupials. The meta-analysis identified and parsed five distinct forms of urban impact: changes to habitat, biotic interactions (the effects animals are having on each other), habitat heterogeneity (loss of biodiverse conditions), novel disturbances (new roads being built, or new toxins being introduced into the system, for example), and social interactions (when animals encounter humans).
Perhaps it is human nature for us to constantly overvalue our role in the biosphere; it certainly is a trope, a recurring theme. Still, in the analysis, the effects of direct human contact were not the most important. The most dominant influence on phenotypic change leading to evolutionary change was found to be biotic interactions — that is, wildlife in the city are changed more by the interactions they were having with new and different predators and prey, hosts and competitors. Humans may have created these unnatural and harsh conditions, but we are not directing anything: nature takes its own course.