November 1, 2017
By David Bird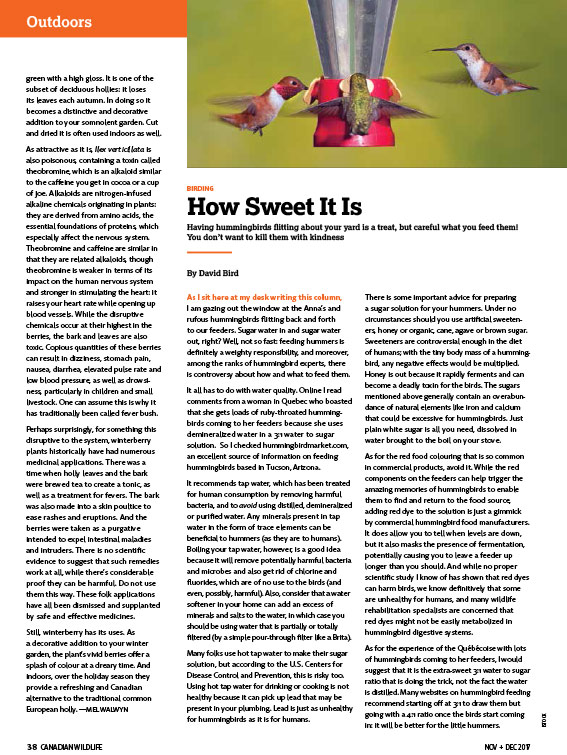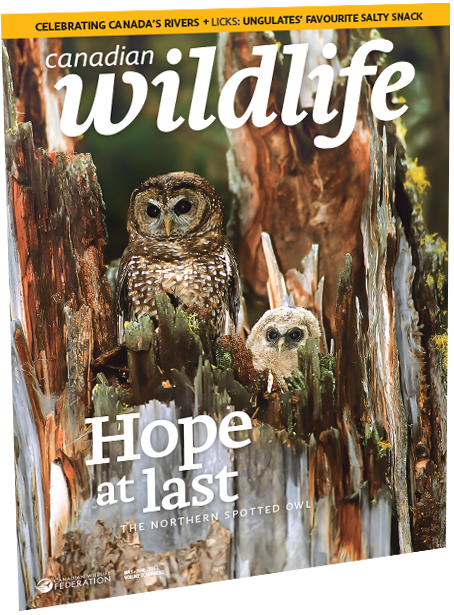 Reprinted from Canadian Wildlife magazine. Get more information or subscribe now! Now on newsstands! Or, get your digital edition today!
Having hummingbirds flitting about your yard is a treat, but careful what you feed them! You don't want to kill them with kindness
As I sit here at my desk writing this column, I am gazing out the window at the Anna's and rufous hummingbirds flitting back and forth to our feeders. Sugar water in and sugar water out, right? Well, not so fast: feeding hummers is definitely a weighty responsibility, and moreover, among the ranks of hummingbird experts, there is controversy about how and what to feed them.
It all has to do with water quality. Online I read comments from a woman in Quebec who boasted that she gets loads of ruby-throated hummingbirds coming to her feeders because she uses demineralized water in a 3:1 water to sugar solution. So I checked hummingbirdmarket.com, an excellent source of information on feeding hummingbirds based in Tucson, Arizona.
It recommends tap water, which has been treated for human consumption by removing harmful bacteria, and to avoid using distilled, demineralized or purified water. Any minerals present in tap water in the form of trace elements can be beneficial to hummers (as they are to humans).
Boiling your tap water, however, is a good idea because it will remove potentially harmful bacteria and microbes and also get rid of chlorine and fluorides, which are of no use to the birds (and even, possibly, harmful). Also, consider that a water softener in your home can add an excess of minerals and salts to the water, in which case you should be using water that is partially or totally filtered (by a simple pour-through filter like a Brita).
Many folks use hot tap water to make their sugar solution, but according to the U.S. Centers for Disease Control and Prevention, this is risky too. Using hot tap water for drinking or cooking is not healthy because it can pick up lead that may be present in your plumbing. Lead is just as unhealthy for hummingbirds as it is for humans.
There is some important advice for preparing a sugar solution for your hummers. Under no circumstances should you use artificial sweeteners, honey or organic, cane, agave or brown sugar. Sweeteners are controversial enough in the diet of humans; with the tiny body mass of a hummingbird, any negative effects would be multiplied. Honey is out because it rapidly ferments and can become a deadly toxin for the birds. The sugars mentioned above generally contain an overabundance of natural elements like iron and calcium that could be excessive for hummingbirds. Just plain white sugar is all you need, dissolved in water brought to the boil on your stove.
As for the red food colouring that is so common in commercial products, avoid it. While the red components on the feeders can help trigger the amazing memories of hummingbirds to enable them to find and return to the food source, adding red dye to the solution is just a gimmick by commercial hummingbird food manufacturers. It does allow you to tell when levels are down, but it also masks the presence of fermentation, potentially causing you to leave a feeder up longer than you should. And while no proper scientific study I know of has shown that red dyes can harm birds, we know definitively that some are unhealthy for humans, and many wildlife rehabilitation specialists are concerned that red dyes might not be easily metabolized in hummingbird digestive systems.
As for the experience of the Québécoise with lots of hummingbirds coming to her feeders, I would suggest that it is the extra-sweet 3:1 water to sugar ratio that is doing the trick, not the fact the water is distilled. Many websites on hummingbird feeding recommend starting off at 3:1 to draw them but going with a 4:1 ratio once the birds start coming in: it will be better for the little hummers.