November 1, 2016
By Jay Ingram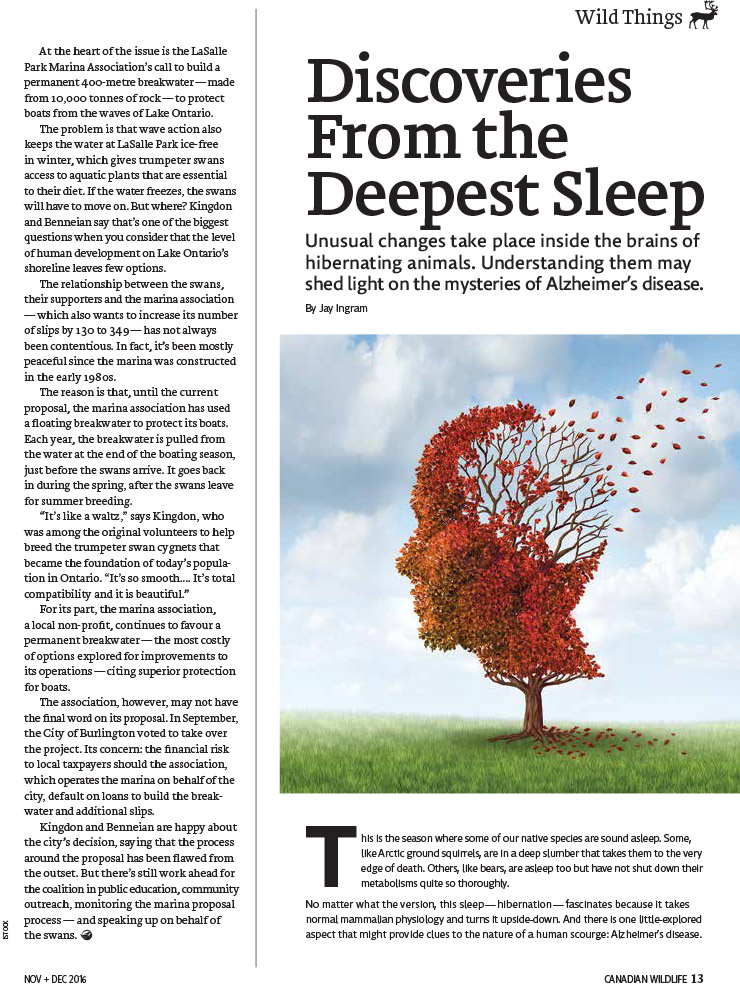 Unusual changes take place inside the brains of hibernating animals. Understanding them may shed light on the mysteries of Alzheimer's disease.
This is the season where some of our native species are sound asleep. Some, like Arctic ground squirrels, are in a deep slumber that takes them to the very edge of death. Others, like bears, are asleep too but have not shut down their metabolisms quite so thoroughly.
No matter what the version, this sleep — hibernation — fascinates because it takes normal mammalian physiology and turns it upside-down. And there is one little-explored aspect that might provide clues to the nature of a human scourge: Alzheimer's disease.
Alzheimer's is frustratingly complex, which is one of the reasons that we have no truly effective treatment for it. Its course — loss of memory, changes in behaviour, inability to communicate — is the outward signs of a cascade of disruptions of the brain inside. The first changes occur years, perhaps even decades, before symptoms first appear. And while there is controversy at every turn, most scientists agree that there are two particularly bad actors in the development of the disease — deposits called plaques and tangles that litter the Alzheimer's brain.
Plaques seem to kick things off. They begin life as tiny, short-chain molecules that steadily aggregate, hundreds of thousands of them, into clumps of twisted and misfolded proteins. At some point, they trigger the appearance of tangles.
Tangles are derived from a protein called tau, which stabilizes the elongated skeletal elements in nerves called "microtubules." Under the microscope, a single nerve cell in the brain, a neuron, looks like a tall, leafless, multi-limbed tree in a very dense forest. Each tree — the individual neurons — is superficially similar but uniquely branched, right down to the twigs. The microtubules inside the neurons stabilize and support these structures.
But neurons, at times, also extend and grow. They become plastic. Wherever that is happening in a neuron, the molecules of tau holding the microtubules together become plastered with phosphates (we're down in the world of chemistry now) and lose their grip. The microtubular scaffold begins to collapse.
There are two times in a human's life when that breakdown happens: in utero, when the brain is frantically building and needs its neurons to be as flexible as possible, and in Alzheimer's. Two sides of the same coin. Except that as the fetus develops, the process slows and then stops; in the Alzheimer's patient it does not.
Thomas Arendt of the University of Leipzig has led the way in investigating a similar phenomenon in hibernating animals. Working with two species with very different approaches to hibernation — Arctic ground squirrels and black bears — Arendt has shown that the same sort of brain changes occur in both.
That's surprising given the differences between the animals. When an Arctic ground squirrel enters the torpor that precedes full hibernation, its body chemistry slows and its temperature falls — dramatically. The squirrels spend five to six months with body temperatures hovering around the freezing point. The only exceptions are occasional "wakings," the term for returns to normal metabolism that last only a few hours.
Much less startling is the back bear, whose body temperature drops by only about 7 degrees C from its normal of 37 degrees. (Being able to maintain that relatively high body temperature surprised scientists, who had expected the drastic reductions in metabolism — heart rate halved or more, one breath every 45 seconds — would have forced a lower temperature.)
Despite these differences in body temperature, both species show the same phenomenon in their brains: the microtubules in their neurons are in disarray. When hibernation ends, the neurons' structural integrity returns, and the animals waken with no appreciable mental deficits — at least in the long run. (It's clear from experiments with a variety of species that the waking-from-hibernation brain is extraordinarily active and in some cases slow to recover its pre-hibernation state.)
The parallel between Alzheimer's patients and hibernators is that in the brains of both, things are slowing. The animals are able to reverse this process when necessary. Humans are not. In people, the loss of tau and the disaggregation of microtubules is a foreshadowing of neuronal death and cognitive loss, a symptom of decline. In hibernators, it appears to be a protective response to the dramatic shutdown of metabolism that allows them to survive the hostile conditions of the Canadian winter.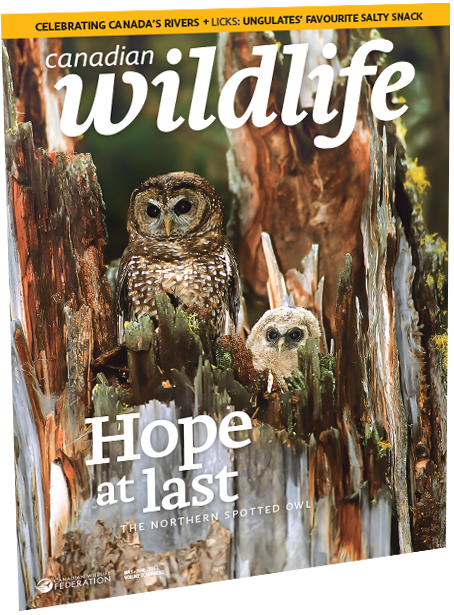 Reprinted from Canadian Wildlife magazine. Get more information or subscribe now! Now on newsstands! Or, get your digital edition today!