November 1, 2016
By Canadian Wildlife Staff, Photo by Aaron McKenzie Fraser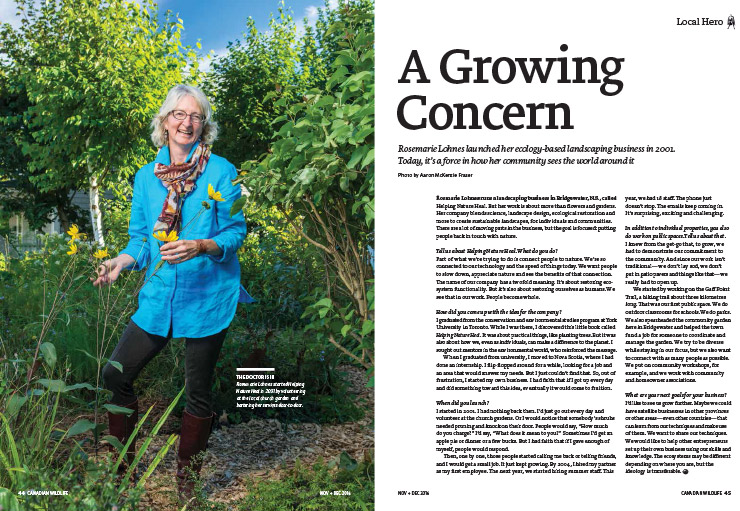 Rosemarie Lohnes launched her ecology-based landscaping business in 2001. Today, it's a force in how her community sees the world around it
Rosmarie Lohnes runs a landscaping business in Bridgewater, N.S., called Helping Nature Heal. But her work is about more than flowers and gardens. Her company blends science, landscape design, ecological restoration and more to create sustainable landscapes, for individuals and communities. There are a lot of moving parts in the business, but the goal is focused: putting people back in touch with nature.
Tell us about Helping Nature Heal. What do you do?
Part of what we're trying to do is connect people to nature. We're so connected to our technology and the speed of things today. We want people to slow down, appreciate nature and see the benefits of that connection. The name of our company has a twofold meaning. It's about restoring ecosystem functionality. But it's also about restoring ourselves as humans. We see that in our work. People become whole.
How did you come up with the idea for the company?
I graduated from the conservation and environmental studies program at York University in Toronto. While I was there, I discovered this little book called Helping Nature Heal. It was about practical things, like planting trees. But it was also about how we, even as individuals, can make a difference to the planet. I sought out mentors in the environmental world, who reinforced the message.
When I graduated from university, I moved to Nova Scotia, where I had done an internship. I flip-flopped around for a while, looking for a job and an area that would answer my needs. But I just couldn't find that. So, out of frustration, I started my own business. I had faith that if I got up every day and did something toward this idea, eventually it would come to fruition.
When did you launch?
I started in 2001. I had nothing back then. I'd just go out every day and volunteer at the church gardens. Or I would notice that somebody's shrubs needed pruning and knock on their door. People would say, "How much do you charge?" I'd say, "What does it mean to you?" Sometimes I'd get an apple pie or dinner or a few bucks. But I had faith that if I gave enough of myself, people would respond.
Then, one by one, those people started calling me back or telling friends, and I would get a small job. It just kept growing. By 2004, I hired my partner as my first employee. The next year, we started hiring summer staff. This year, we had 18 staff. The phone just doesn't stop. The emails keep coming in. It's surprising, exciting and challenging.
In addition to individual properties, you also do work on public spaces. Tell us about that.
I knew from the get-go that, to grow, we had to demonstrate our commitment to the community. And since our work isn't traditional — we don't lay sod, we don't put in patio pavers and things like that — we really had to open up.
We started by working on the Gaff Point Trail, a hiking trail about three kilometres long. That was our first public space. We do outdoor classrooms for schools. We do parks. We also spearheaded the community garden here in Bridgewater and helped the town fund a job for someone to coordinate and manage the garden. We try to be diverse while staying in our focus, but we also want to connect with as many people as possible. We put on community workshops, for example, and we work with community and homeowner associations.
What are your next goals for your business?
I'd like to see us grow further. Maybe we could have satellite businesses in other provinces or other areas — even other countries — that can learn from our techniques and make use of them. We want to share our techniques. We would like to help other entrepreneurs set up their own business using our skills and knowledge. The ecosystems may be different depending on where you are, but the ideology is transferable.