November 1, 2016
By David Bird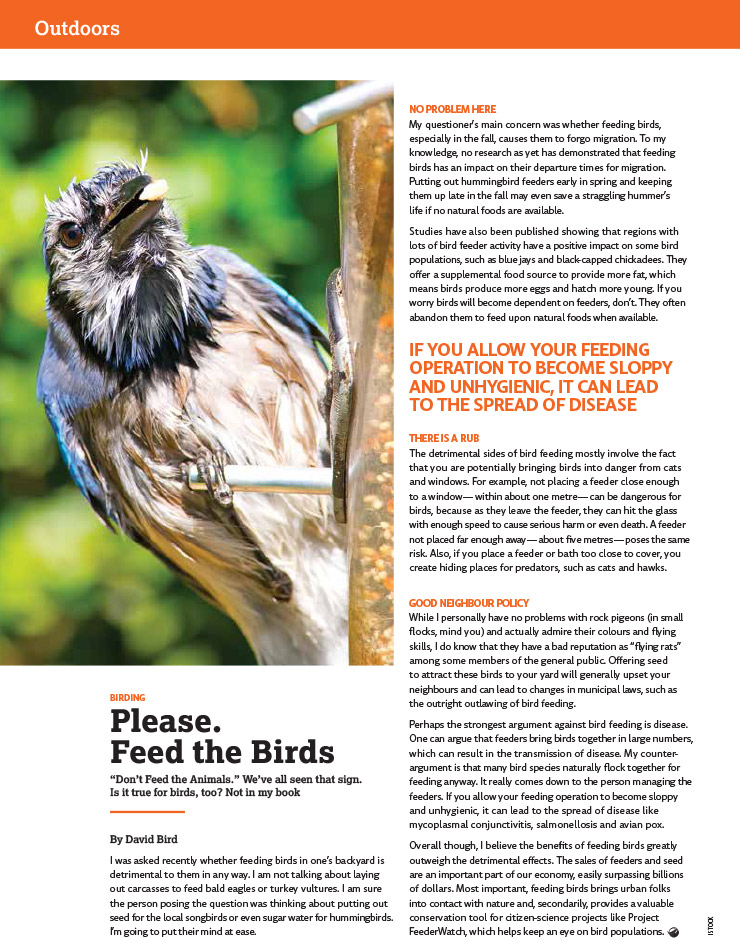 "Don't Feed the Animals." We've all seen that sign. Is it true for birds, too? Not in my book
I was asked recently whether feeding birds in one's backyard is detrimental to them in any way. I am not talking about laying out carcasses to feed bald eagles or turkey vultures. I am sure the person posing the question was thinking about putting out seed for the local songbirds or even sugar water for hummingbirds. I'm going to put their mind at ease.
NO PROBLEM HERE
My questioner's main concern was whether feeding birds, especially in the fall, causes them to forgo migration. To my knowledge, no research as yet has demonstrated that feeding birds has an impact on their departure times for migration. Putting out hummingbird feeders early in spring and keeping them up late in the fall may even save a straggling hummer's life if no natural foods are available.
Studies have also been published showing that regions with lots of bird feeder activity have a positive impact on some bird populations, such as blue jays and black-capped chickadees. They offer a supplemental food source to provide more fat, which means birds produce more eggs and hatch more young. If you worry birds will become dependent on feeders, don't. They often abandon them to feed upon natural foods when available.
THERE IS A RUB
The detrimental sides of bird feeding mostly involve the fact that you are potentially bringing birds into danger from cats and windows. For example, not placing a feeder close enough to a window — within about one metre — can be dangerous for birds, because as they leave the feeder, they can hit the glass with enough speed to cause serious harm or even death. A feeder not placed far enough away — about five metres — poses the same risk. Also, if you place a feeder or bath too close to cover, you create hiding places for predators, such as cats and hawks.
GOOD NEIGHBOUR POLICY
While I personally have no problems with rock pigeons (in small flocks, mind you) and actually admire their colours and flying skills, I do know that they have a bad reputation as "flying rats" among some members of the general public. Offering seed to attract these birds to your yard will generally upset your neighbours and can lead to changes in municipal laws, such as the outright outlawing of bird feeding.
Perhaps the strongest argument against bird feeding is disease. One can argue that feeders bring birds together in large numbers, which can result in the transmission of disease. My counterargument is that many bird species naturally flock together for feeding anyway. It really comes down to the person managing the feeders. If you allow your feeding operation to become sloppy and unhygienic, it can lead to the spread of disease like mycoplasmal conjunctivitis, salmonellosis and avian pox.
Overall though, I believe the benefits of feeding birds greatly outweigh the detrimental effects. The sales of feeders and seed are an important part of our economy, easily surpassing billions of dollars. Most important, feeding birds brings urban folks into contact with nature and, secondarily, provides a valuable conservation tool for citizen-science projects like Project FeederWatch, which helps keep an eye on bird populations.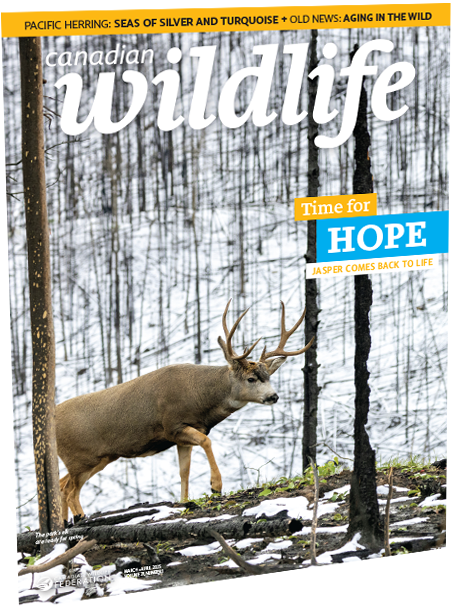 Reprinted from Canadian Wildlife magazine. Get more information or subscribe now! Now on newsstands! Or, get your digital edition today!