November 1, 2015
By Canadian Wildlife Staff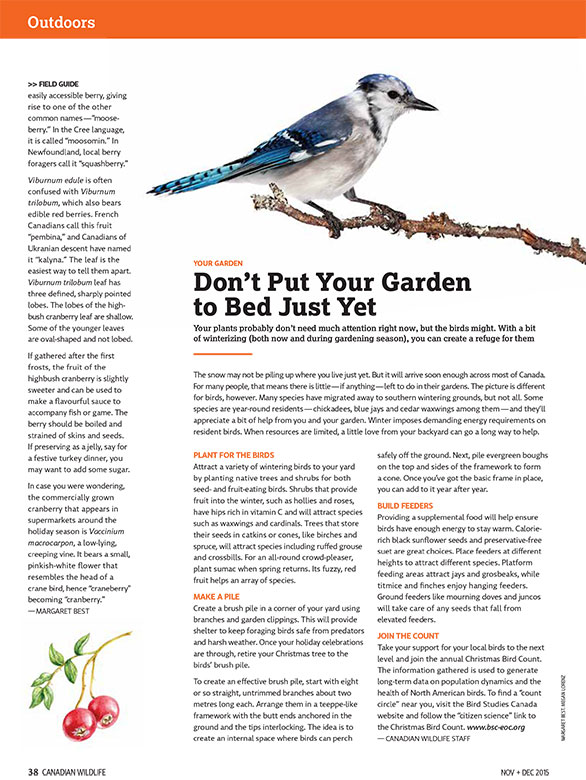 Your plants probably don't need much attention right now, but the birds might. With a bit of winterizing (both now and during gardening season), you can create a refuge for them
The snow may not be piling up where you live just yet. But it will arrive soon enough across most of Canada. For many people, that means there is little — if anything — left to do in their gardens. The picture is different for birds, however. Many species have migrated away to southern wintering grounds, but not all. Some species are year-round residents — chickadees, blue jays and cedar waxwings among them — and they'll appreciate a bit of help from you and your garden. Winter imposes demanding energy requirements on resident birds. When resources are limited, a little love from your backyard can go a long way to help.
PLANT FOR THE BIRDS
Attract a variety of wintering birds to your yard by planting native trees and shrubs for both seed- and fruit-eating birds. Shrubs that provide fruit into the winter, such as hollies and roses, have hips rich in vitamin C and will attract species such as waxwings and cardinals. Trees that store their seeds in catkins or cones, like birches and spruce, will attract species including ruffed grouse and crossbills. For an all-round crowd-pleaser, plant sumac when spring returns. Its fuzzy, red fruit helps an array of species.
MAKE A PILE
Create a brush pile in a corner of your yard using branches and garden clippings. This will provide shelter to keep foraging birds safe from predators and harsh weather. Once your holiday celebrations are through, retire your Christmas tree to the birds' brush pile.
To create an effective brush pile, start with eight or so straight, untrimmed branches about two metres long each. Arrange them in a teeppe-like framework with the butt ends anchored in the ground and the tips interlocking. The idea is to create an internal space where birds can perch safely off the ground. Next, pile evergreen boughs on the top and sides of the framework to form a cone. Once you've got the basic frame in place, you can add to it year after year.
BUILD FEEDERS
Providing a supplemental food will help ensure birds have enough energy to stay warm. Calorierich black sunflower seeds and preservative-free suet are great choices. Place feeders at different heights to attract different species. Platform feeding areas attract jays and grosbeaks, while titmice and finches enjoy hanging feeders. Ground feeders like mourning doves and juncos will take care of any seeds that fall from elevated feeders.
JOIN THE COUNT
Take your support for your local birds to the next level and join the annual Christmas Bird Count. The information gathered is used to generate long-term data on population dynamics and the health of North American birds. To find a "count circle" near you, visit the Bird Studies Canada website and follow the "citizen science" link to the Christmas Bird Count. www.bsc-eoc.org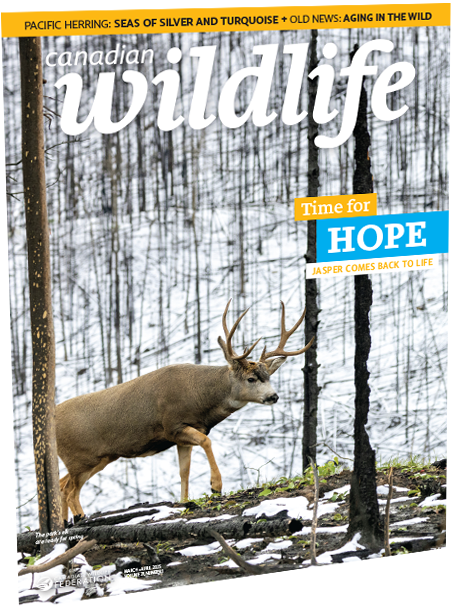 Reprinted from Canadian Wildlife magazine. Get more information or subscribe now! Now on newsstands! Or, get your digital edition today!