November 1, 2015
By Canadian Wildlife Staff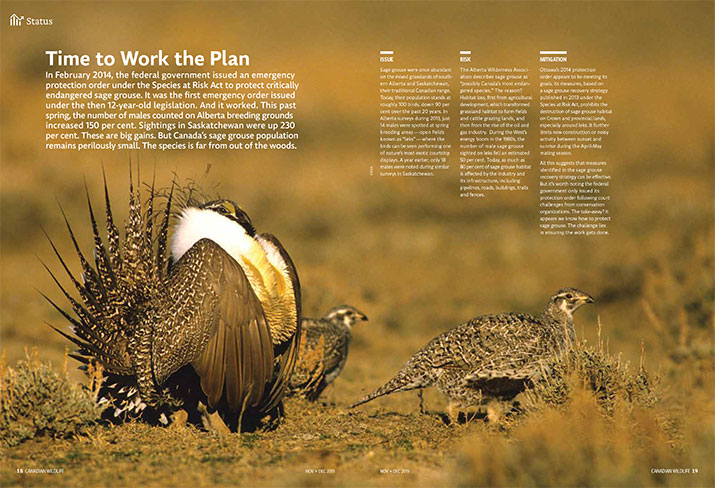 Time to Work the Plan

In February 2014, the federal government issued an emergency protection order under the Species at Risk Act to protect critically endangered sage grouse. It was the first emergency order issued under the then 12-year-old legislation. And it worked. This past spring, the number of males counted on Alberta breeding grounds increased 150 per cent. Sightings in Saskatchewan were up 230 per cent. These are big gains. But Canada's sage grouse population remains perilously small. The species is far from out of the woods.
ISSUE

RISK


MITIGATION

Sage grouse were once abundant on the mixed grasslands of southern Alberta and Saskatchewan, their traditional Canadian range. Today, their population stands at roughly 100 birds, down 90 per cent over the past 20 years. In Alberta surveys during 2013, just 14 males were spotted at spring breeding areas — open fields known as "leks" — where the birds can be seen performing one of nature's most exotic courtship displays. A year earlier, only 18 males were noted during similar surveys in Saskatchewan.

The Alberta Wilderness Association describes sage grouse as "possibly Canada's most endangered species." The reason? Habitat loss, first from agricultural development, which transformed grassland habitat to farm fields and cattle grazing lands, and then from the rise of the oil and gas industry. During the West's energy boom in the 1980s, the number of male sage grouse sighted on leks fell an estimated 50 per cent. Today, as much as 80 per cent of sage grouse habitat is affected by the industry and its infrastructure, including pipelines, roads, buildings, trails and fences.

Ottawa's 2014 protection order appears to be meeting its goals. Its measures, based on a sage grouse recovery strategy published in 2013 under the Species at Risk Act, prohibits the destruction of sage grouse habitat on Crown and provincial lands, especially around leks. It further limits new construction or noisy activity between sunset and sunrise during the April-May mating season.

All this suggests that measures identified in the sage grouse recovery strategy can be effective. But it's worth noting the federal government only issued its protection order following court challenges from conservation organizations. The take-away? It appears we know how to protect sage grouse. The challenge lies in ensuring the work gets done.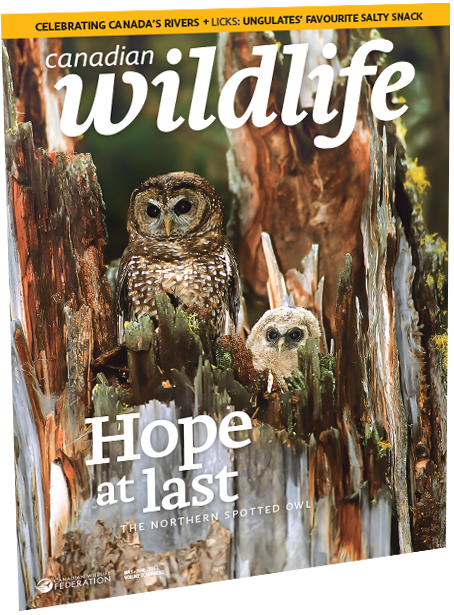 Reprinted from Canadian Wildlife magazine. Get more information or subscribe now! Now on newsstands! Or, get your digital edition today!