November 1, 2015
By Canadian Wildlife Staff, Photo by Chris Hendrickson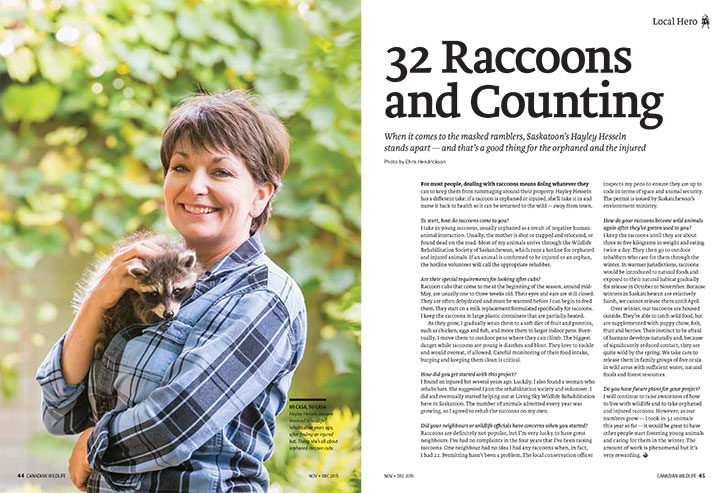 When it comes to the masked ramblers, Saskatoon's Hayley Hesseln stands apart — and that's a good thing for the orphaned and the injured.
For most people, dealing with raccoons means doing whatever they can to keep them from rummaging around their property. Hayley Hesseln has a different take: if a raccoon is orphaned or injured, she'll take it in and nurse it back to health so it can be returned to the wild — away from town.
To start, how do raccoons come to you?
I take in young raccoons, usually orphaned as a result of negative humananimal interaction. Usually, the mother is shot or trapped and relocated, or found dead on the road. Most of my animals arrive through the Wildlife Rehabilitation Society of Saskatchewan, which runs a hotline for orphaned and injured animals. If an animal is confirmed to be injured or an orphan, the hotline volunteer will call the appropriate rehabber.
Are their special requirements for looking after cubs?
Raccoon cubs that come to me at the beginning of the season, around mid- May, are usually one to three weeks old. Their eyes and ears are still closed. They are often dehydrated and must be warmed before I can begin to feed them. They start on a milk replacement formulated specifically for raccoons. I keep the raccoons in large plastic containers that are partially heated.
As they grow, I gradually wean them to a soft diet of fruit and proteins, such as chicken, eggs and fish, and move them to larger indoor pens. Eventually, I move them to outdoor pens where they can climb. The biggest danger while raccoons are young is diarrhea and bloat. They love to suckle and would overeat, if allowed. Careful monitoring of their food intake, burping and keeping them clean is critical.
How did you get started with this project?
I found an injured bat several years ago. Luckily, I also found a woman who rehabs bats. She suggested I join the rehabilitation society and volunteer. I did and eventually started helping out at Living Sky Wildlife Rehabilitation here in Saskatoon. The number of animals admitted every year was growing, so I agreed to rehab the raccoons on my own.
Did your neighbours or wildlife officials have concerns when you started?
Raccoons are definitely not popular, but I'm very lucky to have great neighbours. I've had no complaints in the four years that I've been raising raccoons. One neighbour had no idea I had any raccoons when, in fact, I had 22. Permitting hasn't been a problem. The local conservation officer inspects my pens to ensure they are up to code in terms of space and animal security. The permit is issued by Saskatchewan's environment ministry.
How do your raccoons become wild animals again after they've gotten used to you?
I keep the raccoons until they are about three to five kilograms in weight and eating twice a day. They then go to outdoor rehabbers who care for them through the winter. In warmer jurisdictions, raccoons would be introduced to natural foods and exposed to their natural habitat gradually for release in October or November. Because winters in Saskatchewan are relatively harsh, we cannot release them until April.
Over winter, our raccoons are housed outside. They're able to catch wild food, but are supplemented with puppy chow, fish, fruit and berries. Their instinct to be afraid of humans develops naturally and, because of significantly reduced contact, they are quite wild by the spring. We take care to release them in family groups of five or six in wild areas with sufficient water, natural foods and forest resources.
Do you have future plans for your project?
I will continue to raise awareness of how to live with wildlife and to take orphaned and injured raccoons. However, as our numbers grow — I took in 32 animals this year so far — it would be great to have other people start fostering young animals and caring for them in the winter. The amount of work is phenomenal but it's very rewarding.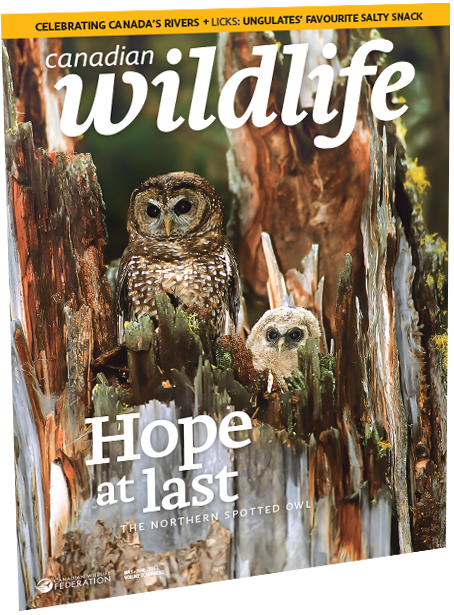 Reprinted from Canadian Wildlife magazine. Get more information or subscribe now! Now on newsstands! Or, get your digital edition today!