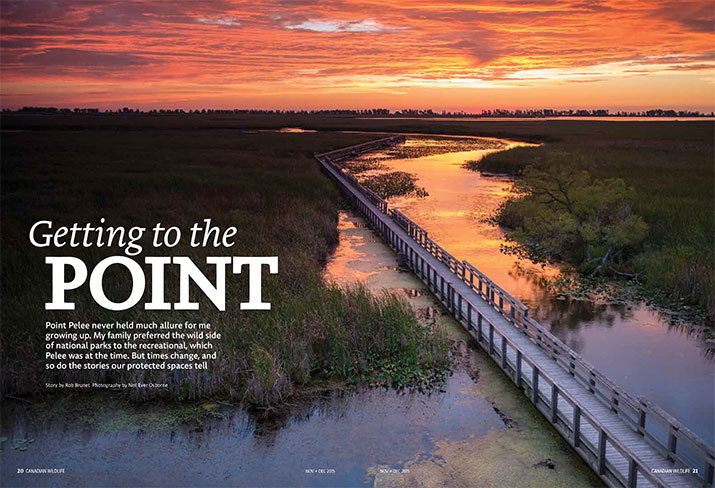 Getting to the Point
Point Pelee never held much allure for me growing up. My family preferred the wild side of national parks to the recreational, which Pelee was at the time. But times change, and so do the stories our protected spaces tell.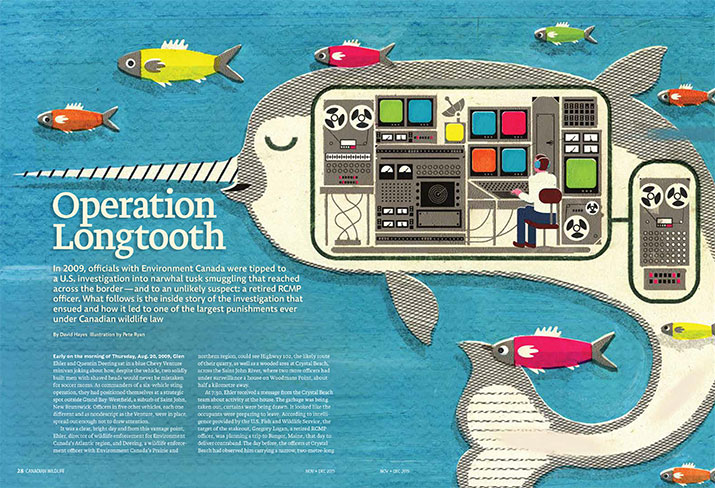 Operation Longtooth
In 2009, officials with Environment Canada were tipped to a U.S. investigation into narwhal tusk smuggling that reached across the border — and to an unlikely suspect: a retired RCMP officer.
NOVEMBER/DECEMBER 2015 ISSUE
Letters to the Editor

Post your comments about the latest Canadian Wildlife magazine and your letter could be published in an upcoming issue of the magazine! Post »

Going Viral


By Jay Ingram

Bacteria are one of the most common life forms on Earth. But their numbers are dwarfed by viruses known as 'bacteriophages.' That may be good news for us.

Better Living Through Chemistry


By Alanna Mitchell

The real evolution of life on Earth began with changes to the chemical composition of the atmosphere. For the sake of the planet's biology, let's remember that.

Newsmaker: Sometimes, You Just Have to Laugh

By Michel Tanguay

Boucar Diouf came to Canada from Senegal as an oceanography student. Today, he's one of Quebec's best-known comedians — because science is funny, right?

Read more »

Status: Time to Work the Plan

By Canadian Wildlife Staff

In February 2014, the federal government issued an emergency protection order under the Species at Risk Act to protect critically endangered sage grouse. It was the first emergency order issued under the then 12-year-old legislation. And it worked.

Read more »

Your Garden: Don't Put Your Garden to Bed Just Yet

Your plants probably don't need much attention right now, but the birds might. With a bit of winterizing (both now and during gardening season), you can create a refuge for them.

Read more »



Local Hero: 32 Raccoons and Counting

When it comes to the masked ramblers, Saskatoon's Hayley Hesseln stands apart — and that's a good thing for the orphaned and the injured.