November 1, 2014
By Canadian Wildlife Staff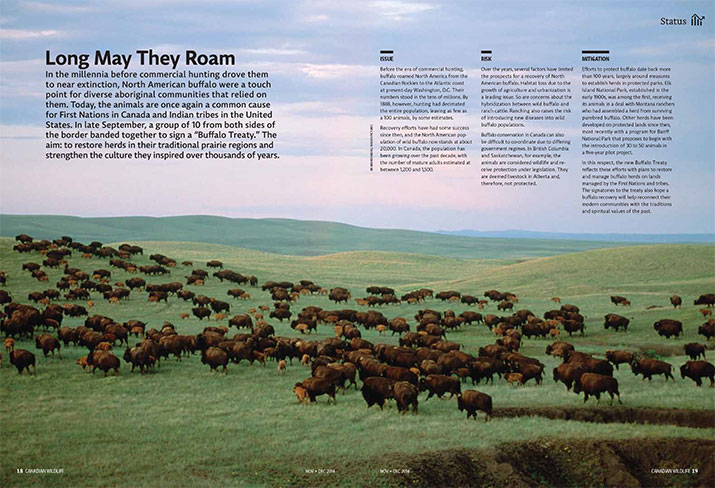 In the millennia before commercial hunting drove them to near extinction, North American buffalo were a touch point for diverse aboriginal communities that relied on them. Today, the animals are once again a common cause for First Nations in Canada and Indian tribes in the United States. In late September, a group of 10 from both sides of the border banded together to sign a "Buffalo Treaty." The aim: to restore herds in their traditional prairie regions and strengthen the culture they inspired over thousands of years.
ISSUE

RISK


MITIGATION

Before the era of commercial hunting, buffalo roamed North America from the Canadian Rockies to the Atlantic coast at present-day Washington, D.C. Their numbers stood in the tens of millions. By 1888, however, hunting had decimated the entire population, leaving as few as a 100 animals, by some estimates.

Recovery efforts have had some success since then, and the North American population of wild buffalo now stands at about 20,000. In Canada, the population has been growing over the past decade, with the number of mature adults estimated at between 1,200 and 1,500.

Over the years, several factors have limited the prospects for a recovery of North American buffalo. Habitat loss due to the growth of agriculture and urbanization is a leading issue. So are concerns about the hybridization between wild buffalo and ranch cattle. Ranching also raises the risk of introducing new diseases into wild buffalo populations.

Buffalo conservation in Canada can also be difficult to co-ordinate due to differing government regimes. In British Columbia and Saskatchewan, for example, the animals are considered wildlife and receive protection under legislation. They are deemed livestock in Alberta and, therefore, not protected.

Efforts to protect buffalo date back more than 100 years, largely around measures to establish herds in protected parks. Elk Island National Park, established in the early 1900s, was among the first, receiving its animals in a deal with Montana ranchers who had assembled a herd from surviving purebred buffalo. Other herds have been developed on protected lands since then, most recently with a program for Banff National Park that proposes to begin with the introduction of 30 to 50 animals in a five-year pilot project.

In this respect, the new Buffalo Treaty reflects these efforts with plans to restore and manage buffalo herds on lands managed by the First Nations and tribes. The signatories to the treaty also hope a buffalo recovery will help reconnect their modern communities with the traditions and spiritual values of the past.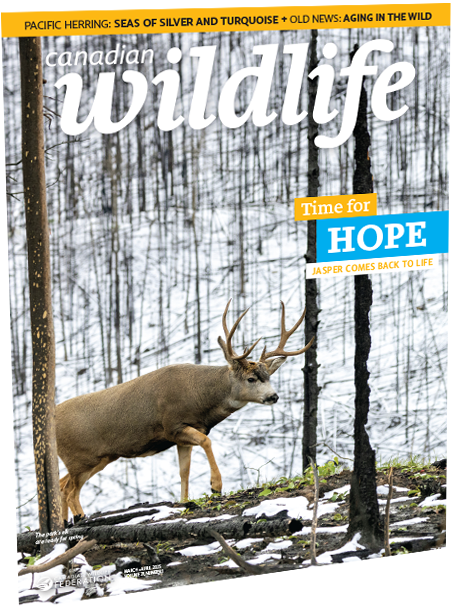 Reprinted from Canadian Wildlife magazine. Get more information or subscribe now! Now on newsstands! Or, get your digital edition today!