November 1, 2014
By Canadian Wildlife Staff Photo by Juan Luna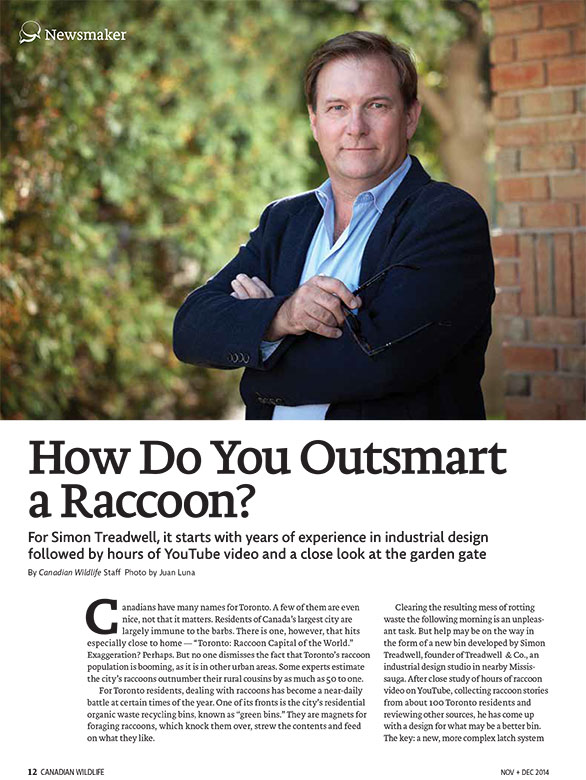 For Simon Treadwell, it starts with years of experience in industrial design followed by hours of YouTube video and a close look at the garden gate.
Canadians have many names for Toronto. A few of them are even nice, not that it matters. Residents of Canada's largest city are largely immune to the barbs. There is one, however, that hits especially close to home — "Toronto: Raccoon Capital of the World." Exaggeration? Perhaps. But no one dismisses the fact that Toronto's raccoon population is booming, as it is in other urban areas. Some experts estimate the city's raccoons outnumber their rural cousins by as much as 50 to one.
For Toronto residents, dealing with raccoons has become a near-daily battle at certain times of the year. One of its fronts is the city's residential organic waste recycling bins, known as "green bins." They are magnets for foraging raccoons, which knock them over, strew the contents and feed on what they like.
Clearing the resulting mess of rotting waste the following morning is an unpleasant task. But help may be on the way in the form of a new bin developed by Simon Treadwell, founder of Treadwell & Co., an industrial design studio in nearby Mississauga. After close study of hours of raccoon video on YouTube, collecting raccoon stories from about 100 Toronto residents and reviewing other sources, he has come up with a design for what may be a better bin. The key: a new, more complex latch system to replace the firm, but ultimately ineffective, "lunchbox" style latches on the current bins.
It may sound like an obvious concept, but the specifications of the city's green bins make it a mechanical challenge. First, the latches must withstand falls when raccoons knock over bins. They also have to swing open when the bins are inverted, so that the contents can be collected by the city's automated garbage trucks. Thus, while the latches must be strong, they must also freely swing open in certain positions.
In solving the problem, Treadwell first found inspiration in garden gates, where you have to lift a latch in order to free a small bar that prevents the gate from opening when the latch is down. "That's what started us down this road," Treadwell says. "It's changed since then."
Considerably, in fact. The end design is based on two latches, held in position by a small metal bar called a "limiter," which ensures the latches don't open when the bins are knocked over. When the bins are turned upside down for collection, the limiter slides out of the way and the lids pop open.
It's not a simple design, at least to explain, but it appears to work. Earlier this year, Treadwell ran torture tests on his latch system, making a prototype lid and affixing it to a standard green bin. He then loaded the bin with cat food, sardines and fried chicken and left it out in the quiet yard of an empty home. For the next five nights, he recorded raccoon visits with a wildlife nightcamera. "They didn't get in," Treadwell says. "The bin is scratched up. They tried to pull at the handle. They tried to pull at the sides." But by the last night of the test, the raccoons had given up on trying to break open the latch. They ate food that Treadwell scattered around each evening to attract them to his test bin. But once that was gone, they moved. "We liked the thought that they learned," Treadwell says.
Whether the design becomes part of Toronto life remains to be seen. Treadwell developed his latch for a moulded-plastics manufacturing firm called Scepter Industries, which has responded to a City of Toronto request-for-proposals on a new green bin design. The city is now evaluating submissions and it is not known which design it will choose. But whatever the outcome, help appears to be on the way for Torontonians, if not their raccoons.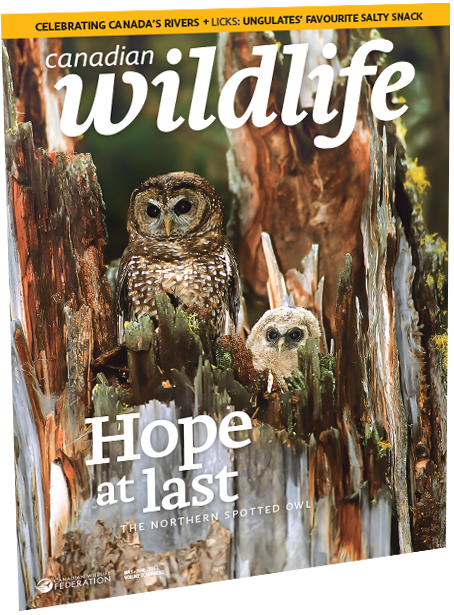 Reprinted from Canadian Wildlife magazine. Get more information or subscribe now! Now on newsstands! Or, get your digital edition today!