November 1, 2014
By Canadian Wildlife Staff Photograph by Juan Luna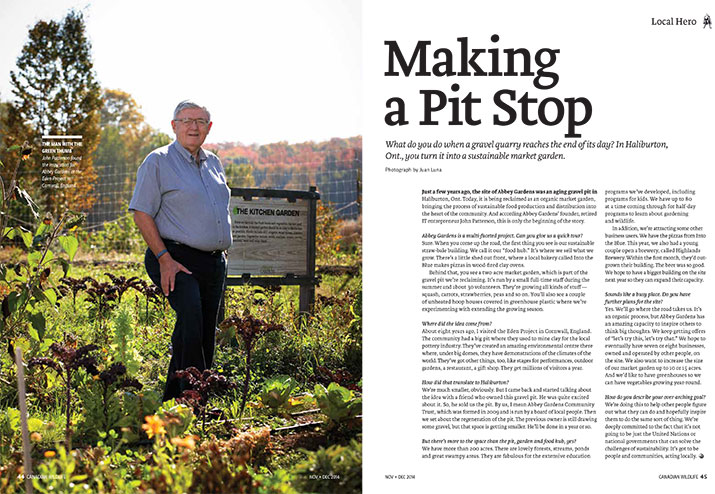 What do you do when a gravel quarry reaches the end of its day? In Haliburton, Ont., John Patterson is turning one into a sustainable market garden.
Just a few years ago, the site of Abbey Gardens was an aging gravel pit in Haliburton, Ont. Today, it is being reclaimed as an organic market garden, bringing the process of sustainable food production and distribution into the heart of the community. And according Abbey Gardens' founder, retired IT entrepreneur John Patterson, this is only the beginning of the story.
Abbey Gardens is a multi-faceted project. Can you give us a quick tour?
Sure. When you come up the road, the first thing you see is our sustainable straw-bale building. We call it our "food hub." It's where we sell what we grow. There's a little shed out front, where a local bakery called Into the Blue makes pizzas in wood-fired clay ovens.
Behind that, you see a two-acre market garden, which is part of the gravel pit we're reclaiming. It's run by a small full-time staff during the summer and about 30 volunteers. They're growing all kinds of stuff — squash, carrots, strawberries, peas and so on. You'll also see a couple of unheated hoop houses covered in greenhouse plastic where we're experimenting with extending the growing season.
Where did the idea come from?
About eight years ago, I visited the Eden Project in Cornwall, England. The community had a big pit where they used to mine clay for the local pottery industry. They've created an amazing environmental centre there where, under big domes, they have demonstrations of the climates of the world. They've got other things, too, like stages for performances, outdoor gardens, a restaurant, a gift shop. They get millions of visitors a year.
How did that translate to Haliburton?
We're much smaller, obviously. But I came back and started talking about the idea with a friend who owned this gravel pit. He was quite excited about it. So, he sold us the pit. By us, I mean Abbey Gardens Community Trust, which was formed in 2009 and is run by a board of local people. Then we set about the regeneration of the pit. The previous owner is still drawing some gravel, but that space is getting smaller. He'll be done in a year or so.
But there's more to the space than the pit, garden and food hub, yes?
We have more than 200 acres. There are lovely forests, streams, ponds and great swampy areas. They are fabulous for the extensive education programs we've developed, including programs for kids. We have up to 80 at a time coming through for half-day programs to learn about gardening and wildlife.
In addition, we're attracting some other business users. We have the pizzas from Into the Blue. This year, we also had a young couple open a brewery, called Highlands Brewery. Within the first month, they'd outgrown their building. The beer was so good. We hope to have a bigger building on the site next year so they can expand their capacity.
Sounds like a busy place. Do you have further plans for the site?
Yes. We'll go where the road takes us. It's an organic process, but Abbey Gardens has an amazing capacity to inspire others to think big thoughts. We keep getting offers of "let's try this, let's try that." We hope to eventually have seven or eight businesses, owned and operated by other people, on the site. We also want to increase the size of our market garden up to 10 or 15 acres. And we'd like to have greenhouses so we can have vegetables growing year-round.
How do you describe your over-arching goal?
We're doing this to help other people figure out what they can do and hopefully inspire them to do the same sort of thing. We're deeply committed to the fact that it's not going to be just the United Nations or national governments that can solve the challenges of sustainability. It's got to be people and communities, acting locally.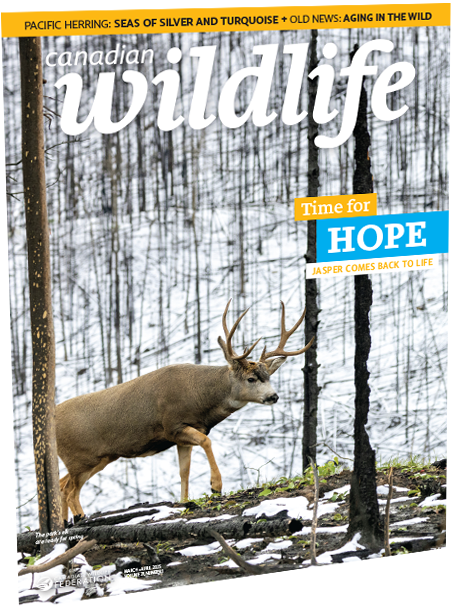 Reprinted from Canadian Wildlife magazine. Get more information or subscribe now! Now on newsstands! Or, get your digital edition today!