November 1, 2013
By Cooper Langford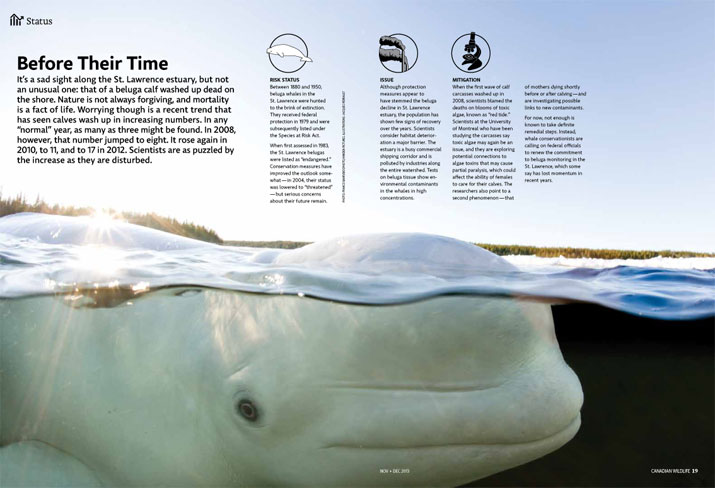 It's a sad sight along the St. Lawrence estuary, but not an unusual one: that of a beluga calf washed up dead on the shore. Nature is not always forgiving, and mortality is a fact of life. Worrying though is a recent trend that has seen calves wash up in increasing numbers. In any "normal" year, as many as three might be found. In 2008, however, that number jumped to eight. It rose again in 2010, to 11, and to 17 in 2012. Scientists are as puzzled by the increase as they are disturbed.
| | | |
| --- | --- | --- |
| RISK STATUS | THE ISSUE | MITIGATION |
| Between 1880 and 1950, beluga whales in the St. Lawrence were hunted to the brink of extinction. They received federal protection in 1979 and were subsequently listed under the Species at Risk Act. When first assessed in 1983, the St. Lawrence belugas were listed as "endangered." Conservation measures have improved the outlook somewhat — in 2004, their status was lowered to "threatened" — but serious concerns about their future remain. | Although protection measures appear to have stemmed the beluga decline in St. Lawrence estuary, the population has shown few signs of recovery over the years. Scientists consider habitat deterioration a major barrier. The estuary is a busy commercial shipping corridor and is polluted by industries along the entire watershed. Tests on beluga tissue show environmental contaminants in the whales in high concentrations. | When the first wave of calf carcasses washed up in 2008, scientists blamed the deaths on blooms of toxic algae, known as "red tide." Scientists at the University of Montreal who have been studying the carcasses say toxic algae may again be an issue, and they are exploring potential connections to algae toxins that may cause partial paralysis, which could affect the ability of females to care for their calves. The researchers also point to a second phenomenon — that of mothers dying shortly before or after calving — and are investigating possible links to new contaminants. For now, not enough is known to take definite remedial steps. Instead, whale conservationists are calling on federal officials to renew the commitment to beluga monitoring in the St. Lawrence, which some say has lost momentum in recent years. |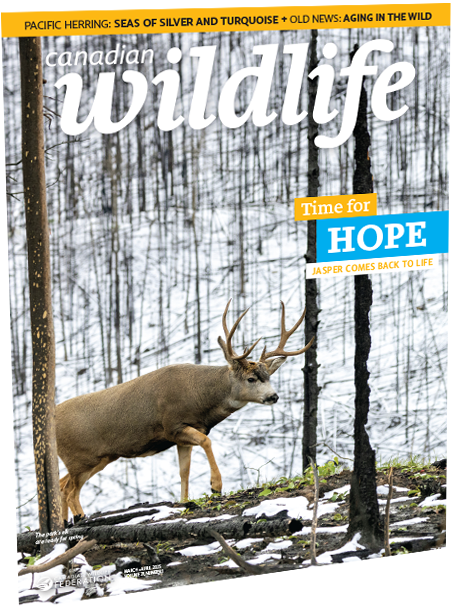 Reprinted from Canadian Wildlife magazine. Get more information or subscribe now! Now on newsstands! Or, get your digital edition today!