November 1, 2013
By Jay Ingram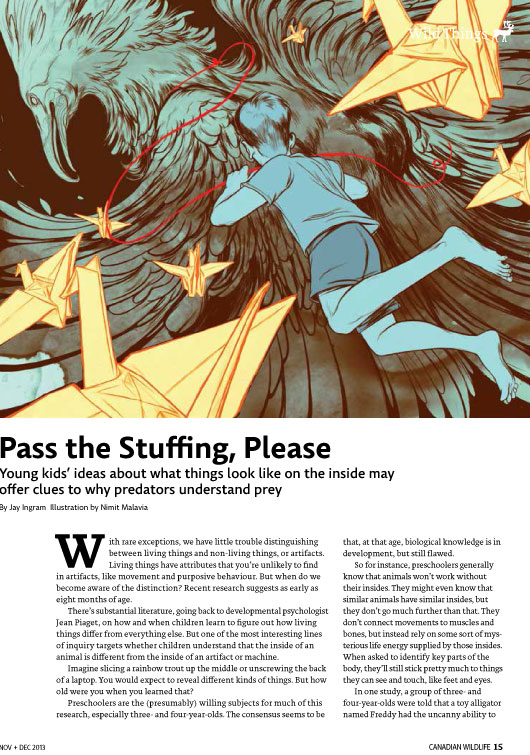 With rare exceptions, we have little trouble distinguishing between living things and non-living things, or artifacts. Living things have attributes that you're unlikely to find in artifacts, like movement and purposive behaviour. But when do we become aware of the distinction? Recent research suggests as early as eight months of age.
There's substantial literature, going back to developmental psychologist Jean Piaget, on how and when children learn to figure out how living things differ from everything else. But one of the most interesting lines of inquiry targets whether children understand that the inside of an animal is different from the inside of an artifact or machine. Imagine slicing a rainbow trout up the middle or unscrewing the back of a laptop. You would expect to reveal different kinds of things. But how old were you when you learned that?
Preschoolers are the (presumably) willing subjects for much of this research, especially three- and four-year-olds. The consensus seems to be that, at that age, biological knowledge is in development, but still flawed.
So for instance, preschoolers generally know that animals won't work without their insides. They might even know that similar animals have similar insides, but they don't go much further than that. They don't connect movements to muscles and bones, but instead rely on some sort of mysterious life energy supplied by those insides.
When asked to identify key parts of the body, they'll still stick pretty much to things they can see and touch, like feet and eyes.
In one study, a group of three- and four-year-olds were told that a toy alligator named Freddy had the uncanny ability to see inside things, but had never before been to Earth, so had no idea what to expect.
The children were given two images of, say, a sheep, one with organs inside, the other with gears, and were asked to answer the question (for Freddy), "Which is a real sheep? Which shows a real sheep with real sheep insides?" In this instance, most of the children didn't do much better than chance.
But other studies have established that infants do know that the inside of a pig is more like the inside of a cow than the inside of a piggy bank. Children expect animals to move and grow: most of the human-made articles with which young children are familiar don't move, nor do they get bigger with time.


Even infants may have a mental package devoted to thoughts of predators and prey.
You can tell from some experiments, however, that developing a sophisticated way of sorting out living things is by no means a straight line.
In one experiment, children were shown a picture of a skunk and then told that surgery had been performed and the animal now looked like a raccoon. Seven-yearolds believed the animal was still a skunk; four-year-olds believed it was now a raccoon.
But when the four-year-olds were told that rather than surgery, the skunk was simply wearing a costume, then they were sure it was still a skunk.
Other studies have cast some doubt on these results, but overall, it looks like these children know insides are important but may not be sure exactly how.
All of the above refers to preschoolers, but now a study has looked at eight-month-old children and their expectations about the insides of things. The results are pretty cool. If an object (there were two: a can covered with yarn and a box decorated with beige paper and blue polkadotted cloth) moves back and forth apparently under its own power, and also interacts with its environment (in these experiments, quacking or beeping at the experimenter and having the experimenter respond verbally), these infants expect it to have insides.
If the object is turned toward them and revealed to be hollow, they peer intently at the object. Hundreds of such studies have shown that when infants are surprised, their attention lingers on the source of the surprise — in this case, a walking, talking something with no guts. If, on the other hand, the object doesn't move and the experimenter fails to react to its noises, infants couldn't care less whether it was hollow or not.
So even as eight-month-old babies we get it: things that move and act are likely to have insides. The researchers make the provocative suggestion that this early notion might be part of a mental package devoted to thoughts of predators and prey: "an abstract expectation that animals have filled insides. Damaging the insides of a predator or prey brings about its demise, and consuming these insides provides valuable nutrients."
Imagine that: one of the very first things that dawns on us about animals is that they are full of stuff.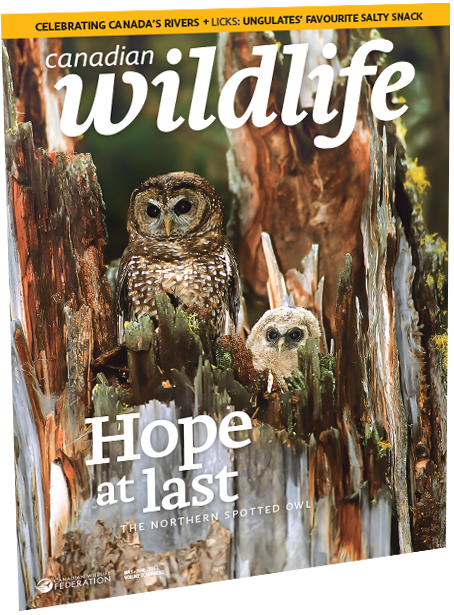 Reprinted from Canadian Wildlife magazine. Get more information or subscribe now! Now on newsstands! Or, get your digital edition today!