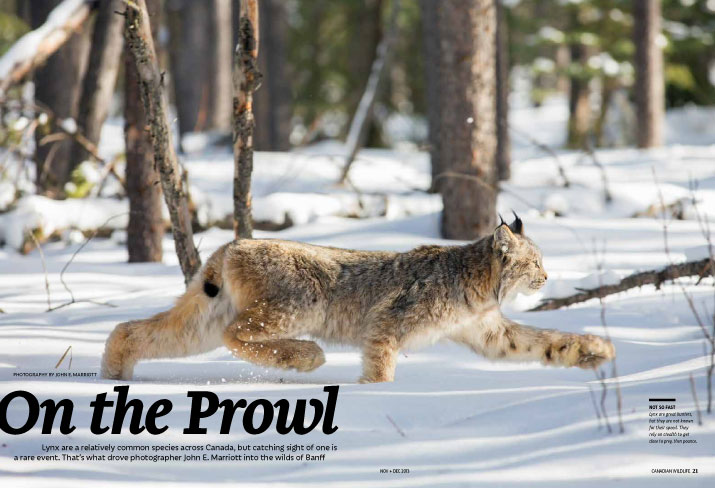 On the Prowl
Lynx are a relatively common species across Canada, but catching sight of one is a rare event. That's what drove photographer John E. Marriott into the wilds of Banff



Something is killing off bees — in big numbers. Scientists aren't sure what, but evidence points to a role for a new family of pesticides called "neonics." Are they a smoking spray gun?

By Brian Banks Photography by Neil Ever Osborne

A pair of bald eagles nested successfully this year — in Hamilton, of all places. The lesson? Even industrial heartlands have conservation potential. All you need is a plan

By Leslie Anthony Illustration by Jacqui Oakley
NOVEMBER/DECEMBER 2013 ISSUE
Letters to the Editor

Post your comments about the latest Canadian Wildlife magazine and your letter could be published in an upcoming issue of the magazine! Post »

Wild Things: Pass the Stuffing, Please


By Jay Ingram

Young kids' ideas about what things look like on the inside may offer clues to why predators understand prey Read more »

Newsmaker: Graze Anatomy


Tim Nelson and the Waldron Grazing Co-op chalk up a win for grassland conservation in southern Alberta. Read more »

Status: Before Their Time


A jump in the number of St. Lawrence belugas washing up on shorelines has scientists puzzled. Read more »

Your Garden: The Battle of the Bugs
With winter, a gardener's focus shifts to indoor plants — and, on occasion, indoor pests. Read more »



Local Hero: Take This to the Banks

Sections of Moncton's Jonathan Creek are in serious decline. Good thing that the Petitcodiac Watershed Alliance has a plan. Project coordinator Susan Linkletter explains Read more or nominate your local conservation hero »

Bulletin: Taking It to the Streets

News, events and updates on conservation projects from the Canadian Wildlife Federation. Read more (PDF) »

Habitat: Winter in Jasper National Park

Winter in Jasper National Park is important to outdoor enthusiasts and caribou, alike. That's why the park is working to strike a balance.
Map it!
See the locations in the stories from the November/December 2013 issue of Canadian Wildlife.

View Canadian Wildlife magazine, Nov/Dec 2013 issue in a larger map