November 1, 2013
By By Cooper Langford Photo by Nathan Elson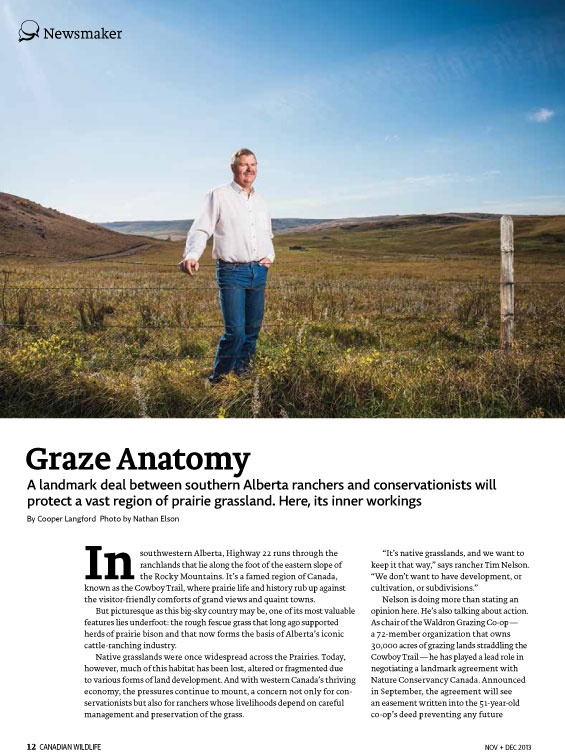 In southwestern Alberta, Highway 22 runs through the ranchlands that lie along the foot of the eastern slope of the Rocky Mountains. It's a famed region of Canada, known as the Cowboy Trail, where prairie life and history rub up against the visitor-friendly comforts of grand views and quaint towns. But picturesque as this big-sky country may be, one of its most valuable features lies underfoot: the rough fescue grass that long ago supported herds of prairie bison and that now forms the basis of Alberta's iconic cattle-ranching industry.
Native grasslands were once widespread across the Prairies. Today, however, much of this habitat has been lost, altered or fragmented due to various forms of land development. And with western Canada's thriving economy, the pressures continue to mount, a concern not only for conservationists but also for ranchers whose livelihoods depend on careful management and preservation of the grass. "It's native grasslands, and we want to keep it that way," says rancher Tim Nelson.
"We don't want to have development, or cultivation, or subdivisions." Nelson is doing more than stating an opinion here. He's also talking about action.
As chair of the Waldron Grazing Co-op — a 72-member organization that owns 30,000 acres of grazing lands straddling the Cowboy Trail — he has played a lead role in negotiating a landmark agreement with Nature Conservancy Canada. Announced in September, the agreement will see an easement written into the 51-year-old co-op's deed preventing any future landowners from developing, subdividing or cultivating land on what is one of Canada's largest remaining grassland habitats.
It's a financial hit for the ranchers, who will see their land value drop to roughly $33 million from $75 million with the restrictions. But the loss will be offset by a $15-million payment from the conservancy as well as a substantial tax write-down.
Moreover, as Nelson notes, the easement — the largest of its kind in Canadian history — reflects an overall conservation goal of the ranchers themselves. "We're environmentalists of a practical kind," he says. "We have to make sure the grass is good. If it isn't, we don't raise our cows."
Indeed, the Waldron co-op, founded in 1962, has been recognized at both the provincial and national level for its sustainability practices, which include riparian management, control of invasive species and controlled movement of livestock to ensure grasses have the chance to recover after grazing. And the effort is worth it, Nelson says. Rough fescue is an important grass type in the prairie ecosystem. Its evolutionary adaptions have made it resilient to the periodic droughts that hit the region. Its deep root systems help the soil hold water, and its long blades retain nutrients better than other species, making rough fescue a preferred food for grazing animals, both wild and domestic.
Moreover, prairie grasslands are important ecosystems in Canada, providing habitat for various species of groundnesting birds and mammals such as elk, moose, cougar and deer. The easement to conserve the Waldron co-op lands will also protect the headwaters of stream and rivers that flow through the Prairies.
From a conservation standpoint, the deal is not perfect insofar as it still allows for oil and gas work on the range. But Nature Conservancy Canada spokespeople have said potential impacts will be small relative to the size of the area being protected and that the easement will give them a voice in the process.
And in the end, as Nelson notes, nothing ever works out perfectly. The co-op itself wrestled with internal issues to reach a deal that satisfied most of its members. But the long-term goal is conservation along the Cowboy Trail, and that's being achieved, he says. "We take care of our land. We take pride in that."
Watch
Related Links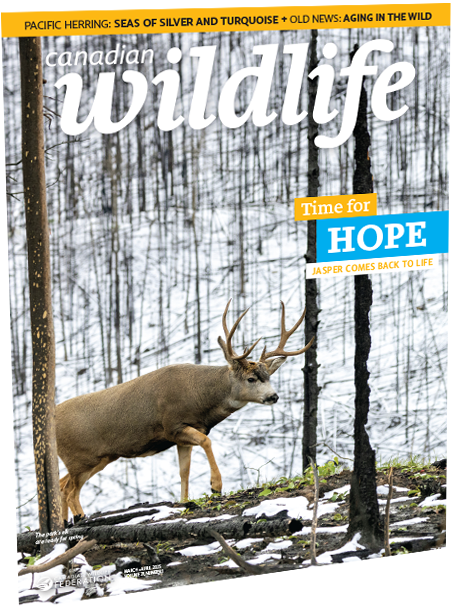 Reprinted from Canadian Wildlife magazine. Get more information or subscribe now! Now on newsstands! Or, get your digital edition today!