May 1, 2017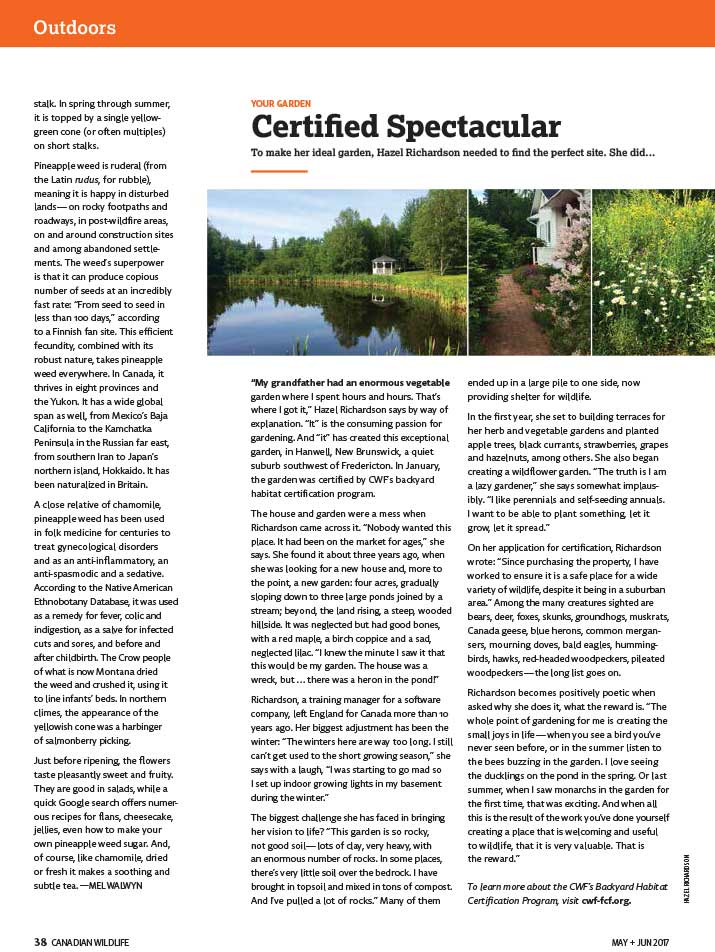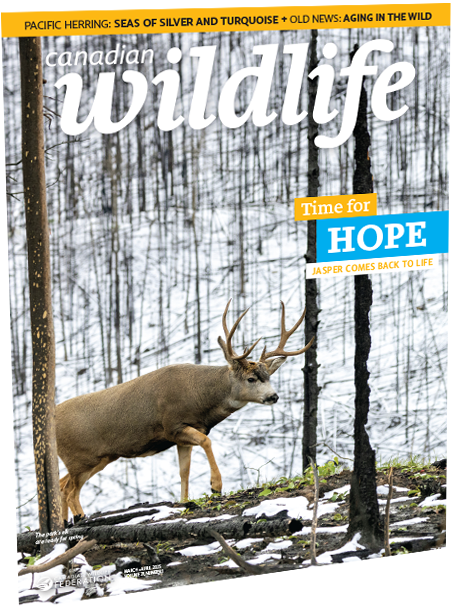 Reprinted from Canadian Wildlife magazine. Get more information or subscribe now! Now on newsstands! Or, get your digital edition today!
To make her ideal garden, Hazel Richardson needed to find the perfect site. She did…
"My grandfather had an enormous vegetable garden where I spent hours and hours. That's where I got it," Hazel Richardson says by way of explanation. "It" is the consuming passion for gardening. And "it" has created this exceptional garden, in Hanwell, New Brunswick, a quiet suburb southwest of Fredericton. In January, the garden was certified by CWF's backyard habitat certification program.
The house and garden were a mess when Richardson came across it. "Nobody wanted this place. It had been on the market for ages," she says. She found it about three years ago, when she was looking for a new house and, more to the point, a new garden: four acres, gradually sloping down to three large ponds joined by a stream; beyond, the land rising, a steep, wooded hillside. It was neglected but had good bones, with a red maple, a birch coppice and a sad, neglected lilac. "I knew the minute I saw it that this would be my garden. The house was a wreck, but … there was a heron in the pond!" Richardson, a training manager for a software company, left England for Canada more than 10 years ago. Her biggest adjustment has been the winter: "The winters here are way too long. I still can't get used to the short growing season," she says with a laugh, "I was starting to go mad so I set up indoor growing lights in my basement during the winter."
The biggest challenge she has faced in bringing her vision to life? "This garden is so rocky, not good soil — lots of clay, very heavy, with an enormous number of rocks. In some places, there's very little soil over the bedrock. I have brought in topsoil and mixed in tons of compost. And I've pulled a lot of rocks." Many of them ended up in a large pile to one side, now providing shelter for wildlife.
In the first year, she set to building terraces for her herb and vegetable gardens and planted apple trees, black currants, strawberries, grapes and hazelnuts, among others. She also began creating a wildflower garden. "The truth is I am a lazy gardener," she says somewhat implausibly. "I like perennials and self-seeding annuals. I want to be able to plant something, let it grow, let it spread."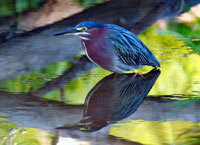 On her application for certification, Richardson wrote: "Since purchasing the property, I have worked to ensure it is a safe place for a wide variety of wildlife, despite it being in a suburban area." Among the many creatures sighted are bears, deer, foxes, skunks, groundhogs, muskrats, Canada geese, blue herons, common mergansers, mourning doves, bald eagles, hummingbirds, hawks, red-headed woodpeckers, pileated woodpeckers — the long list goes on.
Richardson becomes positively poetic when asked why she does it, what the reward is. "The whole point of gardening for me is creating the small joys in life — when you see a bird you've never seen before, or in the summer listen to the bees buzzing in the garden. I love seeing the ducklings on the pond in the spring. Or last summer, when I saw monarchs in the garden for the first time, that was exciting. And when all this is the result of the work you've done yourself creating a place that is welcoming and useful to wildlife, that it is very valuable. That is the reward."