May 1, 2017
By Jay Ingram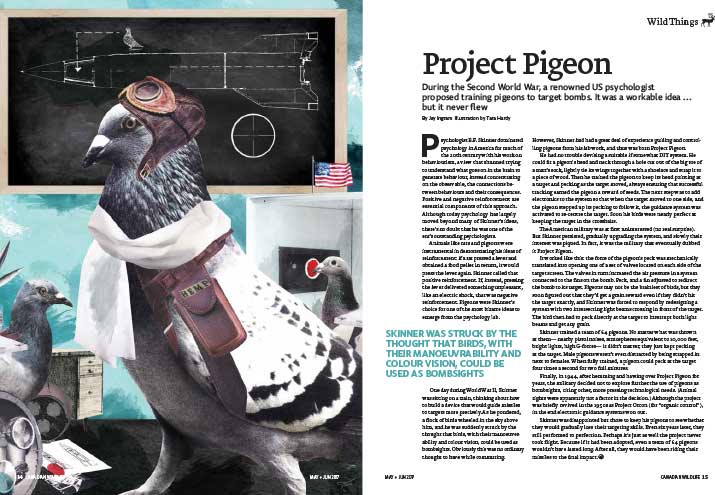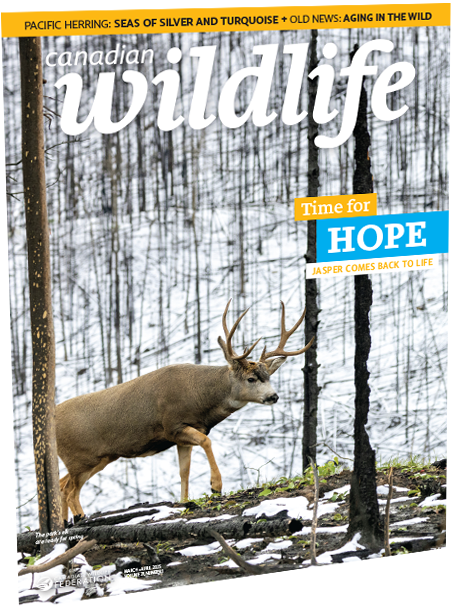 Reprinted from Canadian Wildlife magazine. Get more information or subscribe now! Now on newsstands! Or, get your digital edition today!
During the Second World War, a renowned US psychologist proposed training pigeons to target bombs. It was a workable idea … but it never flew
Psychologist B.F. Skinner dominated psychology in America for much of the 20th century with his work on behaviourism, a view that shunned trying to understand what goes on in the brain to generate behaviour, instead concentrating on the observable, the connections between behaviours and their consequences. Positive and negative reinforcement are essential components of this approach. Although today psychology has largely moved beyond many of Skinner's ideas, there's no doubt that he was one of the era's outstanding psychologists.
Animals like rats and pigeons were instrumental in demonstrating his ideas of reinforcement: if a rat pressed a lever and obtained a food pellet in return, it would press the lever again. Skinner called that positive reinforcement. If, instead, pressing the lever delivered something unpleasant, like an electric shock, that was negative reinforcement. Pigeons were Skinner's choice for one of the most bizarre ideas to emerge from the psychology lab.
One day during World War II, Skinner was sitting on a train, thinking about how to build a device that would guide missiles to targets more precisely. As he pondered, a flock of birds wheeled in the sky above him, and he was suddenly struck by the thought that birds, with their manoeuverability and colour vision, could be used as bombsights. Obviously this was no ordinary thought to have while commuting. However, Skinner had had a great deal of experience guiding and controlling pigeons from his lab work, and thus was born Project Pigeon.
He had no trouble devising a suitable if somewhat DIY system. He could fit a pigeon's head and neck through a hole cut out of the big toe of a man's sock, lightly tie its wings together with a shoelace and strap it to a piece of wood. Then he trained the pigeon to keep its head pointing at a target and pecking as the target moved, always ensuring that successful tracking earned the pigeon a reward of seeds. The next step was to add electronics to the system so that when the target moved to one side, and the pigeon stepped up its pecking to follow it, the guidance system was activated to re-centre the target. Soon his birds were nearly perfect at keeping the target in the crosshairs.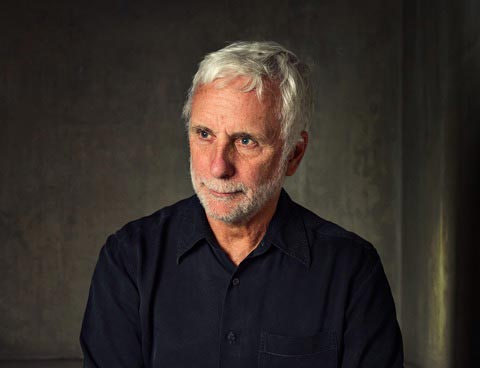 Skinner was struck by the thought that birds, with their manoeuvrability and colour vision, could be used as bombsights.
The American military was at first uninterested (no real surprise). But Skinner persisted, gradually upgrading the system, and slowly their interest was piqued. In fact, it was the military that eventually dubbed it Project Pigeon.
It worked like this: the force of the pigeon's peck was mechanically translated into opening one of a set of valves located on each side of the target screen. The valves in turn increased the air pressure in a system connected to the fins on the bomb. Peck, and a fin adjusted to redirect the bomb to its target. Pigeons may not be the brainiest of birds, but they soon figured out that they'd get a grain reward even if they didn't hit the target exactly, and Skinner was forced to respond by redesigning a system with two intersecting light beams crossing in front of the target. The bird then had to peck directly at the target to interrupt both light beams and get any grain.
Skinner trained a team of 64 pigeons. No matter what was thrown at them — nearby pistol noises, atmospheres equivalent to 10,000 feet, bright lights, high G-forces — it didn't matter; they just kept pecking at the target. Male pigeons weren't even distracted by being strapped in next to females. When fully trained, a pigeon could peck at the target four times a second for two full minutes.
Finally, in 1944, after hemming and hawing over Project Pigeon for years, the military decided not to explore further the use of pigeons as bombsights, citing other, more pressing technological needs. (Animal rights were apparently not a factor in the decision.) Although the project was briefly revived in the 1950s as Project Orcon (for "organic control"), in the end electronic guidance systems won out.
Skinner was disappointed but chose to keep his pigeons to see whether they would gradually lose their targeting skills. Even six years later, they still performed to perfection. Perhaps it's just as well the project never took flight. Because if it had been adopted, even a team of 64 pigeons wouldn't have lasted long. After all, they would have been riding their missiles to the final impact.