May 1, 2017
By Niki Wilson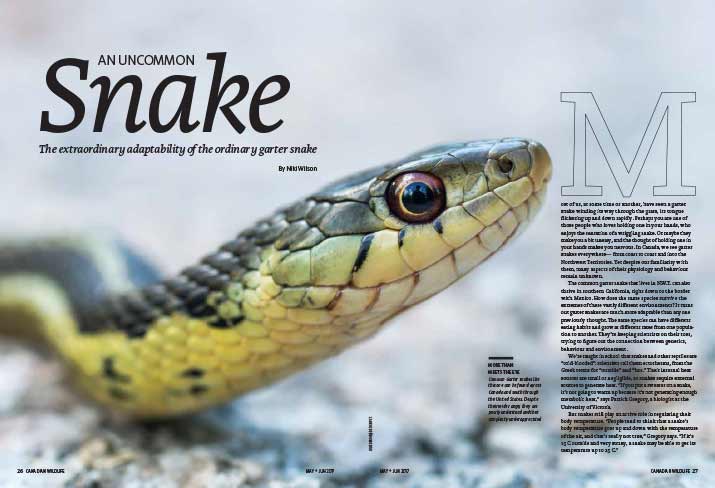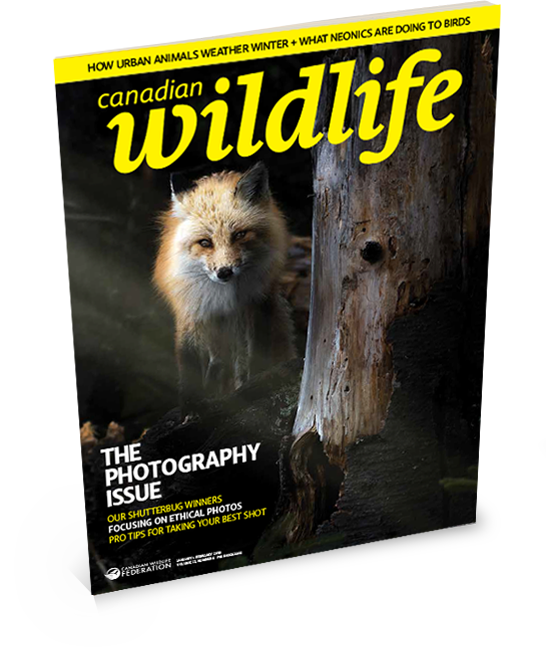 This content relates to Canadian Wildlife magazine. Now on newsstands! Get more information or subscribe! Or get your digital edition! Preview digital copy »
The extraordinary adaptability of the ordinary garter snake
Most of us, at some time or another, have seen a garter snake winding its way through the grass, its tongue flickering up and down rapidly. Perhaps you are one of those people who loves holding one in your hands, who enjoys the sensation of a wriggling snake. Or maybe they make you a bit uneasy, and the thought of holding one in your hands makes you nervous. In Canada, we see garter snakes everywhere — from coast to coast and into the Northwest Territories. Yet despite our familiarity with them, many aspects of their physiology and behaviour remain unknown.
The common garter snake that lives in N.W.T. can also thrive in southern California, right down to the border with Mexico. How does the same species survive the extremes of these vastly different environments? It turns out garter snakes are much more adaptable than anyone previously thought. The same species can have different eating habits and grow at different rates from one population to another. They're keeping scientists on their toes, trying to figure out the connection between genetics, behaviour and environment.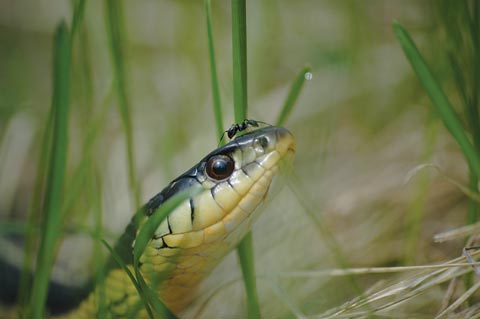 We're taught in school that snakes and other reptiles are "cold-blooded": scientists call them ectotherms, from the Greek terms for "outside" and "hot." Their internal heat sources are small or negligible, so snakes require external sources to generate heat. "If you put a sweater on a snake, it's not going to warm up because it's not generating enough metabolic heat," says Patrick Gregory, a biologist at the University of Victoria.
But snakes still play an active role in regulating their body temperature. "People tend to think that a snake's body temperature goes up and down with the temperature of the air, and that's really not true," Gregory says. "If it's 15 C outside and very sunny, a snake may be able to get its temperature up to 25 C."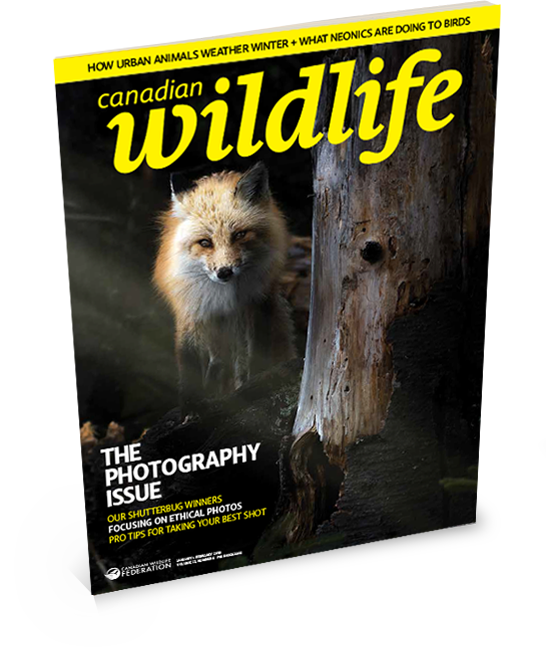 This content relates to Canadian Wildlife magazine. Now on newsstands! Get more information or subscribe! Or get your digital edition! Preview digital copy »
Related Stories