May 1, 2017
By CW Staff Photos by Aaron McKenzie Fraser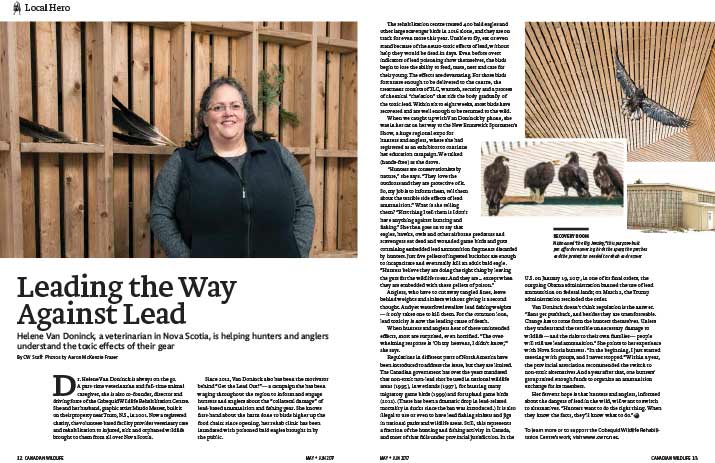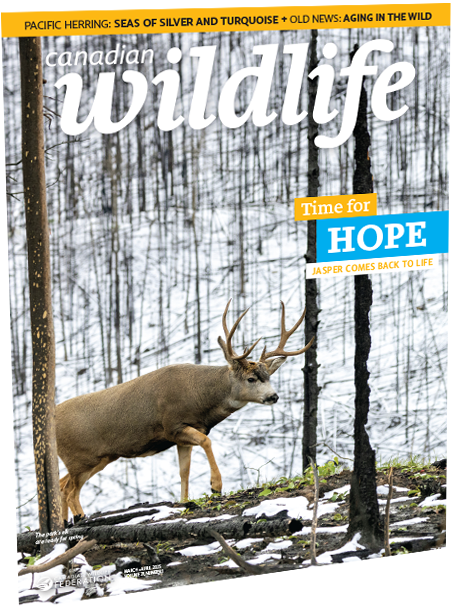 Reprinted from Canadian Wildlife magazine. Get more information or subscribe now! Now on newsstands! Or, get your digital edition today!
Helene Van Doninck, a veterinarian in Nova Scotia, is helping hunters and anglers understand the toxic effects of their gear
Dr. Helene Van Doninck is always on the go. A part-time veterinarian and full-time animal caregiver, she is also co-founder, director and driving force of the Cobequid Wildlife Rehabilitation Centre. She and her husband, graphic artist Murdo Messer, built it on their property near Truro, N.S., in 2001. Now a registered charity, the volunteer-based facility provides veterinary care and rehabilitation to injured, sick and orphaned wildlife brought to them from all over Nova Scotia.
Since 2012, Van Doninck also has been the motivator behind "Get the Lead Out!" — a campaign she has been waging throughout the region to inform and engage hunters and anglers about the "collateral damage" of lead-based ammunition and fishing gear. She knows first-hand about the harm done to birds higher up the food chain: since opening, her rehab clinic has been inundated with poisoned bald eagles brought in by the public.
The rehabilitation centre treated 400 bald eagles and other large scavenger birds in 2016 alone, and they are on track for even more this year. Unable to fly, eat or even stand because of the neuro-toxic effects of lead, without help they would be dead in days. Even before overt indicators of lead poisoning show themselves, the birds begin to lose the ability to feed, mate, nest and care for their young. The effects are devastating. For those birds fortunate enough to be delivered to the centre, the treatment consists of TLC, warmth, security and a process of chemical "chelation" that rids the body gradually of the toxic lead. Within six to eight weeks, most birds have recovered and are well enough to be returned to the wild.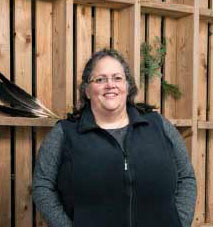 "Hunters are conservationists by nature. They love the outdoors and they are protective of it. So, my job is to inform them, tell them about the terrible side effects of lead ammunition."
When we caught up with Van Doninck by phone, she was in her car on her way to the New Brunswick Sportsmen's Show, a huge regional expo for hunters and anglers, where she had registered as an exhibitor to continue her education campaign. We talked (hands-free) as she drove.
"Hunters are conservationists by nature," she says. "They love the outdoors and they are protective of it. So, my job is to inform them, tell them about the terrible side effects of lead ammunition." What is she telling them? "First thing I tell them is I don't have anything against hunting and fishing." She then goes on to say that eagles, hawks, owls and other airborne predators and scavengers eat dead and wounded game birds and guts containing embedded lead ammunition fragments discarded by hunters. Just five pellets of ingested buckshot are enough to incapacitate and eventually kill an adult bald eagle. "Hunters believe they are doing the right thing by leaving the guts for the wildlife to eat. And they are… except when they are embedded with these pellets of poison."
Anglers, who have to cut away tangled lines, leave behind weights and sinkers without giving it a second thought. And yet waterfowl swallow lead fishing weights — it only takes one to kill them. For the common loon, lead toxicity is now the leading cause of death. When hunters and anglers hear of these unintended effects, most are surprised, even horrified. "The overwhelming response is 'Oh my heavens, I didn't know,'" she says.
Regulations in different parts of North America have been introduced to address the issue, but they are limited. The Canadian government has over the years mandated that non-toxic non-lead shot be used in national wildlife areas (1995), in wetlands (1997), for hunting many migratory game birds (1999) and for upland game birds (2012). (There has been a dramatic drop in lead-related mortality in ducks since the ban was introduced.) It is also illegal to use or even to have lead fishing sinkers and jigs in national parks and wildlife areas. Still, this represents a fraction of the hunting and fishing activity in Canada, and most of that falls under provincial jurisdiction. In the U.S. on January 19, 2017, in one of its final orders, the outgoing Obama administration banned the use of lead ammunition on federal lands; on March 2, the Trump administration rescinded the order.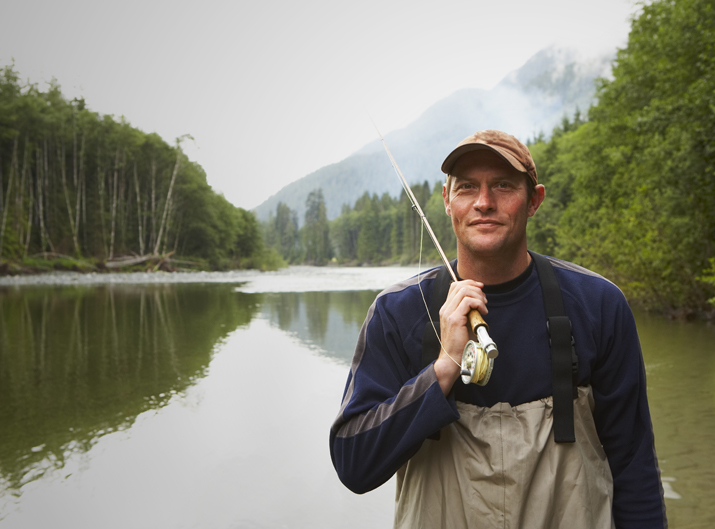 Van Doninck doesn't think regulation is the answer. "Bans get pushback, and besides they are unenforceable. Change has to come from the hunters themselves. Unless they understand the terrible unnecessary damage to wildlife — and the risks to their own families — people will still use lead ammunition." She points to her experience with Nova Scotia hunters. "In the beginning, I just started meeting with groups, and I never stopped." Within a year, the provincial association recommended the switch to non-toxic alternatives. And a year after that, one hunters' group raised enough funds to organize an ammunition exchange for its members.
Her fervent hope is that hunters and anglers, informed about the dangers of lead in the wild, will want to switch to alternatives. "Hunters want to do the right thing. When they know the facts, they'll know what to do."
To learn more or to support the Cobequid Wildlife Rehabilitation Centre's work, visit cwrc.net.