May 1, 2017
By Dave Ireland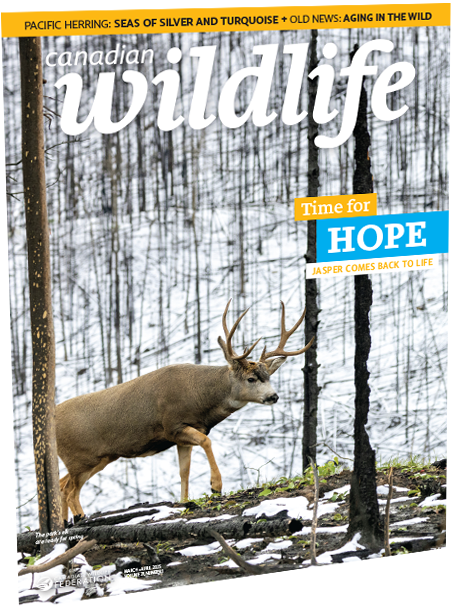 Reprinted from Canadian Wildlife magazine. Get more information or subscribe now! Now on newsstands! Or, get your digital edition today!
All year across the country, "citizen scientists" will be marking Canada's 150th in the most fitting way: celebrating in nature while helping to protect it. You're invited!
Biodiversity is the foundation of life. It is the infinite network of interconnections between, among and within species, organisms and ecosystems. Biodiversity provides fresh water, clean air and healthy soil. Humans are not outside of or somehow separate from biodiversity; we are very much part of this fabric.
Biodiversity is not just something you see in the image of a towering mountain range with glaciers, untouched turquoise lakes and waterfalls. It is also in the cracks in inner-city pavement, in the empty lots at the end of cul-de-sacs and in the parks, floodways, ravines and rivers, eskers and moraines that define our urban watersheds. It is in the hedgerows and fence lines of farms across Canada. It is so ubiquitous in fact that for generations we barely noticed it. And that's been a part of the problem.
We need to notice it, to care for it, to protect it. The fact is, whether we are in some remote corner of the Far North, along a quiet stretch of the Trans-Canada Highway or in our cities' bustling centres, we each need to understand, protect and enhance this natural heritage, our biodiversity.
Scientists know that to effectively conserve biodiversity we must monitor, survey, account for and document it. But scientists have described only about 10 per cent of life and can't possibly manage the enormous task of monitoring this huge dataset alone — they need our help. Taxonomic expertise about a given group of plants, animals or fungi is a specialized, learned and valuable talent. To be sure, as E.O. Wilson, the leading ant and insect biologist and conservationist, declared in his address to the International Union for Conservation of Nature World Congress in September 2016, we need more taxonomists. However, we will never have enough. We must consider other mechanisms to address the gap in our understanding of life on Earth.

Humans are not outside of or somehow separate from biodiversity; we are very much part of this fabric
Dave Ireland, Managing Director of the Centre of Discovery in Biodiversity at the Royal Ontario Museum and current chair of BioBlitz Canada
In the late 1990s, as a media stunt, biologists from the U.S. National Parks Service invited members of the general public to join them at a site in Washington, D.C., to count species during a specific time frame, about 24 hours. They called their public outreach a "bioblitz" and received wide attention for their efforts. Seeing their success, and understanding first-hand the gap, Wilson suggested that the bioblitz concept could provide the needed people power to help monitor biodiversity globally, if enough scientists were engaged in the process to sustain the efforts made by their "citizen scientist" counterparts. And so, by the turn of the millennium, a movement had slowly begun. In 2007, Whistler, B.C., hosted Canada's first bioblitz (it is still going strong).
These developments were the foundation of a great conversation I had with Tom Mason, at the time the curator of invertebrates at the Toronto Zoo, as we sat eating our lunches on the shores of the Rouge River in the eastern suburbs of the Greater Toronto Area. Though it wasn't yet the Rouge National Urban Park (that happened in 2016), the process was well underway, and a great many people were excited about this "green" urban transformation. Tom and I discussed how to get nearly seven million people, the population of the GTA, to care about and advocate for urban biodiversity.
A bioblitz seemed to be the answer, but we did not want it to be a one-off media stunt. We were intent on creating a program that could grow and expand into other areas in Ontario and could network with similar movements throughout Canada. To accomplish this, we knew we needed to harness the taxonomic expertise that would be fundamentally important to the program's success. So, in early spring of 2012, we invited all the biologists we knew to the Rouge River area and asked them to spend 24 hours surveying all forms of life.
CANADA'S NATURE SELFIE
BioBlitz Canada 150 is a conservation celebration by the Canadian Wildlife Federation and BioBlitz Canada partners It is time to take Canada's nature selfie. Join one of the many bioblitzes planned across Canada to mark our 150th birthday, and help us secure the future of our wildlife while you learn more about and celebrate our natural heritage of biodiversity.
There's lots you can do. Check out the listing here and online of planned events across Canada, from five flagship events across the country to dozens of community events in every province and territory. Visit bioblitzcanada.ca for the most up-to-date list.
The website also offers the planning tools and nature resources you need to create your own group or community bioblitz. You can make this your personal sesqui project with friends and family, using the iNaturalist app for on-the-spot, real-time species "captures." —BY ELIZABETH GAMMELL
Meanwhile, we would invite non-scientists to walk and work alongside them. To make it happen, we provided a base camp for their activities and ensured they were well fed and cared for. We also made certain they knew the data collected would be properly managed and distributed to the right places.
All that planning came together in May 2012 when about 150 scientists and about 75 members of the public took part in the first annual Ontario BioBlitz event. Fast forward to 2016, and the Ontario BioBlitz program had completed five major bioblitz events covering all major watersheds in the GTA, documenting some 3,500 species including many endangered plants and animals, many species new to Toronto, to Ontario and even to Canada, and a listserv of about 350 scientists and over 1,000 members of the public. The program also inspired many dozens of other, smaller community-level bioblitz events, from the Oak Savanna system in extreme southwestern Ontario to the Ottawa Valley and north to Sudbury and Sault Saint Marie. Ontario had embraced the bioblitz.
By 2014, there were groups all across Canada doing similar things. In British Columbia, the Whistler bioblitz was going strong and inspiring others, while down east, Donald McAlpine and his colleagues from the New Brunswick Museum were making strong headway on their own, scientist-driven bioblitz program. Several federal agencies, including Parks Canada and the Biological Survey of Canada, were considering how best to include the public in their efforts. The time was ripe for a concerted, nationally connected program.
As director of the Royal Ontario Museum biodiversity program, I helped set up a meeting with many of these groups in late 2014, and the foundation for BioBlitz.
Is There a BioBlitz Near You?
Related Stories