May 1, 2016
By Canadian Wildlife Staff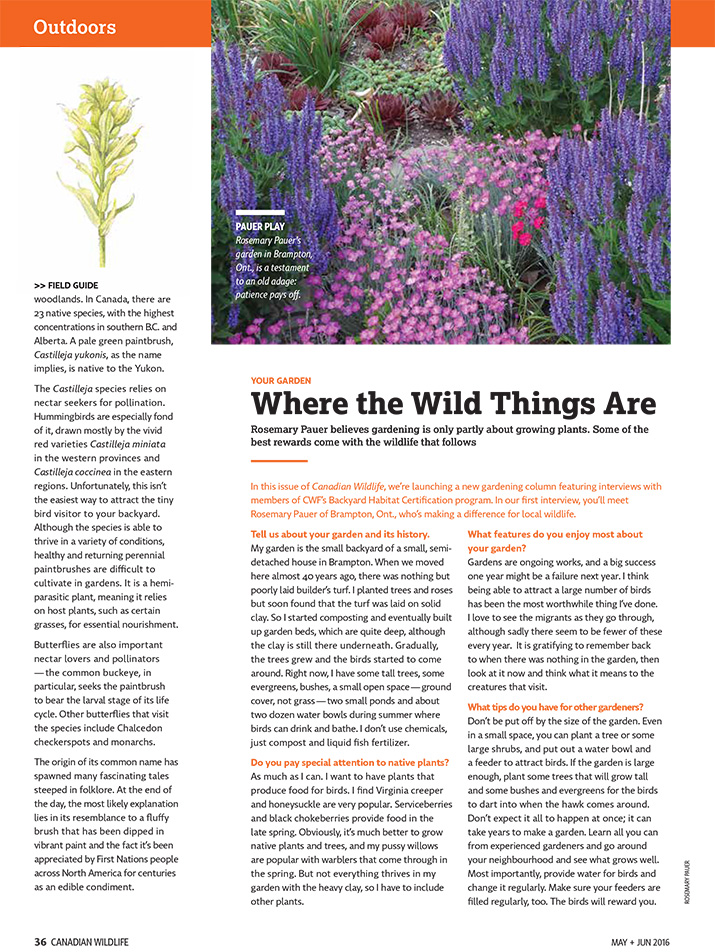 Rosemary Pauer believes gardening is only partly about growing plants. Some of the best rewards come with the wildlife that follows.
In this issue of Canadian Wildlife, we're launching a new gardening column featuring interviews with members of CWF's Backyard Habitat Certification program. In our first interview, you'll meet Rosemary Pauer of Brampton, Ont., who's making a difference for local wildlife.
Tell us about your garden and its history.
My garden is the small backyard of a small, semidetached house in Brampton. When we moved here almost 40 years ago, there was nothing but poorly laid builder's turf. I planted trees and roses but soon found that the turf was laid on solid clay. So I started composting and eventually built up garden beds, which are quite deep, although the clay is still there underneath. Gradually, the trees grew and the birds started to come around. Right now, I have some tall trees, some evergreens, bushes, a small open space — ground cover, not grass — two small ponds and about two dozen water bowls during summer where birds can drink and bathe. I don't use chemicals, just compost and liquid fish fertilizer.
Do you pay special attention to native plants?
As much as I can. I want to have plants that produce food for birds. I find Virginia creeper and honeysuckle are very popular. Serviceberries and black chokeberries provide food in the late spring. Obviously, it's much better to grow native plants and trees, and my pussy willows are popular with warblers that come through in the spring. But not everything thrives in my garden with the heavy clay, so I have to include other plants.
What features do you enjoy most about your garden?
Gardens are ongoing works, and a big success one year might be a failure next year. I think being able to attract a large number of birds has been the most worthwhile thing I've done. I love to see the migrants as they go through, although sadly there seem to be fewer of these every year. It is gratifying to remember back to when there was nothing in the garden, then look at it now and think what it means to the creatures that visit.
What tips do you have for other gardeners?
Don't be put off by the size of the garden. Even in a small space, you can plant a tree or some large shrubs, and put out a water bowl and a feeder to attract birds. If the garden is large enough, plant some trees that will grow tall and some bushes and evergreens for the birds to dart into when the hawk comes around. Don't expect it all to happen at once; it can take years to make a garden. Learn all you can from experienced gardeners and go around your neighbourhood and see what grows well. Most importantly, provide water for birds and change it regularly. Make sure your feeders are filled regularly, too. The birds will reward you.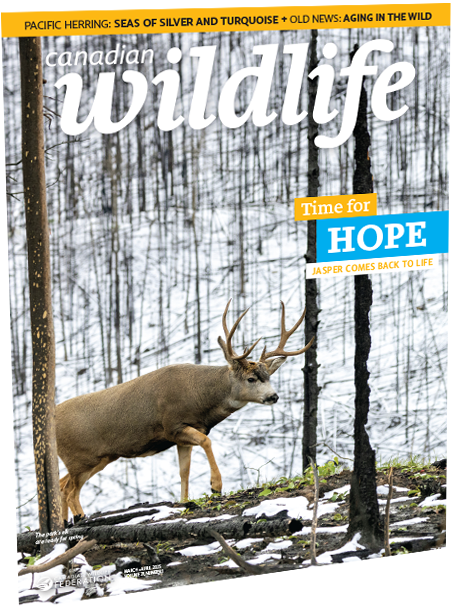 Reprinted from Canadian Wildlife magazine. Get more information or subscribe now! Now on newsstands! Or, get your digital edition today!