May 1, 2016
By Jay Ingram Photos by Robert McCaw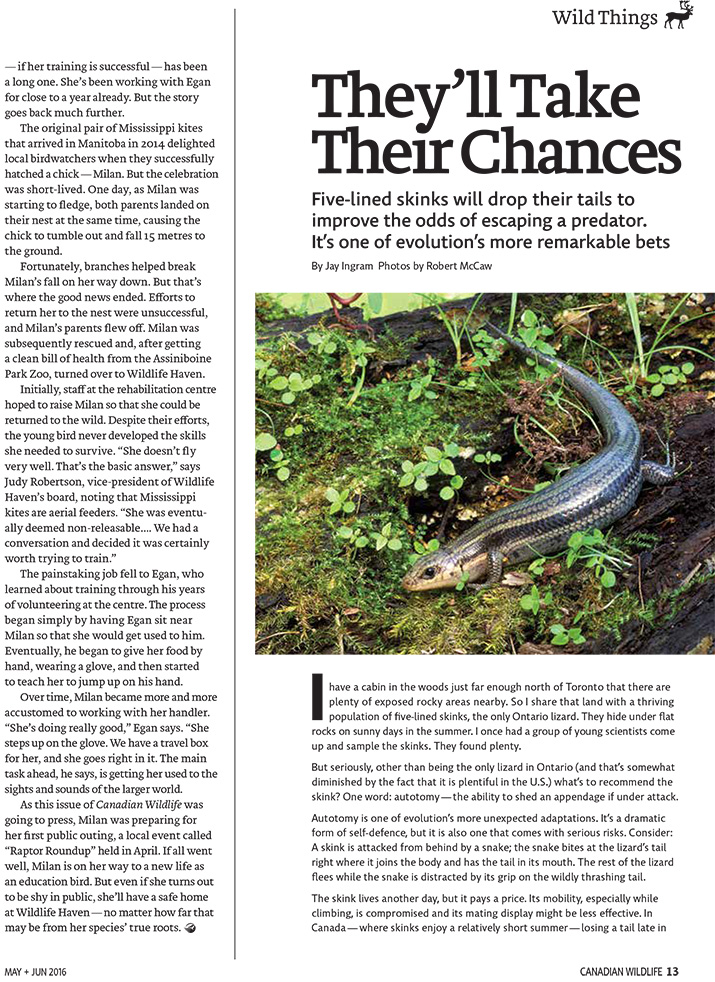 Five-lined skinks will drop their tails to improve the odds of escaping a predator. It's one of evolution's more remarkable bets.
I have a cabin in the woods just far enough north of Toronto that there are plenty of exposed rocky areas nearby. So I share that land with a thriving population of five-lined skinks, the only Ontario lizard. They hide under flat rocks on sunny days in the summer. I once had a group of young scientists come up and sample the skinks. They found plenty.
But seriously, other than being the only lizard in Ontario (and that's somewhat diminished by the fact that it is plentiful in the U.S.) what's to recommend the skink? One word: autotomy — the ability to shed an appendage if under attack.
Autotomy is one of evolution's more unexpected adaptations. It's a dramatic form of self-defence, but it is also one that comes with serious risks. Consider: A skink is attacked from behind by a snake; the snake bites at the lizard's tail right where it joins the body and has the tail in its mouth. The rest of the lizard flees while the snake is distracted by its grip on the wildly thrashing tail.
The skink lives another day, but it pays a price. Its mobility, especially while climbing, is compromised and its mating display might be less effective. In Canada — where skinks enjoy a relatively short summer — losing a tail late in the season may also deal a crippling blow to the animal's fat stores, which are essential to surviving winter hibernation. (The lizards appear to be aware of the risk and have been known to return to the scene of the crime to consume what's left of their own tails.)
Meanwhile, a skink's tail may regenerate, but that takes a lot of time and abundant resources. So there's a trade-off: sacrifice a tail to distract a predator, but in doing so, raise the risk of dying months later.
More interesting yet is evidence that this risk-reward system underlying autotomy shifts during the skink's lifetime. Hatchling skinks display a bright, almost neon blue tail. They're born with it and they actually brandish it, waving it back and forth if trapped by a hungry adult male skink or one of their many other predators.
As skinks age, however, the brilliance of the blue fades. The tails of mature adults are simple shades of brown, aptly described as resembling fallen oak leaves. But if having attention drawn to the detachable tail is so important for a young skink, and blue does that so well, why lose the blue? The answer isn't clear. Some argue that adult skinks are not subject to the same sort of predation as young skinks and can rely on camouflage — as opposed to detachable tails — to avoid predators. In this case, dull brown stripes beat a shrieking blue every time.
By the way, you might have noticed my earlier reference to a "hungry adult male skink." As happens in so many species, adult male skinks don't shy away from eating the young of their own species, usually to prevent the rise of other genetic lines. There had been an idea that the blue tail might inhibit those males.
But a set of nature-red-in-tooth-and-claw experiments in cages showed that adult males chowed down on both blue-tailed and tailless hatchlings, suggesting that tail-waving inhibited no adult males — ever. Perhaps the adults are too familiar with the ruse.
So, what makes the tail of skink able to separate, anyway? A close look reveals a unique anatomy. The tail is "pre-cut," divided up into a set of fracture points. There really isn't a lot holding it together: the muscles of the tail fit together something like the cone-shaped paper cups at the water cooler. And like those cups, the muscles are connected by nothing more than forces of adhesion. There are no actual attachment points. When the muscles around any of the pre-set fracture points contract, the vertebra breaks and the whole organ falls apart.
A separated tail keeps wriggling because of self-contained circuits of neurons, which can create unexpectedly complex movements that play an ongoing role in defence.
Take the gecko, another autotomous reptile, by way of analogy. Its tail flips back and forth at a rate of something like 250 centimetres per second after separation. It also makes occasional lunges in the air. Experiments have shown that domestic cats attacking geckos are attracted by the vigorous tail flipping. The lashing gestures, meanwhile, force snakes to spend more time subduing the tails. In both cases, the geckos gain more time to escape.
And that's really what autotomy is about: buying time when you need it most. It's as true for five-lined skinks as it is for geckos or any other autotomous animals. And with its mix of risk and reward, it's a dramatic survival card to play.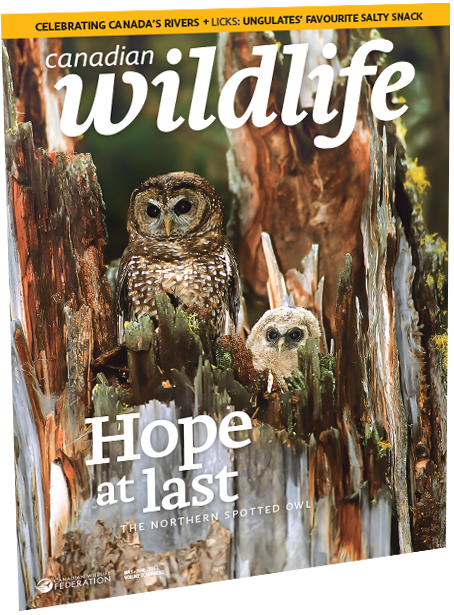 Reprinted from Canadian Wildlife magazine. Get more information or subscribe now! Now on newsstands! Or, get your digital edition today!