May 1, 2016
By Canadian Wildlife Staff Photo by David Lipnowski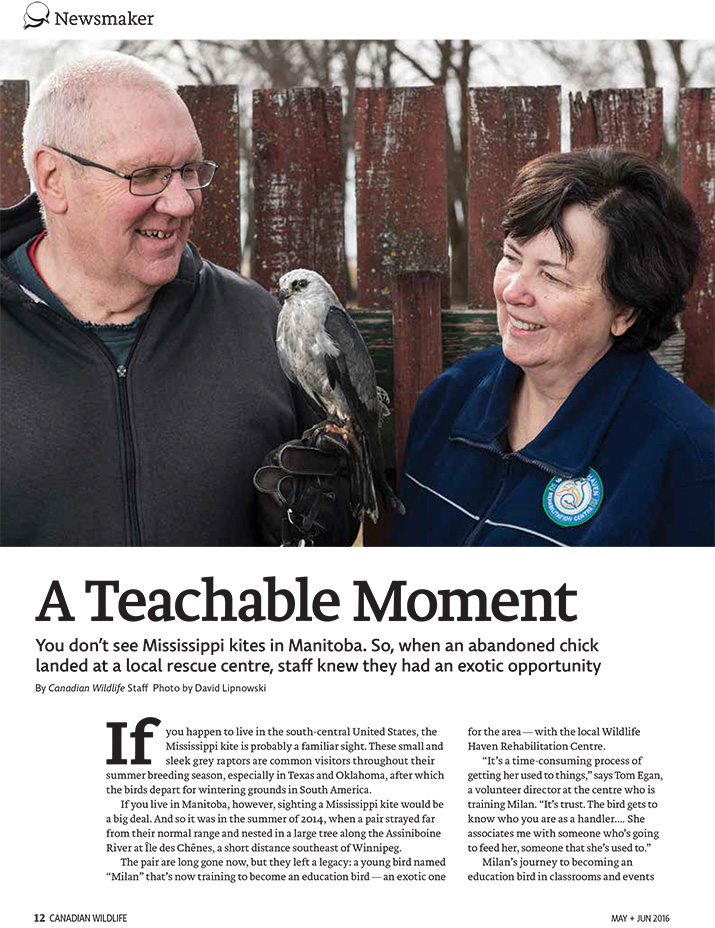 You don't see Mississippi kites in Manitoba. So, when an abandoned chick landed at a local rescue centre, staff knew they had an exotic opportunity.
If you happen to live in the south-central United States, the Mississippi kite is probably a familiar sight. These small and sleek grey raptors are common visitors throughout their summer breeding season, especially in Texas and Oklahoma, after which the birds depart for wintering grounds in South America.
If you live in Manitoba, however, sighting a Mississippi kite would be a big deal. And so it was in the summer of 2014, when a pair strayed far from their normal range and nested in a large tree along the Assiniboine River at Île des Chênes, a short distance southeast of Winnipeg.
The pair are long gone now, but they left a legacy: a young bird named "Milan" that's now training to become an education bird — an exotic one for the area — with the local Wildlife Haven Rehabilitation Centre.
"It's a time-consuming process of getting her used to things," says Tom Egan, a volunteer director at the centre who is training Milan. "It's trust. The bird gets to know who you are as a handler.… She associates me with someone who's going to feed her, someone that she's used to."
Milan's journey to becoming an education bird in classrooms and events — if her training is successful — has been a long one. She's been working with Egan for close to a year already. But the story goes back much further.
The original pair of Mississippi kites that arrived in Manitoba in 2014 delighted local birdwatchers when they successfully hatched a chick — Milan. But the celebration was short-lived. One day, as Milan was starting to fledge, both parents landed on their nest at the same time, causing the chick to tumble out and fall 15 metres to the ground.
Fortunately, branches helped break Milan's fall on her way down. But that's where the good news ended. Efforts to return her to the nest were unsuccessful, and Milan's parents flew off. Milan was subsequently rescued and, after getting a clean bill of health from the Assiniboine Park Zoo, turned over to Wildlife Haven.
Initially, staff at the rehabilitation centre hoped to raise Milan so that she could be returned to the wild. Despite their efforts, the young bird never developed the skills she needed to survive. "She doesn't fly very well. That's the basic answer," says Judy Robertson, vice-president of Wildlife Haven's board, noting that Mississippi kites are aerial feeders. "She was eventually deemed non-releasable.… We had a conversation and decided it was certainly worth trying to train."
The painstaking job fell to Egan, who learned about training through his years of volunteering at the centre. The process began simply by having Egan sit near Milan so that she would get used to him. Eventually, he began to give her food by hand, wearing a glove, and then started to teach her to jump up on his hand.
Over time, Milan became more and more accustomed to working with her handler. "She's doing really good," Egan says. "She steps up on the glove. We have a travel box for her, and she goes right in it. The main task ahead, he says, is getting her used to the sights and sounds of the larger world.
As this issue of Canadian Wildlife was going to press, Milan was preparing for her first public outing, a local event called "Raptor Roundup" held in April. If all went well, Milan is on her way to a new life as an education bird. But even if she turns out to be shy in public, she'll have a safe home at Wildlife Haven — no matter how far that may be from her species' true roots.