May 1, 2016
By David Bird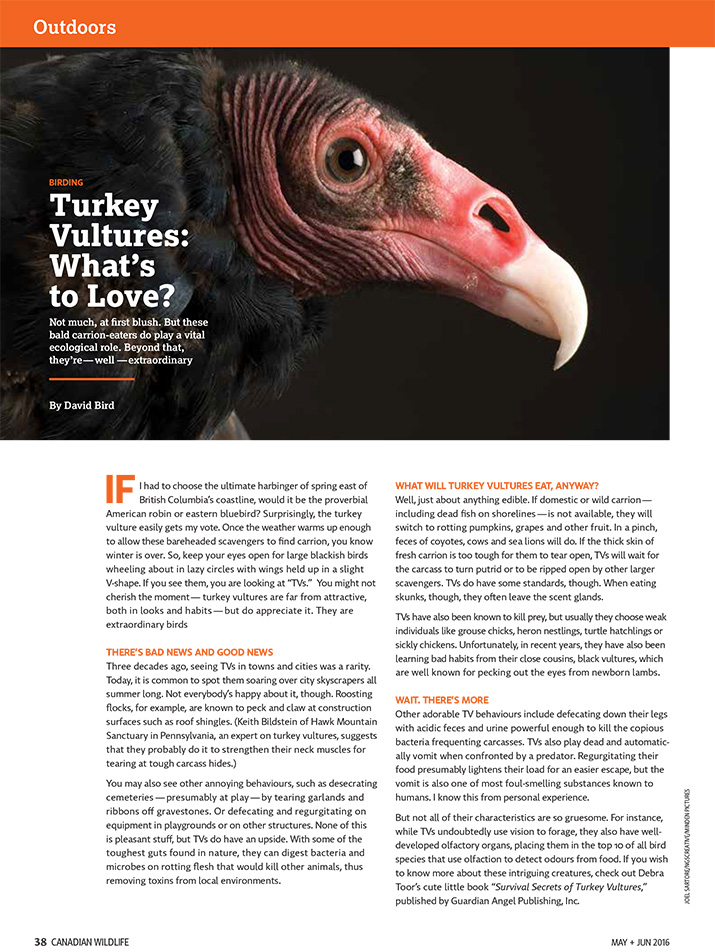 Not much, at first blush. But these bald carrion-eaters do play a vital ecological role. Beyond that, they're — well — extraordinary.
If I had to choose the ultimate harbinger of spring east of British Columbia's coastline, would it be the proverbial American robin or eastern bluebird? Surprisingly, the turkey vulture easily gets my vote. Once the weather warms up enough to allow these bareheaded scavengers to find carrion, you know winter is over. So, keep your eyes open for large blackish birds wheeling about in lazy circles with wings held up in a slight V-shape. If you see them, you are looking at "TVs." You might not cherish the moment — turkey vultures are far from attractive, both in looks and habits — but do appreciate it. They are extraordinary birds.
THERE'S BAD NEWS AND GOOD NEWS
Three decades ago, seeing TVs in towns and cities was a rarity. Today, it is common to spot them soaring over city skyscrapers all summer long. Not everybody's happy about it, though. Roosting flocks, for example, are known to peck and claw at construction surfaces such as roof shingles. (Keith Bildstein of Hawk Mountain Sanctuary in Pennsylvania, an expert on turkey vultures, suggests that they probably do it to strengthen their neck muscles for tearing at tough carcass hides.)
You may also see other annoying behaviours, such as desecrating cemeteries — presumably at play — by tearing garlands and ribbons off gravestones. Or defecating and regurgitating on equipment in playgrounds or on other structures. None of this is pleasant stuff, but TVs do have an upside. With some of the toughest guts found in nature, they can digest bacteria and microbes on rotting flesh that would kill other animals, thus removing toxins from local environments.
WHAT WILL TURKEY VULTURES EAT, ANYWAY?
Well, just about anything edible. If domestic or wild carrion — including dead fish on shorelines — is not available, they will switch to rotting pumpkins, grapes and other fruit. In a pinch, feces of coyotes, cows and sea lions will do. If the thick skin of fresh carrion is too tough for them to tear open, TVs will wait for the carcass to turn putrid or to be ripped open by other larger scavengers. TVs do have some standards, though. When eating skunks, though, they often leave the scent glands.
TVs have also been known to kill prey, but usually they choose weak individuals like grouse chicks, heron nestlings, turtle hatchlings or sickly chickens. Unfortunately, in recent years, they have also been learning bad habits from their close cousins, black vultures, which are well known for pecking out the eyes from newborn lambs.
WAIT. THERE'S MORE
Other adorable TV behaviours include defecating down their legs with acidic feces and urine powerful enough to kill the copious bacteria frequenting carcasses. TVs also play dead and automatically vomit when confronted by a predator. Regurgitating their food presumably lightens their load for an easier escape, but the vomit is also one of most foul-smelling substances known to humans. I know this from personal experience.
But not all of their characteristics are so gruesome. For instance, while TVs undoubtedly use vision to forage, they also have welldeveloped olfactory organs, placing them in the top 10 of all bird species that use olfaction to detect odours from food. If you wish to know more about these intriguing creatures, check out Debra Toor's cute little book "Survival Secrets of Turkey Vultures," published by Guardian Angel Publishing, Inc.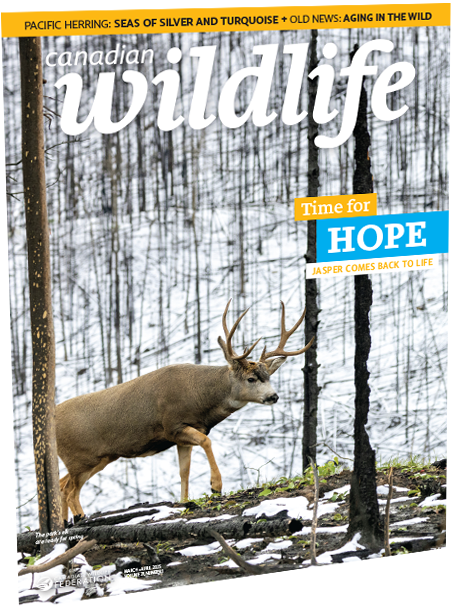 Reprinted from Canadian Wildlife magazine. Get more information or subscribe now! Now on newsstands! Or, get your digital edition today!